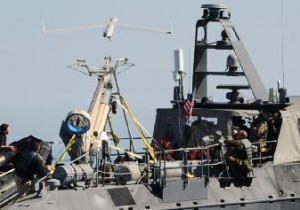 The mystique of Navy SEALs has been heavily celebrated in the media and films due to recent real-world exploits.  Yet Naval Special Warfare (NSW) Sailors have been heavily engaged in combat operations for more than 11 consecutive years.  Warfare is still a decidedly human endeavor, and America's naval special warriors are quick to embrace the truth that "humans are more important than hardware."  Nevertheless, today's SEALs, Special Warfare Combat Crewmen, and other supporting personnel in the NSW community have benefited greatly from technology, which increasingly includes unmanned systems.
Two primary realizations within the NSW community drove the rapid introduction of UAVs for combat operations in Southwest and Central Asia.  The first realization was that even the best shooters in the world are ineffective if they are unable to locate their targets.  Simply, UAVs are a force multiplier for SEALs and enable an exponential increase in their ability to find, fix, and finish targets.  Secondly, as more and more small UAVs were added to the force, NSW began to understand that as valuable as these unmanned systems were, the skills required to operate and maintain them were a distraction for highly trained shooters.  This epiphany led to the creation of Unmanned Aircraft Systems Troops at Naval Special Warfare Support Activity (SUPACT) One in Coronado, California, and SUPACT Two at what is now Joint Expeditionary Base Little Creek-Fort Story, Virginia.  According to Naval Special Warfare Command, each UAS Troop totals 35 personnel among three detachments of UAS operators, a group of instructors, and military and civilian maintenance technicians.
For some additional first-person historical perspective on the evolution of unmanned air systems (UAS) in NSW, former Navy SEAL UAS expert and current lighter-than-air unmanned systems entrepreneur John Surmount discusses the origins of unmanned air systems in Naval Special Warfare in Operation Enduring Freedom in this podcast.  Since those early days, the breadth and depth of unmanned systems used by Naval Special Warfare Operators has expanded tremendously.
The exact tactics, techniques, and procedures for UAS use with NSW are a closely guarded secret (as well they should be), but in general, SEALs use drones to support the four core missions of NSW:
Direct Action (DA) – offensive missions to capture/kill enemy targets
Special Reconaissance (SR) – surveillance and monitoring of enemy activity and the littoral environment including beaches and ports
Counter-terrorism (CT) – conducting DA against terrorist networks
Foreign Internal Defense (FID) – assisting foreign military partners in developing their own special operations capacity.

UAVs are especially critical for finding and fixing the exact location of an enemy in DA and CT.  They also support, and in some cases replace, the eyes of operators in SR missions.  On a micro-scale, a demonstration the utility of UAVs can be seen in the film "Act of Valor" where a Raven UAV – launched by actual operators from Special Boat Team 22 – provides ISR over-watch of SEAL operators on a mission.  A more-capable, marinized UAV, the Puma AE, is also part of NSW's inventory.
The beauty of these rucksack-portable systems is that they can provide organic support to a platoon or smaller-size group of SEALs.  The primary drawback is limited endurance.  Enter the Small Tactical UAS (STUAS).   NSW has embraced the ScanEagle for missions where long endurance ISR is a requirement.  NSW ScanEagles can be sea-launched from vessels as small as a MK V Special Operations Craft or based ashore at expeditionary sites.  Another example of the value of UAVs in the over-watch role was demonstrated in April 2009, when a ScanEagle provided a real time feed to assist SEALs in rescuing the Maersk Alabama's Captain Richard Phillips from his pirate captors.   
More recently, NSW has benefited from the Navy's introduction of the shipboard vertical take-off and landing (VTOL) Fire Scout.  Requirements for the next-generation VTOL UAS, the Fire-X MQ-8C, are also driven by special operations forces.  Future developments in Navy UAS integration for NSW will undoubtedly include armed tactical UAVs providing fire support to operators on the ground and sea.
The same concept of ISR support and armed over-watch applies to more complex operations with larger UAVs.  Land-based Air Force Predator and Reapers support NSW missions in Afghanistan and other areas.  A low-signature RQ-170 drone reportedly assisted the SEALs who conducted the raid to kill Usama bin Laden in May 2011.  NSW is also slowly progressing in the implementation of unmanned undersea vehicles (UUV).  These systems are used for missions such as hydrographic reconnaissance reducing the risk to operators and letting them focus on other core missions.  Much as the Navy's Explosive Ordnance community has embraced autonomous underwater vehicles to help them hunt and neutralize mines, SEALs will eventually find themselves reliant on robots to survey beach landing sites.
Along with other underwater assets such as swimmer delivery vehicles, UUVs fall under the auspices of Naval Special Warfare Group Three (NSWG-3).  In 2010, Naval Special Warfare Command ordered some Iver2 autonomous undersea vehicles for experimentation.  NSW has also purchased 18 Semi-autonomous Hydrographic Reconnaissance Vehicles (SAHRV) outfitted with side-scan sonar and an Acoustic Doppler Current Profiler.  SAHRV is an adaptation of the REMUS 100.  On the USV side, earlier this year, Naval Sea Systems Command's Naval Special Warfare Program Office sponsored a test of a Protector USV armed with Spike missiles.  The application of such a capability in support of NSW missions is unclear.
The combination of the world's most proficient naval special operators enhanced by modern technology will continue to produce powerful strategic effects through tactical actions.
This article was re-posted by permission from, and appeared in its original form at NavalDrones.com.