By Jasen Sagman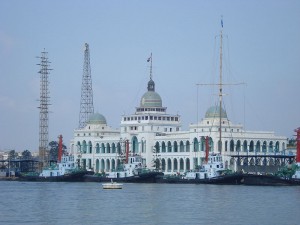 Egypt's military-backed government recently dismissed reports that Egypt's Suez Canal Authority (SCA) has hired Israeli private security company Seagull Maritime Security to guard the vital waterway.
Reports began to circulate on local social media early several weeks ago, with cyber-activists citing the company's website as saying that Seagull was capable of embarking/disembarking armed guards at locations, all approved of by the local government authorities, including Suez, Egypt.
According to a subsequent SCA statement, the reports "are categorically devoid of truth… and aim to shake security and spread false news," however a report by the Arab Organisation for Human Rights recently revealed that the security company provides maritime security services for cruises and cargo ships passing through the Suez Canal in Egypt.
In fact, the Egyptian authorities have granted the company a license to work in the Suez Canal and the Red Sea. Additionally, the company is authorized to work in Arab and African ports including Jordan, UAE, and Oman. According to the report, the company is one of the few whose guards are allowed to disembark fully armed on the Egyptian island of Tiran.
The company is a member of the Israeli Association of Private Security Companies, and was founded by its CEO Kfir Magen, who served as an officer in the Israeli navy. The company's directors were prominent leaders of the Israeli armed forces, including Eliezer Marom who served as a navy commander between 2007 until 2011. The company's advisory board chairman, Ami Ayalon, served as commander in chief of the navy in 1992, and served as head of the Shin Bet in 1996.
Despite the report, the SCA maintains that the Suez Canal is secured exclusively by Egyptian police and army forces.
Jasen Sagman is pursuing an M.A. in Global Diplomacy from the University of London, SOAS. He works for a Member of Parliament in Ottawa, and holds an Honours B.A. in Political Science from the University of Toronto. This post appeared in its original form at the Atlantic Council of Canada.