Commercial 3D Imaging in Naval Maintenance and Repair
As with most things in life, a frequent hindrance to quickly fixing degraded systems aboard naval vessels is the inability to effectively communicate – in this case describing the problem to support facilities, sometimes thousands of miles away. Compounding the frustration is how long it can take to ship a solution part (perhaps soon alleviated by local additive manufacturing hubs) or send a team to perform the repair work, before realizing the disconnect between what the problem is and what the support facility thinks it is. Fortunately, the advent of cheap digital cameras, now nearly ubiquitous in cell phones, has eased the effort as photos now accompany many of the requests.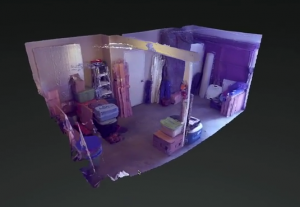 A further aid may well soon be at hand. According to the Wall Street Journal, Google plans in June to begin production of a tablet with "two back cameras, infrared depth sensors and advanced software that can capture precise three-dimensional images of objects," or "to create a kind of three-dimensional map of its user's surroundings."
Mobile 3D imaging technology is not new. We here at CIMSEC have previously discussed it in the context of potential tactical naval applications, such as for use by VBSS boarding teams either in a "recon" mode to gain a better picture of their tactical environment, or a "record" mode for later examination, intel exploitation, and lessons learned. Additionally, scientists have earlier noted that sound waves can be used to recreate a 3D representation of a cell phone user's environment, with intriguing implications for security and spyware. Laser scanners – the peripheral of choice for generating 3D-rendered computer images for 3D printer files – may offer a similar and higher-fidelity solution, at least for the time being.
The advantage with Google's Project Tango, as the initiative is known, is that a commercial behemoth integrating the technology into a widely used and compact mobile platform makes it much more likely to be available cheaply, and for developers to speed up the cycle of refining applications. Further, the ability to portray a degraded component in situ or the environment in question rather than as a standalone piece is an advantage over most of today's laser scanners (although some companies have in fact marketed laser scanners as environment mappers).
The normal caveats about this being an immature technology that has yet to prove itself in the real world apply. But, if a picture of a problem is worth a thousand words, a 3D image may soon be worth at least much to the Navy's repair reach-back commands.
LT Scott Cheney-Peters is a surface warfare officer in the U.S. Navy Reserve and the former editor of Surface Warfare magazine. He is the founder and vice president of the Center for International Maritime Security (CIMSEC), a graduate of Georgetown University and the U.S. Naval War College, and a member of the Truman National Security Project's Defense Council.