As Boko Haram declares its own caliphate, we re-post this article from 7 OCT 2013.
On the Run, or Running Somewhere New?
After the massacre at Westgate, many American media outlets acted as if they were only hearing Al-Shabaab's name for the first time. This is only the tip of the US Medias Fifth-Estate-Failure iceberg. While incidents may be reported in part and parcel, the staggering scale of militant Islam goes disturbingly unreported. While many of these movements remain separate to a point, the geographic and communicative proximity provided by globalization serves as a catalyst for a horrifying potential collective even more monstrous than anything we could imagine in Afghanistan.
Globalization of De-development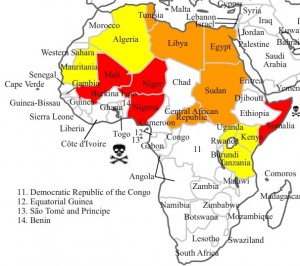 ADM Stravridis pegged this problem squarely on the head when he brought up convergence, that globalization is merely a tool. What can be used to organize communities and build stable growing economies can also help coordinate civilization's detractors. To spread our gaze further than the recent events in Libya and Somalia, Boko Haram fights a war against the Nigerian government; this is spreading into Niger, Camaroon, and Chad through a porous border. Its militants have also been found in in Mali, where they fought and trained with both Movement for Oneness and Jihad in West Africa (MOJWA) and Al-Qaeda in the Islamic Maghreb(AQIM) (MOJWA's former parent organization). There, they fight an open war with the government. MOJWA meanwhile is also fighting in Niger. In one case, even more with al Mua'qi'oon Biddam in revenge for an AQIM leader killed by the French and Chadians in Mali. While the forces of globalization may allow nice things like the Star Alliance global airline network, it can also be harnessed to create this jihadist hydra.
With Somalia's conflict spreading beyond its borders in the east and the coalition of chaos in the west, the center is not holding either. The Central Africa Republic sits in the middle, with potential militant Islamic rebels causing mayhem throughout the country after a successful coup… not that their neighbor is doing much better. Oh, did we mention Egypt too? No? Well… I'll stop before I've totally crushed my own spirits. The tendrils of many different militant groups, often associated with, facilitated by, or directly franchised by Al Qaeda grow close together in a vast body of uncontrolled spaces.
Why the Navy?
So, it's African Navies week, and I've yet to get to maritime security. You'd be correct to assume that, as with Somalia, these problems don't have primarily naval solutions… but effective maritime security will help prevent the growth of the power vacuum and encourage shore-side virtuous cycles.
The critical importance of maritime security is both pushing back the lawlessness and increasing entry costs for illicit actors. Lawlessness builds vacuums of civil order or undergrounds paths for militant Islam to enter either the money or idea markets. Islamic Militancy isn't just sporadic and spontaneous violence; it's also a massive logistics and patronage system that funds militants and creates in-roads into local communities. Where al-Shabaab can utilize the Ivory trade along with the LRA (wouldn't that be a lovely marriage of convenience), who is to say Boko-haram couldn't find in-roads into the multi-billion dollar oil-theft market, cocaine trade, or the full-on theft of motor vessels for movement of arms, persons, or stolen goods, let alone the Nigerian piracy enterprise which now even exceeds that of Somalia. Law enforcement needs a "last line of defense." As stolen ships, goods, and persons leave the shore, the maritime presence is that final check of a state's strength of institutions. This not only sweeps back this vast illegal enterprise, but also makes it harder later to re-enter the market.
That strength has a virtuous effect, since a rising tide lifts all boats. The improvement of civil society is not completed one institution at a time. Professional courts require professional police require professional elected officials, etc… etc… etc… Improvements to navies and coast guards help improve other portions of military and law enforcement infrastructure. Especially as such lucrative opportunities arise as crime's payout and connections increase, closing such temptations through capabilities and professionalism is important.
Bottom Line
Africa is critically important to future global security. Despite its great economic growth, improving institutions, and growing innovation, the forces of terrorism so long reported "on the run" are growing and connecting at an alarming rate, even in places some thought secure. In such a vast countryside with at minimum half-dozen Afghanistan-sized poorly controlled areas, rolling back this development is of deadly importance. Maritime security, while not the primary arena, will help stay the spread of the lawless vacuum in which militancy thrives and help improve surrounding institutions to further minimize that vacuum ashore.
Matt Hipple is the Director of Online Content for the Center for International Maritime Security. The opinions and views expressed do not necessarily represent the views of U.S. Department of Defense or the U.S. Navy..