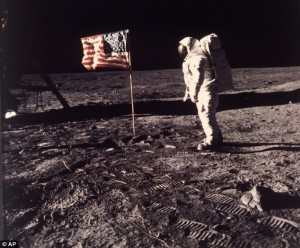 Today, a piece of America's soul has passed. Neil Armstrong, first of humanity's representatives to stride upon a celestial body, has died. His passing is part of a greater trend, a legacy of starry-eyed optimism left behind in the morass of temporal practicality. Today, the first of our number to turn and look upon earth from a foreign body joins our manned mars program, our shuttle program, and the once unfettered collective dreams he carried with him.
CIMSEC is a blog about maritime security. Is not the maritime domain  primarily defined as a vast commons that hosts a sustained presence through buoyancy alone? An even greater commons awaits above, where although the vessels look far different, they are called ships nonetheless. Konstantin Tsiolkovsky, one of the fathers of modern rocketry, once said, "A planet is the cradle of mind, but one cannot live in a cradle forever." Neil Armstrong took those first baby steps out of the cradle, learning to walk for us all. As our heroes fade away, we should keep their memories, and our future, alive… by learning to run.
Matt Hipple is a surface warfare officer in the U.S. Navy. The opinions and views expressed in this post are his alone and are presented in his personal capacity. They do not necessarily represent the views of U.S. Department of Defense or the U.S. Navy.