International Maritime Satire Week Warning: The following is a piece of fiction intended to elicit insight through the use of satire and written by those who do not make a living being funny – so it's not serious and very well might not be funny. See the rest of our IntMarSatWeek offerings here.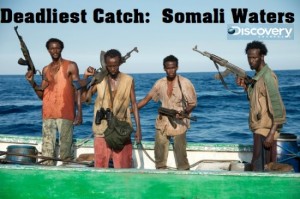 SILVER SPRING, MD—After a series of logistical challenges filming Deadliest Catch in the South China Sea, the Discovery Channel announced a new spin-off series set off the Somali coast to replace the show for 2014 in what would have been the show's 10th season.
Sources say that Bill Goodwyn, Discovery's President of Domestic Distribution and Enterprises labeled the most recent season of Deadliest Catch a "goddamn shipwreck" after the series filmed the 9th season in the South China Sea. Despite Discovery's vision, Deadliest Catch faced a series of hurdles including clashes with Japanese nationalists near the Senkaku Islands, and most recently, the loss of an aerial camera drone in China's Air Defense Identification Zone or ADIZ.
Discovery hopes to rejuvenate the successful ten-year-old franchise with a new spin-off series set in Somalia. Tentatively titled "Deadliest Catch: Somali Waters," renowned producer Todd Stanley is attached to serve as the showrunner for this new series, slated to air in early 2014. Richard Phillips and Abduwali Muse are also named as associate producers.
After announcing the series on Twitter, Stanley explained "Look, there's been a lot of maritime activity off the coast of Somalia for years and frankly the clan dynamics stimulate an enormous amount of competition between Somali fishermen—wait till you see the Habar Gidirs take on the Mijurtinis. While the piracy business hasn't been the cash cow for these guys it once was, with our backing you'll see some of these guys go out for two or three weeks and come back with a load of Yellowfin Tuna, a dry-bulk carrier, or even a handful of Indian hostages." Officials at the Discovery quickly pointed out that the show abides by all Somali laws and maritime regulations.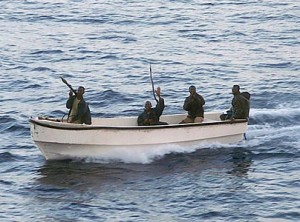 Bilal Eggeh, an elder affiliated with the Saleban clan, expressed his excitement for the show: "This will not only be a great opportunity for the Saleban to glorify their ancestors against the Duduble filth, but will also provide better programming than Al Shabab behadings and Duck Dynasty." An Al Shabab spokesperson rejected these comments on Twitter and explained that his organization serves as the main maritime law enforcement organization in Kismayo, a coastal town, and that Nielson ratings show the beheadings do well in the coveted 18-34 demographic.
Stanley intends to replicate the filming and production methodology utilized in the Deadliest Catch. Three separate camera crews will follow nominal "fishing" motherships piloted by the Eidagalla, Ajuran, and Ogadeni clans. Additional crews will follow the USS Farragut, on patrol in the Recommended Transit Corridor; the Puntland Maritime Police Force, conducting shore-based operations; and the local coast guard operated by the Digil clan. An additional crew will cover mundane business affairs in the cities of Eyl and Kismayo. Thom Beers will also narrate segments of the series—a staple of the Deadliest Catch franchise.
Despite Discovery's optimism, the show already faces opposition. The move to the South China Sea triggered a wave of controversy from loyal fans, with one fan claiming that "It sounds un-American." Captain Brad Cooper of the USS Gettysburg (CG-64) said "At first I thought this was b******t – we finally had this Somali piracy thing mostly licked and now they're helping get some of these guys back up and running? But anytime I can tell my kids I got to fight pirates they actually know what I'm talking about, unlike forward naval presence ops.'" Khaled Hiyani, a member of Hizbul Islam, issued a statement condemning the show and labeling the producers as infidels. Roelf van Heerden, a South African security consultant with Sterling Corporate Services, briefly said, "These guys are idiots."
Yet, Discovery remains determined in the spin-off to experiment with the successful formula that other reality shows have used.
Deadliest Catch: Somali Waters is scheduled to premiere on April 15 at 9:00 EST on Discovery.