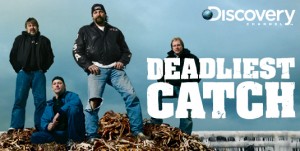 International Maritime Satire Week Warning: The following is a piece of fiction intended to elicit insight through the use of satire and written by those who do not make a living being funny – so it's not serious and very well might not be funny – but apparently producer Todd Stanley thought so (see comments below).
SILVER SPRING, MD—Following a loss in ratings to NBC's Stars Earn Stripes, the Discovery Channel has decided to change the setting of its award-winning reality fishing show Deadliest Catch to the South China Sea. 
Sources indicate that Discovery intended to cancel the series until Deadliest Catch producer Thom Beers presented the idea of moving the setting to either the Strait of Hormuz or the South China Sea.  With the annual ratings boost from Shark Week a year away, Discovery elected to keep the show and film the next season in the hotly contested Southeast Asian waters.
When asked about the drastic change, Beers said, "The South China Sea is a great move for the series and the hardy American fishing crews viewers have come to love – Wizard, Time Bandit, Northwestern, Cornelia Marie, they'll all be there.  It's home to a competitive fishing environment and surrounded by countries that have a passion for the sea.  You've got Chinese, Filipinos, Vietnamese, Malaysians, and Indonesians out there sailing together.  Now we're throwing Americans right into the middle of this great, dynamic environment."
Beers explained that the region's depleted fishing stocks will actually enhance the show's intensity because it raises the stakes for the competing fishing vessels.  "These guys will be fighting each other for every single fish—literally," said Beers said with a grin. 
Sig Hansen, Captain of the fishing vessel Northwestern, also expressed confidence in adapting to the new environment.  "If there's one thing that we need to master right away, it's persistence.  We can't turn around no matter what or who is in front of us."  Hansen also talked about the safety situation.  "In the Bering Sea, we didn't always have the Coast Guard backing us up because of the conditions.  However, we're told that in the South China Sea all these different nations send in their Coast Guard and military vessels to patrol the area.  It's a lot safer in my opinion."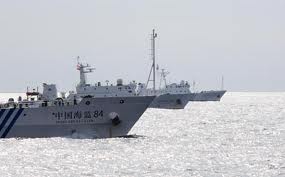 The lack of an American port does not deter Beers from basing the show in the region.  His team plans to set up their base on one of the sea's many islands.  Producer Todd Stanley, Beers' partner, said "Look, a lot of these islands, like the Spratly's, don't have any residents.  We're thinking, why not go in take one for ourselves?  Of course, we would do the proper legal thing and make sure to hoist an American flag to keep everyone calm." 
Stanley revealed that the ships could just anchor at the Scarborough Shoal if they cannot find an island.   "We'll just follow the Chinese model, if necessary, and show up with an old-looking map with some lines drawn around things.  I've got an old place-mat from my childhood.  Do these dashes around Australia mean I own it? Who knows, they could just be spaghetti stains – the important point is it would take the UN years to sort through our claim."
When asked for a statement, the Association of Southeast Asians (ASEAN) could not respond with an official comment.  Deputy Press Secretary Naoko Saiki believes that the story is a hoax.  "It's hard to believe America is home to a television series about crab fishing…this is probably fabricated by one of the nationalist groups in the region.  Everyone knows that Americans only watch Jack Baur."
Discovery announced that they are also moving Sons of Guns to Iraq and American Loggers to the forests in Colombia. Production on Season 9 starts in October and will premiere on the Discovery Channel in early April.