(Editor's Note: Hey! Corvette week is going so well, we decided to extend it!)
"They Were Expendable" makes for a good movie title, but U.S. naval personnel in the 21st century are not such a disposable commodity.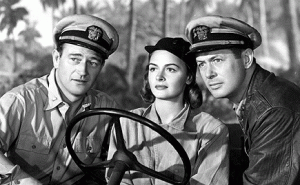 This line in Steven Wills' article points at a very pivotal question of naval force design, and he's probably on the wrong side of history.
Small ships and boats – corvettes, avisos, frigates – were historically used for many support functions by battle fleets. These functions did not focus on the destruction or deterrence of enemies until the advent of practical torpedoes in the late 19th century, when the torpedo-boat destroyer was introduced in order to counter torpedo boats. The nature of the torpedo and the difficulties caused by the speed and small size of torpedo boats forced navies to adopt a pattern known from warfare on land: The detachment of small and preferably quick forces to positions between the main forces of both belligerents. Later anti-submarine screens by destroyers, destroyer escorts, sloops and corvettes were even more obvious analogies to their land warfare equivalent. The radar picket destroyers of 1945 were another extreme example.
These security efforts were indispensable for saving marching army corps the disruptions of raids, for countering hostile reconnaissance efforts, for providing reconnaissance and for delaying attacks until the own main force is ready to offer battle or has slipped away.
The core concept behind this is to expose a few assets to great risks in order to spare the bulk of the forces much risk. Small detachments were "expendable," while an entire army corps caught in an unfavorable situation would be a disaster.
Mr. Wills is correct that this approach has lost much appeal to 21st century people in the Western World. In fact, this approach lost ground by the 1970's already when the escorts – destroyers and frigates – grew to what's now widely perceived "capital ship" status because of the demands by powerful missile armaments.
Years of patrolling the very confined Persian Gulf did not help the idea that depth of defence may be gained by having picket ships such as the radar picket destroyers used to warn about incoming kamikaze aircraft in 1945. AEW and MPA aircraft had largely assumed the picket role.
Yet the HMS Sheffield's fate on picket duty (substituting for an AEW asset) demonstrated both the need for a picket and the relative unsuitability of large ships in such a role: A picket itself must not be a worthy prize. Its survivability should rest on its unworthiness as a target. It should cause enough trouble to the enemy to help its own fleet, but not enough to become an intentional target itself.
Mr. Wills thinks a corvette crew of 35 would be too large for such an exposure, and he's probably correct. The problem of existing corvette designs may be that they're neither large enough to be a powerful and thus useful asset nor small enough to be a suitable picket, exposing themselves to protect the capital ships. The very smallest coastal corvettes known from Sweden may be close to a suitable picket hull, though.
A few more words about the possibilities of pickets:
Radar and infrared sensor suites of capital ships still have for plain physical reasons great difficulties with a timely detection of sea-skimming missiles. Less elaborate sensor suites deployed forward could detect incoming missiles much earlier than gold-plated ones on capital ships. The same applies to torpedoes.
Furthermore, advanced multi-static sonar concepts demand the use of multiple vessels with miles of spacing in between. The full potential of low frequency active sonars is likely not going to be exploited without such forward-deployed  vessels, and the smallest hulls to be called "corvettes" may just be the right hull size for this purpose unless we use modified civilian vessels for the purpose.
Detached boats could also serve as decoys, but the fashionable unmanned vessels are the natural choice for this mission.
Sven Ortmann is a German blogger. Since 2007, his blog, "Defence and Freedom," has covered a range of military, defence policy and economic topics, with more than a million page views. His personal military background is his service in the Luftwaffe. He has guest-blogged at the Small Wars Journal Blog and other blogs on military topics.  http://defense-and-freedom.blogspot.com/