Distributed Lethality Topic Week
By Richard Mosier
Background
The U.S. Navy's distributed lethality strategy is to deny sea control to adversaries claiming sovereignty over international waters through the use of small offensive Surface Action Groups (SAGs) that operate in areas covered by the adversary's anti-access, sea denial sensor systems and supported by land based command and control, interior lines of communication, and defensive platforms and weapons. The Navy strategy is for these SAGs to transit to positions to attack enemy ISR, command and control, and defending forces; and deny them sea control. The success of distributed operations ultimately depends on Information Warfare (IW) operations to deny the enemy the data required to target and attack Surface Action Groups.
Anti-access, sea denial capabilities of near-peer nations present a high threat to surface navy operations. The use of multiple offensive SAGs complicates the enemy's defense but only if these groups avoid detection, tracking, targeting, and attack. If they operate with active sensors, datalinks and voice and network communications transmitting, they reveal their location, track, classification/identification, and group composition. Moreover, these emissions provide a readily available source for targeting the SAG. If attacked, the resulting battle damage and depleted stock of defensive weapons would most likely require the group to withdraw.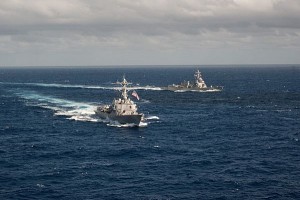 For distributed lethality to succeed, SAGs have to avoid being engaged while in transit to the attack position, attack with the advantage of surprise, avoid attack while repositioning, and if attacked, effectively defend the force. If, as must be anticipated, some or all of the units in the SAG are located and the enemy begins defensive operations, the first objective is to avoid being targeted by possibly denying the attacking force the information required to attack. If these measures fail and a SAG is located and targeted by the enemy, the goal is to transition instantaneously to full active defense in a tactically advantageous manner. Destroying the aircraft, surface ships, submarines, or land based sites is preferable to defending against large numbers of fast moving incoming anti-ship weapons.
While emission control (EMCON) is essential to deny targeting, the ships in a SAG will have to communicate to coordinate movements, exchange information, and execute defensive and offensive activities. These datalinks and battle group communications will have to be carefully selected to minimize the probability of intercept by enemy ISR systems.
Implications for Surface Navy Information Warfare
When in EMCON, the SAG will be reliant on own-force passive sensors, organic airborne surveillance systems, and the full range of information from nonorganic Navy, joint, and national ISR systems. This information will enable the tactical commander to gain and maintain both information superiority and speed of command, defined by VADM Cebrowski as: "knowing more things which are relevant, knowing them faster and being able to convert that knowledge into execution faster than the adversary."
SAG tactical situation awareness requires the capability to automatically correlate relevant active and passive information from organic and non-organic sensors with intelligence at all classifications and compartments for presentation to the commander. This automation is essential to the commander's situational awareness and speed of command. Surface ships will have to integrate the capabilities to correlate information from the ship's combat system with intelligence and information from off board sources. Speed of command is dramatically slowed and tactical advantage lost if the commander has to mentally integrate three separate sets of information with some only available in a separate physical space.
Knowing the relevant facts faster than the adversary drives a requirement that off board intelligence and information systems must meet a Key Performance Parameter for time latency, measured from time of sensing to receipt onboard ship. It also indicates the need for a similar metric for ship combat systems measured from time of information receipt on ship to presentation to the commander. Speed of command is the key to tactical success in distributed operations.
Even when exercising electromagnetic and acoustic EMCON to avoid detection, surface ships can be detected by radars, visually, and by electro-optical sensor systems. Assessing whether the SAG has been detected will depend on factors such as enemy sensor location and altitude, platform type, sensor types on the platform, and a detailed understanding of enemy sensor performance. Sensor performance estimates require not only detailed technical intelligence, but also the assessment of effects of atmospheric and acoustic conditions on enemy sensor performance at any time during the mission. This suggests that combat systems will have to incorporate new automated IW functionality that, among other things, integrates track information with technical intelligence and meteorologic/oceanographic data to assess whether the ship has been detected or not.
Conclusion
The effective planning and command of SAG IW activities requires line officers that are trained, have specialized in IW during their careers, and are ready to perform the IW functions required for success in distributed operations. That is, to achieve superior situation awareness and speed of command, influence enemy decisions, deny the enemy information superiority, disrupt enemy decision making, and protect and defend own force information and information systems from external or internal threats.
As the concept of distributed lethality matures and the Navy gains an appreciation of the necessity for and potential of IW at the tactical level, the Navy will have to adjust to more clearly define IW, describe the missions and functions of IW, establish a career path for Surface Warfare Officer (SWO) IW specialists, and equip surface combatants with the information warfare capabilities required for successful distributed operations.
Richard Mosier is a former naval aviator, intelligence analyst at ONI, OSD/DIA SES 4, and systems engineer specializing in Information Warfare. The views express herein are solely those of the author.
Featured Image:  The Arabian Gulf (Mar. 23, 2003) — The Tactical Operations Officer (TAO), along with Operations Specialists, stand watch in the Combat Direction Center (CDC) aboard the aircraft carrier USS Abraham Lincoln (CVN 72) monitoring all surface and aerial contacts in the operating area.  (U.S. Navy photo by Photographer's Mate Airman Tiffany A. Aiken)