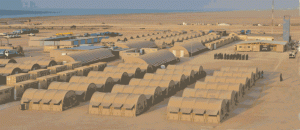 Just as independent analysts and pirates themselves attest to the impact the Puntland Marine Police Force is having on piracy in northern Somalia, pushing bosses from their bases and offering a shore-based solution nearly everyone says is needed, Robert Young Pelton of Somalia Report details the program's backers, the UAE, has suddenly halted funding (h/t James Bridger):
Around one hundred mostly African and South African expats and their approximately 800 Somali Marines of the Puntland Marine Police Force (PMPF) were left stranded with no cash for food, fuel or salaries.

Back at the PMPF base, just west of Bosaso airport, there now sits millions of dollars in heavy construction equipment, fixed and rotary wing aircraft, ocean-going ships, RHIBs, heavy transport trucks and 4X4 vehicles that suddenly became idle.
This calls into question the plateau in pirate attacks in the first half of the year from the north of the country, as gains on the ground might be reversed with a let up in pressure. According to Somalia Report's article, the decision may have come as a result of pressure from the UN which has been critical of the program. Read the full article for speculation on the program's future.
The announcement also comes on the heels of a report on the human cost of piracy by Oceans Beyond Piracy with a telling rundown of numbers. The following analysis is from gCaptain:
The report found that a total of 3,863 seafarers were fired upon by Somali pirates, down 8% from 2010.  Of those, 968 came in close contact with armed pirates who were able to board their vessels and a total of 413 of them were rescued from citadels by naval forces.

 

A standout number in the report was that the number of seafarers taken hostage in 2011 dropped by 50% with a total of 555, most likely driven by increased security measures taken by crews including the use of  armed.  In 2010 a total of 1,090 had been taken hostage.

 

The report adds that a total of at least 1,206 hostages were held captive by Somali pirates in 2011, including the 555 seafarers who fell victim during 2011, 645 who were captured in 2010 and remained captive in 2011, and 6 tourists and aid workers kidnapped on land.  The report estimates that the average length of captivity was over 8 months, up 50% over 2010.

 

Tragically, 35 hostages died during 2011 including; 8 who were killed by pirates during an initial attack or after being taken captive; 8 died from disease or malnutrition while being held; and 19 died in crossfire while being used as human shields and during hostage rescue attempts.  Another 3 hostages died after release as a result of abuse they had suffered while in captivity.

 

In contrast, it is estimated that 111 pirates were killed in 2011 with 78 killed as a result of encounters with naval forces, 30 killed by fellow pirates, and 3 by Puntland police.

LT Scott Cheney-Peters is a surface warfare officer in the U.S. Navy and the former editor of Surface Warfare magazine. He is the founding director of the Center for International Maritime Security and holds a master's degree in National Security and Strategic Studies from the U.S. Naval War College.

The opinions and views expressed in this post are his alone and are presented in his personal capacity. They do not necessarily represent the views of U.S. Department of Defense or the U.S. Navy.