The Southern Tide
Written by W. Alejandro Sanchez, The Southern Tide addresses maritime security issues throughout Latin America and the Caribbean. It discusses the challenges regional navies face including limited defense budgets, inter-state tensions, and transnational crimes. It also examines how these challenges influence current and future defense strategies, platform acquisitions, and relations with global powers.
"The security environment in Latin America and the Caribbean is characterized by complex, diverse, and non-traditional challenges to U.S. interests." Admiral Kurt W. Tidd, Commander, U.S. Southern Command, before the 114th Congress Senate Armed Services Committee, 10 March 2016.
By W. Alejandro Sanchez
Introduction
In recent months various Latin American navies have either received or deployed new platforms. For example, Chile and Mexico have launched new Oceanic Patrol Vessels (OPVs) while Colombia has launched two amphibious landing vessels and two speedboats. In late July, Peru's brand-new training vessel, the Union, left port for its first voyage.
While these acquisitions and deployments appear standard, there is one important detail that links them together: all these platforms were produced by Latin American shipyards.
The global shipbuilding industry is about to get more crowded as Latin America shipyards are making their presence felt. Their platforms are not solely produced for local navies, as exporting them is now an objective.
Current Projects
The most ambitious domestic naval project is found in Brazil. With assistance from the French company DCNS, the Brazilian Navy is constructing four Scorpene-class diesel-electric submarines, as well as a nuclear-powered submarine, a dream of the Brazilian Navy for decades. Just this past July, the fourth section of the Humaitá was delivered to Itaguaí Construções Navais (ICN).  According to the Brazilian news agency Defesa Aerea & Naval the first submarine, the Riachuelo, will be launched in 2018 and delivered in 2020 while the Humaitá will be launched in 2020 and delivered in 2021.
Apart from the submarines themselves, Brazil is also constructing a submarine-building facility in Itaguaí, near Rio de Janeiro. These projects constitute the massive program known as Programa de Desenvolvimiento de Submarinos or Program Development for Submarines (PROSUB).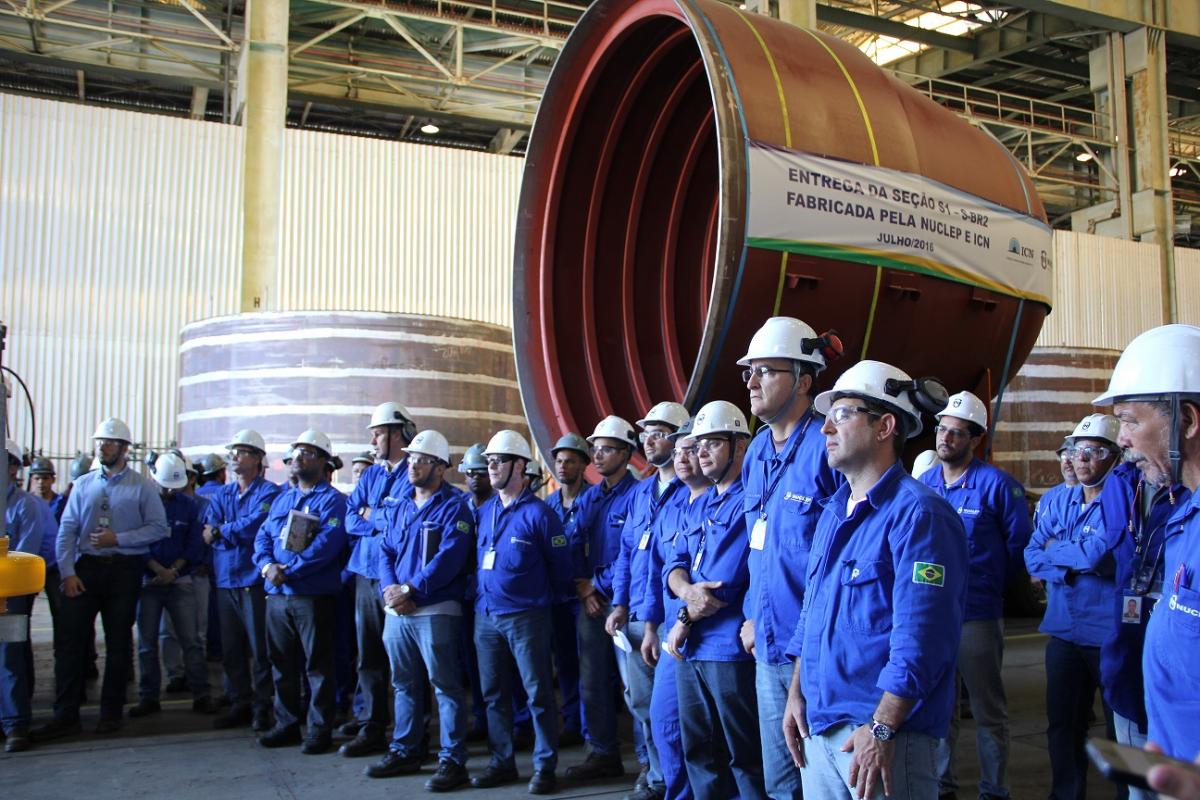 Other countries are manufacturing naval platforms, though not submarines. Specifically, regional shipyards are constructing OPVs, multipurpose vessels, and even training vessels. Case in point, in late July, the Colombian shipyard Corporación de Ciencia y Tecnología para el Desarrollo de la Industria Naval Marítima y Fluvial (COTECMAR) delivered two new amphibious landing vessels, the Golfo de Morrosquillo and Bahía Málaga to the Colombian Navy, as well as two river patrol boats. COTECMAR has already delivered two similar ships (the Golfo de Tribuga and the Golfo de Uraba) to the Colombian Navy and plans to build an additional two more for a total of six vessels. The company has also constructed OPVs like the 7 de Agosto, which participated in operations Atalanta and Ocean Shield off the Horn of Africa.
When it comes to other countries, in early August the Chilean shipyard Astilleros y Maestranzas de la Armada (ASMAR) launched the OPV Cabo Odger from its facilities in Talcahuano. The company has already delivered three similar vessels: "Piloto Pardo, Comandante Toro and Marinero Fuentealba that were commissioned June 2008, August 2009, and November 2014, respectively."
As for neighboring Peru, the state-run shipyard Servicios Industriales de la Marina (SIMA) has, as previously mentioned, constructed the country's new training vessel (the author has discussed Latin America's training vessels in a 6 June commentary for CIMSEC). On 27 July, the BAP Union departed the port in Callao for its first multinational voyage, carrying aboard 93 Peruvian naval cadets. Moreover, two patrol vessels were launched earlier this year: the Rio Pativilca and the Rio Cañete; they were constructed in SIMA's shipyard in Chimbote (northern Peru).
As a final example,the Mexican Secretariat of the Navy has announced that the shipyard Astillero de la Marina (ASTIMAR) has launched two new vessels in the past couple of months. The shipyard No.6 at Guaymas (state of Sonora) launched the logistics support vessel ARM Isla María Madre in late May while shipyard No.1 shipyard launched coastal patrol vessel ARM Monte Albán in mid July. IHS Jane's Defense Weekly explains that "Secretary of Navy Admiral Vidal Soberón Sanz noted during the launch ceremony that the ship was entirely built by Mexican workers with local materials."
In an interview with the author, Mr. Mario Pedreros Leighton, president of the Georgetown Consulting Group, LLC., based in Washington DC, highlighted the multipurpose functions that these domestically-manufactured platforms accomplish. As inter-state war is highly unlikely in Latin America, platform acquisition is not solely judged on traditional defense from a foreign military, but what other missions platforms can carry out, particularly to support civil society. Mr. Pedreros Leighton explains how "there is no doubt that vessels today must fulfill a social role, like protecting natural resources and carrying out search and rescue operations. These uses make the vessels more attractive as their value is not based on traditional defense. In turn, governments find it easier to approve budgets and investments regarding these projects." Hence, it is no surprise that the region has focused on constructing OPVs and multipurpose ships, as they are relatively inexpensive to operate and maintain, and can be utilized for patrol, support operations, as well as providing relief to coastal regions. 
Future Projects?
It is safe to say that Latin American shipyards will continue to produce vessels and submarines for local navies. As previously mentioned, Brazil is close to completing the construction of two Scorpene submarines, while it is expected that the two others will be delivered in 2022 and 2023. Even more, the highly anticipated nuclear submarine should be ready around 2023-2025.
Moreover, it appears that the Argentine shipbuilding industry is bouncing back after experiencing a difficult decade and a half of economic crisis and turbulent governance. The Rio Santiago shipyard in Buenos Aires province will now manufacture vessels that will be utilized to train naval cadets. Two are currently under construction, with a total of six expected to be ordered. According to the Argentine news agency Telam, the first will be delivered in 2018. Moreover, earlier this year Rio Santiago signed a deal with Daewoo to manufacture a Makassar-type landing dock platform vessel.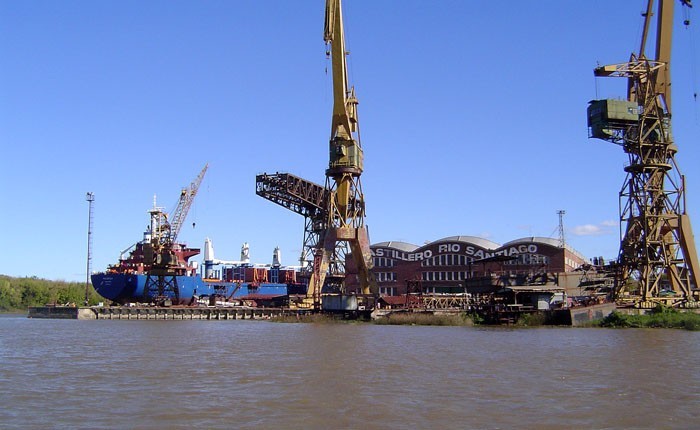 It is important to highlight the assistance that other companies are providing to Latin American shipyards. Apart from DCNS in Brazil or Daewoo in Argentina, other examples include, Damen, which signed an agreement with Mexico so the country can construct in its own shipyards the aforementioned OPVs which are based on Damen's Stan Patrol 4207. Similarly, while the Union was constructed in Peru, the Spanish company CYPSA Ingenieros Navales aided SIMA in the design of the vessel. As for future cooperation projects, representatives from Mitsubishi Hitachi Power Systems and Copower Ltda visited the facilities of Ecuador's state-run shipyard Astilleros Navales Ecuatorianos (ASTINAVE) this past May.
The argument proposed here is that Latin American shipyards will continue to aim at domestically manufacturing platforms, which means that future deals with foreign shipyards will have to include some level of know-how and technical exchange.
The Ultimate Objective: Export
What is the ultimate goal for these shipyards? Manufacturing platforms for export, and not just to sell to local navies appears to be the answer. On this issue, Colombia's COTECMAR reached a major milestone in April when Colombian President Juan Manuel Santos carried out a diplomatic tour throughout Central America. During his stop in Honduras, President Santos signed a deal with the Honduran government where the latter will purchase a COTECMAR support vessel (the exact model and timeline for delivery are still unknown).
The significance of this deal cannot be underestimated as it is a Latin American shipyard exporting a platform to another regional state. (COTECMAR had previously supplied river boats to the Brazilian Army and Navy, however we are focusing on ocean-going platforms).
Colombia–Launch of the ARC Golfo de Uraba. (COTECMAR)
This deal also brings up the question of which countries are potential customers for Latin American shipyards. It makes sense that their primary targets would be countries with less developed naval industries, like for example Central America, Uruguay, and perhaps Caribbean states. If these hypothetical deals succeed, maybe some regional shipyard could attempt to export outside of the Western Hemisphere.
One plausible scenario is that, even if Latin American shipyards cannot sell brand-new platforms to the aforementioned nations, they could hypothetically still sell efficient, second-hand vessels from local navies at a much reduced cost. Mr. Pedreros Leighton explains how "Chile, for example, could attempt to sell the OPV Piloto Prado [constructed by ASMAR and utilized by the Chilean Navy] which is almost a decade old and was constructed utilizing a Fassmer 80 design." Second-hand platforms are always an attractive option when there are insufficient funds for brand-new equipment.
Potential Problems
Due to space considerations, we will provide a broad overview of the likely woes thatregional shipyards could face regarding future projects. Financial and technical problemsare obvious concerns, which are best exemplified by the construction of the Brazilian submarines. In 2009, the Navy's objective was to have the first submarine, the Riachuelo, launched in 2015, but construction has been delayed by three years. Meanwhile, the delivery date for the nuclear submarine varies by a margin of two years. These changing delivery dates certainly do not help the image of the ICN shipyard and its supporting companies.
Another issue is finding customers, locally and abroad. The global shipbuilding industry is cluttered as shipyards compete with one another as well as government-to-government deals (e.g. Peru has recently obtained a new corvette, the Ferre, which was donated by South Korea).  Moreover, while Latin American shipyards can construct vessels, potential customers may continue to prefer more expensive platforms from well-known companies.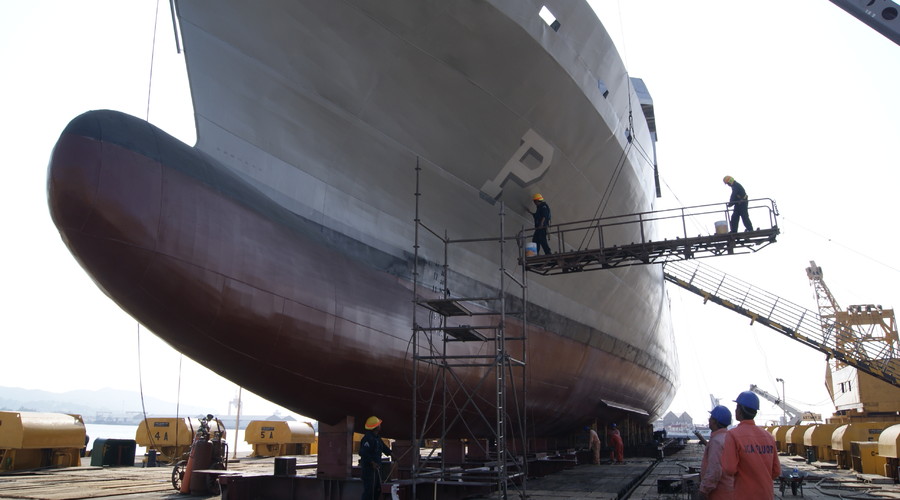 Another problem has to do with the volume of construction. Mr. Pedreros Leighton explains that "building one vessel is very expensive, but manufacturing two or more makes the project less costly." Unsurprisingly, shipyards prefer to have large orders, however they may have to settle for single units (e.g. COTECMAR and Honduras) in order to establish their brands with foreign customers. While this situation may diminish sales revenue, the offset would be achieving a stronger name brand.
A final point has to do with marketing and name brands. Colombia's COTECMAR has had an aggressive marketing program in order to gain customers abroad such as Brazil and Honduras. It is beyond the scope of this essay to discuss marketing strategies among shipyards, however it is necessary to stress that Latin American shipyards will only export platforms if they manage to make their names become well-known regionally.
Concluding Thoughts
Latin American shipyards are currently enjoying a boom, as many of them are constructing vessels from Brazilian submarines to OPVs in Chile and Mexico, to multipurpose vessels in Colombia, and a training vessel in Peru. This is a positive development for regional navies as they can rely on domestic shipyards to construct new platforms and have the expertise to repair vessels already in service. Moreover, the sale by Colombia's COTECMAR to Honduras of a support ship is a significant development as this means regional shipyards are now exporting platforms.
It is true that Latin American navies cannot manufacture heavy surface combatants or carriers; meanwhile Brazil is having trouble keeping its ambitious PROSUB submarine project on schedule. Nevertheless, the tides are changing and Latin America is no longer solely an importer of sea platforms, it is also once again a producer and, albeit in a very restricted breadth, an exporter. 
W. Alejandro Sanchez is a researcher who focuses on geopolitical, military, and cyber security issues in the Western Hemisphere. Follow him on Twitter: @W_Alex_Sanchez.
The views presented in this essay are the sole responsibility of the author and do not necessarily reflect those of any institutions with which the author is associated.
Featured Image: Construction of the Brazilian submarine Riachuelo in Itaguaí (RJ) (Planobrazil.com)