European Maritime Security Topic Week
By Jeremiah Cushman
Since regaining their independence in the early 1990s, Estonia, Latvia, and Lithuania have confronted the challenge of how to secure themselves with limited resources. Russian opposition to the Baltic States' Western orientation has ensured that Moscow remains the primary threat. Since Moscow annexed Crimea from Ukraine in 2014, the countries have become more concerned about their eastern neighbor's intentions.
During the 1990s, the Baltic States considered three major security policy options: neutrality (Russia's stated preference); trilateral alliance and close military cooperation with the Nordic states; and working to join NATO and the European Union.1 With a political desire to rejoin the West and ongoing suspicion of Russia, all three countries made joining Western institutions their primary goal. They achieved membership in both organizations in 2004.
With NATO's Article V collective defense guarantee in hand, the Baltic States were free to choose their own paths to meeting their alliance obligations and homeland defense needs. Estonia has maintained a focus on territorial defense, retaining conscription and large reserves to defend the homeland, while actively participating in NATO and U.S.-led operations with its small active-duty forces. Lithuania followed a middle ground, tailoring some of its forces for missions abroad, while retaining some territorial defense capability. Latvia elected to rely almost entirely on NATO for deterrence, ensuring its forces are fully interoperable and available for alliance operations. Latvia and Lithuania both ended conscription to concentrate on professional forces. The Russian annexation of Crimea in 2014 refocused all three countries on homeland defense, with Latvia and Lithuania re-emphasizing territorial defense capabilities. Lithuania has decided to resume conscription for at least the next five years.
All three Baltic States have focused their naval capabilities on mine countermeasures. This specialization is seen as a concrete way to contribute to NATO missions despite limited resources and to address regional maritime security concerns. The Baltic Sea contains thousands of mines and munitions left over from World Wars I and II, which continue to be cleaned up during NATO and other exercises. Additional capabilities are retained for lower-end homeland security missions.
The threat of Russian ground invasion has been the primary occupation of Baltic military establishments. All three countries nevertheless have significant coastlines on the Baltic Sea with the accompanying maritime security and defense concerns. These include search-and-rescue, exclusive economic zone security, combating smuggling, the threat of amphibious assault, and hostile submarines. The focus on land threats, expense of naval combat platforms, and limited resources have so far prevented the countries from acquiring or maintaining significant naval capabilities. What follows is an analysis of each Baltic State's respective naval capabilities followed by trends in their combined missions and activities.
Estonia
Estonia focuses its naval forces almost exclusively on mine countermeasures. The current national defense plan, which runs through 2022, calls for modernizing its three Admiral Cowan-class (former British Sandown–class) minehunters, developing its diver group, and maintaining the auxiliary vessel Tasuja (ex-Danish Lindormen–class). The focus is on international military missions, particularly with Standing NATO Mine Countermeasures Groups (SNMCG). Local maritime security is left to other agencies.
The Police and Border Guard is responsible for surveillance, border protection, search-and-rescue (SAR) and pollution control operations.2 The Navy does not participate in such missions, but can be tasked for SAR as needed.
The Maritime Administration provides navigational security, including sea charts, hydrography, icebreaking, and maintaining a vessel traffic service. Fisheries protection is the responsibility of the Ministry of Environment, although it makes use of Police and Border Guard assets.
A 2016 report found that Estonia's maritime security suffered from institutional fragmentation and a lack of maritime situational awareness.3 Insufficient investment and poor delineation of responsibilities left the country without the ability to identify or precisely locate unknown vessels within its waters. Should a vessel be identified as hostile, Estonia lacks the ability to engage it.
The divide between the navy and border guard has been exacerbated by domestic politics, including constraints on using defense assets for constabulary duties. The border guard has also benefited from EU investment, which cannot be used for military purposes.
With the appropriate investments, these problems could be resolved within 15 years, says the aforementioned report. This would require institutional reform and significant funding for coastal radars, additional patrol craft, helicopters, coastal defense missile batteries. It remains to be seen if the Estonian government will move forward on these proposals. Until then, it will remain vulnerable to maritime threats.
Latvia
Latvia has a significant mine-hunting capability with a fleet of five Imanta-class (former Dutch Alkmaar class) mine countermeasures ships for NATO operations. Riga also cooperates with Lithuania on mine warfare as part of the Baltic Squadron (BALTRON) program. Estonia withdrew from the unit in 2015 as it refocused its resources on its own minesweeping capabilities.4
Latvia has invested in additional multi-role and patrol capabilities with its Skrunda-class patrol boats. Each features a modular mission bay capable of supporting missions such as mine countermeasures, environmental protection, or armament up to a 35-mm cannon. The Navy has also considered anti-submarine warfare and area air defense capabilities for the class.5 Latvia has also implemented a sea coastal surveillance system (SCSS) to improve maritime situational awareness.
The Latvian Coast Guard service, a component of the Navy, is in charge of search-and-rescue, environmental monitoring, and law enforcement in national waters. The Sea Coastal Surveillance Service monitors and surveys territorial waters. The Border Guard also operates some maritime assets for border protection.
As NATO has increased its presence in the Baltic States, Latvia has proposed that the alliance set up a naval facility in the former Soviet Navy base in Liepaja.6 This facility would create a steady NATO naval presence in the immediate region, enhancing maritime security and providing capabilities the Baltic States lack. Critics note that it might also be viewed as a provocation by Moscow. As it stands, little appears to have happened on this front. The focus continues to be on landward defense.
Lithuania
The Lithuanian Navy, as might be expected of the largest of the Baltic States, has the greatest capability. Mine warfare is a core asset, including two Kursis-class (ex-German Lindau–class) coastal minehunters and two Skalvis-class (ex-British Hunt class) minehunters and the support ship Jotvingis (ex-Norwegian Vidar class). It has a capable patrol squadron consisting of four Zemaitis-class patrol ships (ex-Danish Flyvefisken class). Lithuania acquired the fourth ship, the Selis, in November 2016, in an agreement that also covered two anti-submarine warfare sonars for other ships in the class. The acquisition permitted the decommissioning of the Navy's last Dzukas-class (ex-Norwegian Storm-class) patrol craft. It may also have been inspired by the increasing Russian threat. The Zemaitis-class ships provide the greatest combat capability of any in Baltic naval service, with modern combat management systems and a 76-mm main gun.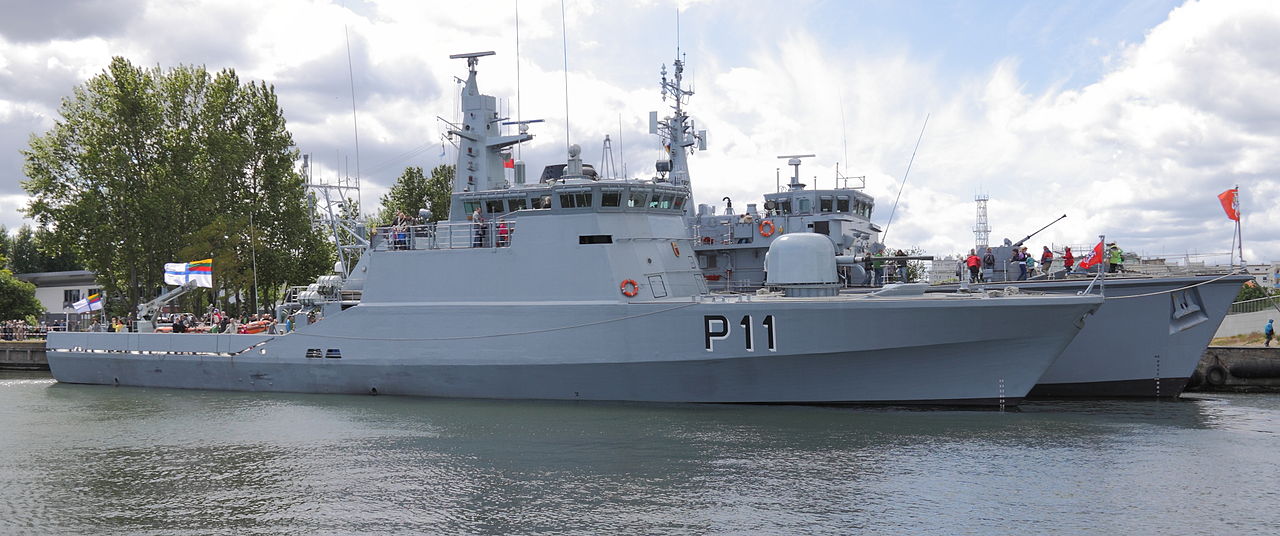 The Lithuanian Navy has been described as the most balanced of the three Baltic naval services. It is tasked with monitoring and defending national waters as well as performing search-and-rescue and other maritime security missions. The sea and coastal surveillance service and maritime rescue coordination center are under the command of the navy. The Border Guard Service provides air assets for SAR operations, since the Navy does not maintain its own.
Combined Maritime Capabilities
The Baltic States face a challenging maritime environment. Russia is stepping up its operations, including increased air activity and deploying to the region two Grad Sviyazshk-class patrol craft, equipped with long-range Kalibr cruise missiles.7 For the most part, the countries lack the resources to defend themselves against serious naval threats without significant NATO assistance. All are increasing defense spending (Estonia already meets NATO's 2 percent GDP threshold and Latvia and Lithuania are expected to reach it within the next few years), though ground capabilities remain the priority.
Russia's capability to potentially control airspace in the region, to include fighter jets and long-range surface-to-air missile systems, poses an additional threat. NATO currently maintains an air-policing capability stationed at air bases in Estonia and Lithuania. Otherwise, the alliance is reliant on assets outside of the immediate region. The Baltic States lack significant air defense capabilities, although talks are underway on a joint procurement of NASAMS surface-to-air missile systems. Their naval platforms are without any such protection.
All three face a number of capability gaps. None has a significant naval combat capability. The Lithuanian navy is the only with ships with naval guns of any size. A mobile coastal missile capability is seen as needed by some. Elsewhere in the region, Sweden has been refurbishing its RBS 15 missile batteries, while Poland has purchased the Norwegian Naval Strike Missile. A joint procurement of such a capability by the three countries could address financial and logistics concerns.
Mine warfare is another gap. Lacking sea control capabilities, strengthening sea denial is an option for bolstering defenses. Finland has expertise in minelaying and could be a valuable partner.
Given recent incidents in Swedish and Finnish waters, some sort of anti-submarine warfare (ASW) capability may also be required. Lithuania is upgrading the ASW capability on its Zemaitis-class boats, while Latvia could seek such a capability for its Skrunda-class patrol craft. As unmanned systems improve, this could be another avenue for these countries to obtain an affordable ASW capability in the future.
The Baltic States also participate in wider maritime surveillance activities in the region, namely the Sea Surveillance Cooperation Baltic Sea (SUCBAS) program. This includes all of the states that border the Baltic Sea, except for Russia. The participants exchange information on vessel data, technical sea surveillance and views on related issues. There is also cooperation at the European Union level.
Conclusion
Despite the similarities of their challenges, the Baltic States have mostly gone their own way on naval policy. Each has a different concept for their navy and maritime security agencies, with cooperation among the states mostly limited to mine countermeasures capabilities. They have not pursued the potential for joint procurement of naval capabilities.
In this new strategic environment, the Baltic States must think carefully about how to maximize their assets, including how border and coast guard services should be utilized in a high-threat scenario. Improving coordination domestically and with their neighbors will enhance security beyond the Russian threat.
Any significant changes will take time to implement. With the increased visibility of potential threats domestically, now seems an opportune time to begin making the necessary investments. By better securing their maritime holdings and strengthening naval defenses, the Baltic States will make a useful contribution to the overall defense of the region in support of NATO and EU objectives.
Jeremiah Cushman is a senior analyst at Military Periscope, where he writes about weapons. He holds a BA in International Relations from Boston University and an MA in European and Eurasian Studies from the George Washington University, where a focused on European security and the Baltic States.
Endnotes 
1. "Between continuation and adaptation: The Baltic states' security policy and armed forces," Piotr Szymanski, Center for Eastern Policy (Warsaw, Poland), Nov. 24, 2015.
2. "Cooperation Of Coast Guards And Navies In Baltic Sea Region," Lt. Cmdr. Taavi Urb, National Defence Academy of Latvia (Riga), April 10, 2011.
3. "The State Needs Warships, Helicopters And Coastal Radar Network," Oliver Kund, Postimees (Tallinn), Dec. 27, 2016.
4. "Estonia To Withdraw From Baltic Naval Squadron," Estonian Public Radio, Jan. 8, 2015.
5. "The Commanders Respond: Latvian Navy," Capt. Rimants Strimaitis, Proceedings, March 2012.
6. "Latvia's Push For A NATO Naval Base," Elisabeth Braw, World Affairs Journal, June 21, 2016.
7. "Russia Beefs Up Baltic Fleet Amid NATO Tensions," Andrew Osborn and Simon Johnson, Reuters, Oct. 26, 2016.
Featured: Featured Image: Estonian Defense Forces, 17 April 2009. (Estonia Ministry of Defense)