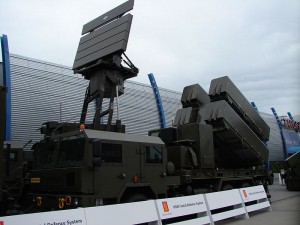 As national defense gains more attention in Poland, the Navy should benefit after years of neglect.  Specifically, the renewed focus raises hopes that all of the projects laid out in Poland's recently published modernization plan will receive political support.  During only the last 2 months Poland has declared its intent to participate in NATO's Alliance Ground Surveillance project and announced it would join the European Space Agency, mindful that:
Poland's presence in the ESA will simplify cooperation within international projects that have already started, e.g. the satellite defense agreement with Italy and participation in Multinational Space-based Imaging System for Surveillance, Reconnaissance and Observation (MUSIS).
The latest news (in Polish) says delivery of the first 12 Naval Strike Missiles (NSM), for the coastal defense battery called NDR (Nadbrzezny Dywizjon Rakietowy), is expected to take place at the end of the month.  Further deliveries will continue until 2015, based on the contract valued at 924M PLN ($280M). 
In the background is a series of political meetings.  On November 12th, the Foreign Ministers and Ministers of Defence from Poland and Sweden held talks about military cooperation and regional security.  As an official MoD newsletter says, it was an "historic first".  The meeting also highlighted the dual role of navies in war and peacetime, as the Polish Navy plays a role in international cooperation focused on maritime security that is equally a matter of defence and foreign affairs.  In another series of bilateral meetings with the German Minister of Defence, the importance of the Navy was directly raised. 
During the meeting the Ministers talked about bilateral military cooperation and international affairs.  Modernization of the Armed Forces, including modernisation of the Navy, was among the topics as well. 

"Besides air defence and missile defence, modernising the Polish Navy is very important for us.  We carefully observe Germany and its solutions for modernisation of mine-hunters," Minister Siemoniak said.
Another source (also in Polish) gives a handful of details about the fruits of these engagements, and mentions that specific directives have been issued for the Chiefs of Polish and German Navies, including joint patrolling in the Baltic.  Cooperation with Germany on the industrial level is also highly probable as the Polish Navy prefers austenitic steel for construction of its new mine-hunters and such technology is offered by Luerssen only.
However, intentions remains just intentions without correct financing.  The good news is that project of the 2013 military spending is 6.74% higher compared to 2012, and 12% higher in the case of equipment modernization.  After joining NATO, the Polish navy significantly increased its participation in multinational exercises.  Operational tempo grew, but this was not seen as important tool of diplomacy.  Only recent shift in government interest promise that old and worn out navy platforms will be replaced and properly recognized for the diplomatic role they play.
Przemek Krajewski alias Viribus Unitis is a blogger In Poland.  His area of interest is broad context of purpose and structure of Navy and promoting discussions on these subjects In his country