By Armando J. Heredia
The Philippine Navy has unveiled bidding specifications to purchase it's first new major surface combatant in several decades. Titled "Frigate Acquisition Program," this key milestone of the Capability Upgrade Program will reorient the nation's military from decades of COIN operations and enable a credible defense against conventionally-armed opponents.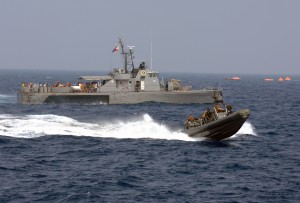 A closer look at the program's bid specifications along with missions that are likely to be met by the platform, reflects the balancing act between cost and capability that all naval forces must perform when seeking mid-to-low assets. Is it really a frigate that they're looking for? Or is it more of a corvette? Or even an Offshore Patrol Vessel (OPV)?
It's worth noting that at a functional view, the distinctions today between frigates, corvettes and OPVs are subtle; and in most cases, the label used is more about political expediency than clear-cut delineations about capabilities. For purposes of this article, an OPV leans towards enforcement or constabulary duties as opposed to being a dedicated combatant vessel, with a minimal weapons fit necessary to fulfill it's function.
A Philippine Navy Desired Force Mix paper published in 2012 identified gaps in several operational specialties including Anti-Air Warfare (AAW) and Anti-Submarine Warfare (ASW); roles traditionally filled by frigates and corvettes. The bid specifications at a high level paint a picture of a multi-role combatant with embarked helicopter that meets both those capabilities, plus a moderate surface warfare punch.
However, a closer look at the requirements calls into question if the program is really seeking a frigate:
Perform Economic Zone Protection Roles

Operate up to Sea State 6

Operational Range of 4,500 nautical miles @ 15 knots

30 Days Endurance

Minimum upper speed of 25 knots
Starting at the top, the Exclusive Economic Zone (EEZ) specification combined with high endurance and rough sea-state handling gives signals that we're looking more at a patrol vessel for primary use. The contemporary history of spats with China over the resource-rich Shoals and the Spratlys is a stark reminder that asserting claims in the maritime space is one of the Philippine's political drivers for modernization. Currently, the Navy has only two vessels capable of sustained operations to the edges of the EEZ; namely the newly acquired High-Endurance Cutters (WHEC) from the U.S. Coast Guard. It's logical that follow-on ships would enhance those same patrol and presence operations.
The lower speed range (most combatants top out at 30+ knots), large operating radius, modest cruise rate and long endurance time reinforce the idea of patrol rather than dedicated offensive operations. While a specific propulsion type is not mentioned, one of the reasons the Philippines did not leverage wide availability of gas-turbine ships in the used defense market is a concern for their high fuel consumption rates. That may be explained in some part by the doubling of the Navy's Petroleum, Oil & Lubricants (POL) expenditure; seeming to coincide with the initial operating year of the gas-powered Hamilton WHECs. While the cutters by themselves cannot be the sole cause, it's a reminder that with new acquisitions comes a increased overhead – there are no free lunches. Gas-turbine plants are also a novelty, having been introduced to the Fleet only on the WHECs – and an older model to boot. Given all that, it's likely that the winning bid will be diesel-based. This is also a characteristic of patrol vessels, prioritizing fuel efficiency and a greater operating range while trading off reduced speeds for sprints, evasive maneuvers and transits.
Other aspects to consider:
Embarked helicopter and rigid hull inflatable boat (RHIB) facilities, including full hangar space for the aviation asset

Accommodations for special warfare or other occupants

Selection of a 2D air search radar and Electro-Optical (EO) sensors

A quadruple Surface-to-Air (SAM) launcher with infrared or semi-active homing missiles (5km minimum range)

Two dual-box Surface-to-Surface Missile (SSM) Launchers (total of four missiles, 50 km minimum range)

76mm main gun

One (1) secondary stabilized gun
Again, some subtle differences delineate this vessel's requirements from a pure combat craft. Helos and RHIBs are common to both ship types – force multipliers that enable presence, intelligence-gathering and and if needed, kinetic reach well beyond the ship's limits. Conversely, they can also be used for search-and-rescue (SAR) and law enforcement. A possible supporting indicator is whether the winning bid uses ramps versus davits. The latter method is more versatile and enables SAR operations in rougher seas that would swamp a ramp-equipped ship. The additional accommodations, while noted for special warfare detachments, can also double as holding areas for refugees, survivors or detainees.
When selecting a sensor suite for a frigate, there are no advantages to having a 2D radar versus a more capable 3D radar that facilitates, among other things, effective anti-air warfare. Coupled with the minimal SAM armament that is purely defensive in capability, this cannot be one of the ships meeting the AAW role. The under specification of the SSMs (eight missiles are nominally found on most warships) is another indicator of the balance between versatility and weapons fit, potentially indicating that deckspace is either at a premium or needs to be freed for other purposes. The 76mm main gun leverages operational and maintenance commonality, as the Oto-Melara is present on other ships in the fleet. It is also just about the largest caliber that can be found on patrol vessels. No explicit Close-In Weapons System, a staple in modern warfare against missile-equipped opponents, is another tell. Very rarely are OPVs armed with last-ditch defense systems, and their secondary gun is usually a slower-firing weapon in the 20-35mm range rather than high-speed multi-barrelled Phalanxes or GoalKeepers.
Of the eleven prospective bidders, what are some of the offerings that might fit? The tight budget requirement really drives baselines to be a small hull, likely accompanied by a custom sensor/weapons fit that may not tick all the boxes.
Navatia's Avante 1800 is an excellent candidate, ticking and in most cases, exceeding the requirement checkboxes. South Korea could be sitting pretty, as the pending sale of FA-50 fighters could put them at the top of the list to leverage same-source efficiencies. But it will take a lot of corner-cutting to get Hyundai's Incheon-class frigate down-specified to fit the bill. While not in the prospective bidders list, other close alternatives are BAE's Amazonas-class OPV, and ST Marine's Fearless baseline platform. Other alternatives may be immediately disqualified on the basis that they must be "proven vessels," – i.e., previous successful sales of the platform in the past ten years.
Given the short period that has passed since publication of the technical specifications, it's not surprising that the bidding deadline moved to the end of November, granting interested parties more time to build competitive proposals. Of all the hurdles they face, the one that may be most daunting is the projected total budget of roughly USD400 Million for both units plus integrated logistics support. The situation is further complicated by the notorious 2-Stage Bid Process that has derailed previous acquisition programs.
A term that will likely puzzle and frustrate the bid analysis is "Fitted for but not with" – meaning, "yes, we'd like to have Feature X, but if your bid doesn't have it, it might still be okay and we might actually have the money for it but we can't tell you right now." It's a very big symptom of the program's tone of uncertainty. If no changes are issued to the technical specifications, then only pre-bid Q&A will enable prospective companies to tailor their offerings.
The program could quickly run out of steam if winning bids don't emerge. If that happens, the bid process resets with accompanying waiting periods. Several factors are lining up that would make such delays to a successful signed contract fatal. For starters, the monies allocated will need to eventually be reset if not spent, requiring passage again through an already lengthy and onerous legislative process. President Benigno Aquino III's term will end in 2016, and there is no guarantee that the following administration will be as supportive of military modernization. Finally, there is growing call for a rejection of purchases that are not addressing immediate security needs such as the Sabah and Zamboanga crises. Assuming a bid makes it past, they will still have to reckon with Stage 2, where potentially something as small as a documentation omission or error could force a reset back to the beginning as well.
To succeed, the Frigate Acquisition Program needs to move away from a minimums-only approach on technical specifications. A Request-for-Proposal that states minimums exclusively will beget minimums – driving the bidders to a cost-sensitive solution. By emphasizing what this platform really should excel at (i.e., surface warfare or AAW), this gives maneuvering room for the suppliers to build in additional selling points under the bottom line. This gives the Philippine Navy a solution that should satisfy cost limitations and deliver the most value.
Armando J. Heredia is a civilian observer of naval affairs. He is an IT Risk and Information Security practitioner, with a background in the defense and financial services industries. The views and opinions expressed in this article are those of the author, and do not necessarily represent the views of, and should not be attributed to, any particular nation's government or related agency.