International Maritime Satire Week Warning: The following is a piece of fiction intended to elicit insight through the use of satire and written by those who do not make a living being funny – so it's not serious and very well might not be funny. See the rest of our IntMarSatWeek offerings here. 
WASHINGTON—The U.S. Navy today unveiled its new maritime strategy, which some have already dubbed the "Swivel to Africa."
Navy spokesman Lieutenant Meghan Jorg explained the shift, "We spent several years trying to devise a strategy to support the President's 'Rebalance to the Pacific.' Frankly China's anti-access/area-denial (A2/AD) capabilities are making the Asia-Pacific region too challenging an operational environment to operate in, so we're going to focus somewhere else."
Sources say that rumors of a pending cut to the number of Littoral Combat Ships (LCS), feared by some as unable to support the Pacific strategy, also played a role in gaining Congressional approval for changing that strategy.
In prepared remarks Jorg added, "In this age of shrinking budgets we need to focus on what we can do, not what we'd like to be able to do. We need to focus on the feel-good piece, and expanded celebrity charity visits. Vital issues like children's smiles and elephant tusks demand our immediate attention. To address these vital security threats, we will leverage core Navy-centric force multipliers such as Seabees, civil affairs teams, and expeditionary postal clerks to achieve theater affects; none of the other services offer these capabilities."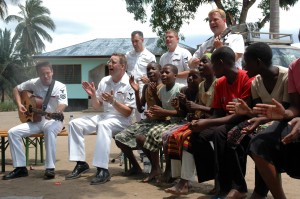 While Navy officials insist the core capabilities detailed in the previous maritime strategy, A Cooperative Strategy for 21st-Century Seapower, are still required—supported by high-end kit including aircraft carriers and ballistic missile submarines—the Swivel brings with it a new set of missions. Among those listed as crucial are candy distribution, anti-poaching operations, and anti-smuggling operations. According to Jorg, "We want to begin deploying DDG-1000s, big-deck amphibious assault ships, and Ford-class carriers to the coasts of Africa as soon as possible."
Sources confirmed that in order to win support for the new maritime strategy from key Congressional Republicans the Navy will be required to fly combat air patrols over U.S. embassies and consulates on the continent, regardless of overflight agreements from the host nations.
That most-traditional naval African mission, counter-piracy, also received its due: "We heard that someone, somewhere, reported a possible act of piracy, or fistfight, or surly bridge-to-bridge exchange, on a ship just outside African territorial waters somewhere other than Somalia," Jorg stated. "Did you know that 90 percent of the world's commerce travels by sea?"
The Swivel is not without its critics, however, and several African counterparts expressed their concerns – not only for fear of enlarged American footprint. Nigeria's Chief of Naval Staff Vice Adm. Dele Ezeoba said, "We welcome a strengthening of our already close friendship with the Americans, but this seems like overkill – I mean just yesterday we got a call about a skiff involved in oil bunkering, and when several of the individuals jumped overboard the Americans moved in submarines and started dropping sonobuoys from aircraft to find the culprits."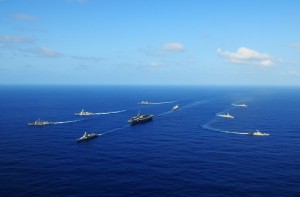 Shortly after the Navy statement, the U.S. Air Force Staff confirmed that the Navy and Air Force had formed an Air-Sea Safari [acronym redacted] office for coordination. Air Force representatives also confirmed that the Swivel would justify its retirement of the A-10 fleet, and that the F-35, F-22 and new Long Range Strike Bomber (LRSB) would make perfect platforms for counter-smuggling patrols and long-range "show-of-force" missions deep within the African continent.
The Army responded to the new maritime strategy with a statement that "only credible armored land forces can pose a significant deterrent to the growing security problems in Africa. You need agile, rapidly deployable armored and artillery task forces to successfully deter ivory smuggling." The Army has since unilaterally announced plans to base advanced expeditionary brigade combat teams—including Stryker armored vehicles and Apache attack helicopters—on Navy ships; Navy officials were unaware of any such plans.
When contacted for comment on the Army's plans, a Marine Corps spokesman shrugged and said, "Meh, sounds a lot like a [Marine Expeditionary Unit] to me."
Jay Boyles and Scott Cheney-Peters work in windowless offices in the Pentagon. Thank goodness their views do not reflect those of the Department of the Navy or Department of Defense.