The following article originally featured on MOC Warfighter and is republished with permission. Read it in its original form here. 
By William Lawler, CAPT USN and Jonathan Will, CAPT USN (Ret.)
After WWII, the U.S. Navy's ability to plan and execute at the operational level of war (OLW), which links tactical actions with strategic objectives, progressively diminished. Following 9/11, Navy senior leadership recognized this shortcoming and introduced a new concept, the Maritime Operations Center (MOC), to address it. In 2005, the CNO, VCNO and major fleet commanders committed to the reinvigoration of U.S. Navy operational-level execution by spreading the MOC concept throughout the fleet. This article traces the development of the MOC, recognizes that the Navy has markedly improved its ability to effectively plan and execute at the OLW, and makes recommendations for moving forward.
Why MOC?
The MOC concept was born out of difficulties experienced by the Navy in operational planning, command and control (C2), and Service interoperability when it took part in joint operations in Grenada (1983), Panama (1989), and Operation Desert Storm (1991). While the Navy made significant contributions to these operations as a force provider, it was generally perceived that Navy personnel lacked the expertise and capacity required to plan and command campaigns and major operations. In short, the Navy had lost its ability to plan and execute at the OLW.
After 9/11, ADM Clark and subsequent Chiefs of Naval Operations (CNOs) recognized the need to enhance the planning and C2 capabilities of Navy OLW staffs. The result was a CNO vision to establish networked commands with MOCs that would employ common doctrine, standardized processes, educated and trained personnel, and common C4I systems. These strengths would enable them to operate with diverse partners (joint, interagency, coalition, or combined) across the range of military operations. The MOC concept was first used in 2002 by the U.S. Second Fleet during Fleet Battle Experiment Juliet (FBE-J) in ExerciseMillennium Challenge 02, using a draft tactical memorandum (TACMEMO) as the basis. The MOC concept and TACMEMO were further developed the following year in FBE-K. Over the next few years, six additional fleets stood up as MOCs: Third, Fifth, Sixth, and Seventh Fleets, U.S. Fleet Forces, and Pacific Fleet.
The CNO directed USFF to establish a flag-level governing board to provide oversight, focus and recommendations for improving Navy ability at the OLW. The challenge was that planning and C2 concepts were understood only by a small number of naval officers. In response to CNO guidance and fleet commander requests, the Naval War College (NWC) took several steps to assist with implementing the CNO's MOC vision to include instituting flag officer courses: a Joint Force Maritime Component Commander (JFMCC) Course in 2005 and a Combined Force Maritime Component Commander (CFMCC) Course in 2006. Also in 2006, in response to CNO guidance and a Secretary of Defense requirement that combatant commanders certify their joint headquarters and subordinate component commands, the NWC initiated the Assist and Assess Team (AAT) and the Maritime Staff Operators Course (MSOC). The AAT was to support fleet operational commanders and share lessons learned and effective practices, and MSOC was to educate officer and senior enlisted personnel en route MOC billets. In 2007, the President of the NWC formally established the College of Operational and Strategic Leadership (COSL), in part, to focus NWC efforts as an advocate for developing the Navy's OLW expertise. Additionally during this time, NWC doubled the throughput of active duty planners at the Naval Operational Planners Course (later expanded to the Maritime Advanced Warfighting School) and lengthened the intermediate curriculum at the war college by four weeks to enable greater depth of study in Joint Military Operations.
During this time, the draft TACMEMOs that were used during earlier Fleet Battle Experiments as the foundation for the MOC construct and MOC processes developed further and became doctrinal publications: Joint Publication (JP) 3-32,Command and Control for Joint Maritime Operations (2006); Navy Warfare Publication (NWP) 5-01, Navy Planning (2007); NWP 3-32, Maritime Operations at the Operational Level of War (2008); and Navy Tactics, Techniques and Procedures (NTTP) 3-32.1, Maritime Operations Center (2008).
In 2008, the CNO formalized a requirement for Maritime Headquarters Training and Accreditation in OPNAVINST 3500.40, and U.S. Fleet Forces Command (USFF) established a team to support that effort. After an initial round of fleet "MOC accreditation" was completed by the end of 2009, the CNO eliminated the requirement for MOC accreditation, and in 2012 instituted an OLW education and training continuum in OPNAVINST 3500.40A. This instruction: (1) designated Commander, USFF as responsible for manning, training, and equipping all MOCs, (2) designated President, NWC as responsible for MOC education of flag officers, officers, and senior enlisted personnel, and (3) tasked USFF and NWC to collaborate to form a Navy MOC Training Team (MOC-TT) to support MOCs during operations and exercises and disseminate effective practices to facilitate mission accomplishment and advance commonality.
Since the introduction of the MOC concept, two additional fleets with MOCs were established: U.S. Fourth Fleet (C4F)/U.S. Naval Forces Southern Command in 2008, and U.S. Tenth Fleet (C10F)/U.S. Fleet Cyber Command in 2010. U.S. Second Fleet and its MOC were disestablished in 2011 as part of a Navy reorganization, being subsumed into U.S. Fleet Forces Command.
MOCs in Practice: Then and Now
Fleet staffs have evolved considerably under the MOC construct over the past six years. Out of necessity, they started with an internal focus on people, processes and organization, but now they have progressively matured their MOCs to include more habitual external linkages, while facing more complex challenges due to the changing environment.
MOCs from 2007-2009
Early efforts to implement the MOC concept focused on breaking down the "stove pipes" inherent in the existing Napoleonic "N-code" organizational structure of the fleets and replacing them with the more agile, efficient, and cross-functional MOC construct. Across the fleets there existed a wide range of roles and missions the MOCs had to support, from theater security cooperation, to crisis response, to defense support to civil authorizes, to supporting full-scale contingency operations. Fleet commanders thus aligned their MOC organizations and processes to support their respective combatant commander's missions while taking into consideration the requirements unique to each geographic area of responsibility (AOR). Additionally, commanders shaped their MOCs to support event horizons and decision cycles specific to their fleet, and ensured that their MOCs would allow them to act as JFMCCs, Navy component commanders (NCCs) or joint task force (JTF) commanders.
During early MOC implementation, fleet staffs focused mainly on revamping their organizational structures and processes. While some fleets implemented change more rapidly than others, by 2009 established fleets had implemented joint-based boards, bureaus, centers, cells and working groups (B2C2WGs) either alongside or in lieu of traditional N-codes, and had established the initial functionality of the core activities of current operations (COPS), future operations (FOPS), and future plans center (FPC). Implementation of an assessment function varied widely across the fleets. Each fleet also established a battle rhythm designed to synchronize the activities of the staff and assist the commander's decision cycle. However, some fleets were not synchronizing their B2C2WGs with those of higher headquarters (HHQ) unless operational necessity forced the linkage.
Early MOC information management/knowledge management (IM/KM) efforts primarily focused on establishing common collaborative tools for use in each AOR. For example, some fleets used Defense Connect On-Line (DCO) because their HHQ did, while others used video teleconferences and/or transitioned to voice over secure internet protocol (VOSIP) to conduct meetings with HHQ, components and subordinates. Additionally, early in the MOC development process fleet staffs appeared to place more emphasis on their internal KM efforts, sometimes at the expense of improving their ability to collaborate with their subordinates via tools like Collaboration at Sea (CAS) portals. Emphasis on establishing initial battle rhythms and B2C2WG applications was generally internal, limiting rapid integration with HHQ and peer components during crisis transition.
As MOCs were developing their organizational structures, internal processes, and IM/KM tools, there was also a strong effort to enhance planning capacity. The infusion of pre-assignment education for fleet staffs bolstered planning capability and enabled fleets to establish common procedures and introduce the concept of planning time horizons (far, mid, and near). However, fleets struggled with the ability to manage and synchronize multiple planning teams, often failing to fully include subordinate task forces in planning, and had difficulty proactively providing supporting plans that had been coordinated with peer components to HHQ.
While interaction between the MOCs was mostly limited to specific initiatives including maritime domain awareness (MDA), MOCs demonstrated the ability to collaborate during some routine operations (e.g., C5F counter-piracy operations), exercises, and the response to the Haiti earthquake (C4F with support from C2F and USFF). However, there was still significant room for improvement with respect to improving the ability of MOCs to synchronize and integrate their activities.
By 2009 there was widespread concurrence at the fleet commander level that the MOC construct yielded several benefits when compared to the traditional Napoleonic staff construct as depicted in Figure 1.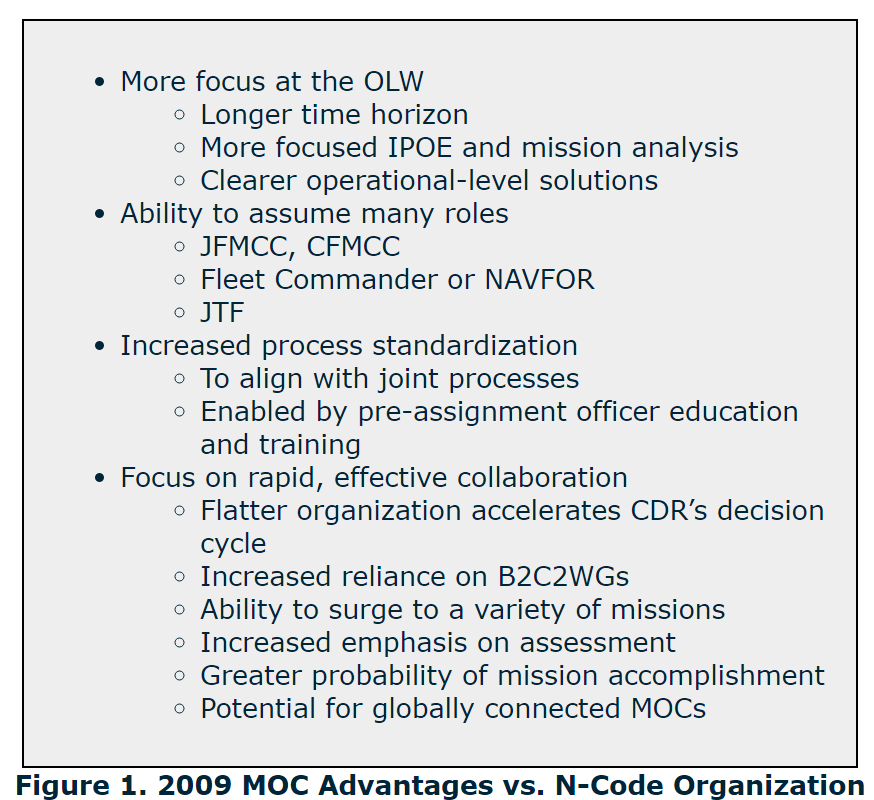 While the MOC concept was deemed to have several advantages over the traditional N-code organizational structure, observers noted that common problems existed across the fleets that needed to be addressed including forming and transitioning the staff, assessment, and IM/KM.
MOCs from 2010-2012
MOCs continued to evolve during this period with the addition of one new fleet staff, the functionally oriented C10F (cyberspace, space, cryptologic and information operations), while USFF and its MOC subsumed C2F. Years of experience implementing the MOC construct resulted in MOCs that were able to conduct crisis response planning and cross-AOR drills, support joint exercises, and plan and command real-world operations such as Operations Odyssey Dawn(C6F with support from C5F and C2F) and Tomadachi (CPF and C7F with support from C3F). As one fleet flag officer observed, "The global stressors for MOCs included simultaneous events that spanned multiple AORs and stressed OLW commanders in planning and responding to changing events and missions." The diverse nature of fleet responses to these events evidenced the fact that MOCs had truly become tailorable, flexible, and scalable organizations while still maintaining a degree of commonality.
An important area of growth during this period was the enhancement of relationships among MOC principals, lead planners, and key action officers and their counterparts at HHQ, other components and fleets, and subordinate task forces. Historically, flag and general officers have made it a priority to establish working relationships with their counterparts. As the MOCs evolved, there was an increased recognition that efficiency and effectiveness could be enhanced if other key staff members established routine working relationships external to the MOC. As a result, fleet staffs became better postured to rapidly and accurately feed information into the commander's decision making cycle and help their commanders manage the operations process (plan, prepare, execute, and assess).
The capacity and ability of fleet MOCs to utilize the Navy Planning Process also increased during this timeframe. Although many of the Marines assigned to Fleet MOCs still provide critical planning expertise, no longer is the fleet commander required to rely heavily on the Fleet Marine Officer to lead all critical planning. The Navy continues to produce capable planners resulting in more detailed plans and an improved alignment with HHQ and subordinate staffs. However, while staff planning capability has improved, certain negative trends warrant scrutiny. Many observers agree that MOCs need to generate more thorough maritime supporting plans to combatant commander plans, connect fleet planning more closely with subordinate task forces, and better leverage the use of supported-supporting relationships. This has been recognized by the fleets and is driving a requirement for more planning capacity. Additionally, fleets recognize the necessity to synchronize simultaneous planning efforts across the three event horizons to help better align and conserve manpower. Staffs better understand the need to build maritime products such as maritime supporting plans, OPGENs, OPTASKs, and DIMs that better support and complement joint products such as OPLANs, OPORDs, and FRAGORDs.
Although still not standardized, IM/KM tools and processes have become more common across the fleets. Much recent effort has focused on better nesting MOC battle rhythms with HHQ and subordinates. The result has been a greater ability to rapidly connect and synchronize with key external commands at the outset of a crisis.
Fleets are now building greater detail into their manpower documents, transitioning from a basic manning document with a pool of augmentees, to more specific fleet/joint manning documents that focus on distinct roles of the commander, missions, and forward command element considerations. Manning documents now identify the required rank and skill set for each billet, thus enhancing the staff's ability to more rapidly and effectively gain additional capacity through reach-back and/or augmentation.
Addressing Common MOC Challenges
Although the Navy has made great strides in its ability to plan and execute at the OLW, observers routinely see four areas of improvement needed across the MOCs as seen in Figure 2.

Crisis transition, shifting within the MOC from routine to crisis operation mode, has always been challenging, but becomes even more difficult if staffs do not train in a realistic operational environment. Most MOC staffs have built basic transition plans based on applicable manpower documents, MOC processes, procedures and organization. However, the challenges of shifting MOC staff from routine operations and facilities is increasingly complex; fleet commanders are faced with supporting a wide range of joint and Service roles while the environment drives an increasing demand for reach-back support from other MOCs and supporting agencies. Continuing refinement of SOPs and doctrine, and practicing crisis transition in more robust environments that stress staff sustainment should pay big dividends. Unfortunately, exercises often do not allow OLW commanders to validate staff sustainment and production capability during crisis transition due to their short duration, lack of depth, or single-phase focus of the exercise.
Planning Capacity and Management
While planning capability has improved across the fleets, there is still not enough planning capacity because of ever-increasing requirements (e.g., maritime supporting plans) for planning expertise. Additionally, staffs continue to struggle with the requirement to manage multiple plans that span different time horizons (near, mid, and far). Staffs must continue to become more proactive and disciplined in assigning planning efforts to limited staff planning resources based on event horizons and continue to improve their internal transition processes from future plans to future operations to current operations. Too frequently staffs have reacted to events and not kept their planning horizons sufficiently stretched into the future.
Fires and Targeting Processes and Capabilities
At the outset of planning, fires must be designed to support the commander's objectives, intent, and guidance, and should provide options designed to achieve lethal and non-lethal effects. During planning, fleet staffs must develop a fires concept from the JFMCC perspective and lobby for its integration into the overall joint concept. Crafting a well-defined concept of fires is especially vital during operations where the JFMCC is the supported commander and must take lead for the prioritization of joint fires.
A common mistake is to lump fires and targeting together as if they were the same thing. Fires is the use of weapons systems to create specific lethal or nonlethal effects on a target and is essentially an art. Targeting is a science – the process of selecting and prioritizing targets and matching the appropriate response to them, considering operational requirements and capabilities. The ultimate purpose is to achieve an effect – a change to the physical or behavioral state of system that results from an action, set of actions, or another effect – that contributes to the commander's objectives and end state.
Fires and targeting training at the OLW is often individually focused, and fires elements/cells frequently do not train together on the systems they will use during actual mission execution. This man-train-equip disconnect is exacerbated when MOCs transition from routine to crisis operations. At this time, fires activities normally shift from a maritime targeting focus to influencing the deliberate joint fires processes for maritime objectives which support the broader joint objectives. This requires the activation and augmentation of the naval and amphibious liaison element (NALE) at the air and space operations center (AOC). The NALE usually trains separately from the MOC and lacks established working relationships with MOC personnel, further limiting effective interaction between the NALE and the fires element/cell. Current exercises do not fill the gap between training and execution because they rarely stress the transition from target planning to fires execution to relevant combat assessment.
At the OLW, fires and targeting are often executed as if they were stand-alone operational functions or processes. As a result, staffs struggle with synchronizing all of the other operational functions (C2, movement and maneuver, protection, intelligence, and sustainment) of the command while at the same time delivering integrated fires in real-world operations.
Finally, across the fleets the established targeting processes remain largely reactive to the joint force air component commander (JFACC) air tasking order (ATO) cycle. There is usable doctrine for the joint targeting process, but no doctrine that truly integrates planning for kinetic and non-kinetic effects, including information operations and cyberspace operations. Moving forward, maritime components need to rely less on being a "force provider" to the JFACC ATO cycle, and should strive to work toward more common JFMCC targeting and fires processes that align with the JTF staff, while including wider integration of kinetic and non-kinetic effects.
Information Operations/Cyberspace Operations Integration
All MOCs would benefit from enhancing their ability to integrate information-related capabilities (IRCs), to include cyberspace operations, into planning, preparation and execution. Staffs would be well served to implement processes whereby IO working groups engage in every aspect of the Navy Planning Process, thinking through if, when, and how IRCs can be employed to accomplish the commander's objectives as well as how the use of IRCs can be integrated into the concept of fires. Such integration will likely involve discussions concerning authorities, ROE, and C2, and require working with C10F supporting elements. Opportunities and challenges associated with information and cyberspace operations integration will have a significant impact on MOC development in the foreseeable future.
Conclusion
MOCs across the fleet have made substantial progress over the past six years, both in their internal processes and organization as well as their ability to support external requirements. However, the increasingly dynamic operational environment will continue to drive naval component and fleet commanders to aggressively pursue all opportunities to best support joint force commanders.
In the near term, maritime OLW commanders must consider new C2 constructs designed to enhance their ability to communicate vertically and horizontally and to accomplish the assigned mission. Moving forward, given anticipated fiscal constraints, MOCs will need to work together to address the common challenges outlined above and in so doing contribute to the next evolutionary phase in the Navy's ability to plan, prepare, execute, and assess at the OLW.
Captain Lawler is the Deputy Director of Operational-Level Programs, and Professor. Will is the Deputy Director of the Assist and Assess Team, both of which are part of the College of Operational and Strategic Leadership at the Naval War College, Newport, RI.
Featured Image: YOKOSUKA, Japan (Oct. 3, 2016) Capt. Carroll Bannister, the U.S. 7th Fleet Maritime Operations Center, director, right, give a tour of the MOC to Adm. Tomohisa Takei, Chief of Maritime Staff, Japan Maritime Self-Defense Force and Vice Adm. Joseph Aucoin, commander, U.S. 7th Fleet. (Navy photo by Petty Officer 2nd Class Jason Kofonow/Released)