International Maritime Satire Week Warning: The following is a piece of fiction intended to elicit insight through the use of satire and written by those who do not make a living being funny – so it's not serious and very well might not be funny.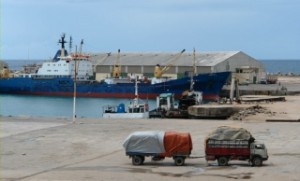 October 1st-7th will bring a special treat to the Mudug town of Hobyo in central Somalia. To mark the start of the 2012-2013 "pirate season" and revive support for a flagging business, local pirates have organized "Somali Piracy Week," modeled on the success of the U.S. Navy's series of Fleet Weeks throughout the United States.
"It's going to be quite the event!" said Ayub Yusuf, a spokesman for the pirates and commander in a pirate fleet.  "Bring your whole family if you can, there will be something for everyone – skiff rides, a grappling-hook toss, and tours of a mothership.  This week will show young men what exciting opportunities and careers the field of piracy holds:  Join the pirates – see the Horn of Africa, and possibly Norfolk!"
While the pirates will spend a good deal of time sizing up potential recruits against the rigorous standards of whether they can hold an AK-47 assault rifle and not fall off the back of a fishing dhow, the week is not solely about potential recruits.  Responding to hostility towards the piracy trade from fellow Somalis, the group organizing the event under pirate financier Aden Abdirahman Ismail of the Reer-Aden subclan has sought to win over the support of locals who earlier in the year attacked another group of pirates.
"We hope to change some of the misperceptions that local citizens and clans harbor about our service," said Yusuf.  "For example, did you know piracy was the fastest-growing job-sector in the last decade, or that our patronage helped keep unemployment below 40% in many pirate towns?  But some of the locals think we're no more than criminals with guns," Yusuf said as he polished his AK-47.
Local support may prove critical as 2012 is shaping up to be one of the worst on record for the pirates.  International military efforts, shore-based counter-piracy, and defensive actions taken by the ships themselves – such as convoy programs, armed guards, and ships' physical countermeasures have all taken their toll, with only 5 successful Somali pirate attacks to date this year.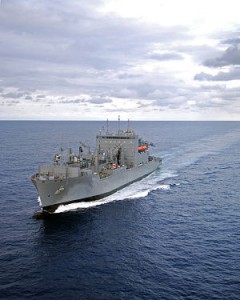 Hoping to see a return to piracy's heyday and the money it brings, some private businesses have helped sponsor the event.  Mahad Nahar's Hobyo House of Whores, the Weli Lexus Dealership of Galmudug, and RPGs 'R Us are among the key backers of Somali Piracy Week.  "It's a real opportunity to show our support for our brave boys in scarves and t-shirts and remind them that if they don't continue to make payments on their SUVs I do have the means to repossess them," said Abdi Weli.
Local fisherman Mohamed said he wanted no part in the events, and that the presence of pirates only brought violence and vice to Hobyo.  His young son Aadan, however, said he hoped his father would relent. "I really want to try my luck in the 'Freighter, or Foreign Warship?' visual identification challenge."
As part of the events the pirate mothership MV Iceberg 1 has been moved to an anchorage in the city's port to accommodate tours.  The Panamanian-flagged MV Iceberg 1 was captured in March 2010 outside Aden, Yemen; its crew enduring over 2 grueling years of captivity.  The ship's second engineer Francis Kasoom said, "It's been like living a fresh hell every day without knowing whether we'll see our loved ones again.  But I hear premiums are down on shipping insurance, so I guess piracy is beaten."
Asked his future plans for boosting piracy's support if Somali Piracy Week turn out a success, Yusuf said he'd like to release a movie.  "Battleship has been a real inspiration for me," said Yusuf.  "It showed the American public in an entertaining and realistic manner how crucial it is to maintain a strong Navy in the event of a strictly maritime-based alien attack."
Somali Piracy Week runs from Oct 1st-7th, 10am-5pm, at the Port of Hobyo, Somalia.