By Brett Davis
Tension between U.S. and Iranian military assets in the Arabian Gulf are nothing new. Confrontations between Iranian Revolutionary Guard Corps Navy (IRGCN), the Islamic Republic of Iran Navy (IRIN) and U.S. Navy vessels in the Gulf, the Strait of Hormuz, and the Gulf of Oman are a regular occurrence for forward-deployed ships. Iran knows it cannot match the U.S. in a conventional confrontation, and focuses on an asymmetrical style of warfare to increase damage and costs of confrontation to the U.S.
In 2002, a joint war game exercise, known as Millennium Challenge 2002 (MC02), took place to gauge readiness in the event of a conflict with a hostile Middle Eastern nation. The results were disastrous for the U.S., with over a dozen ships destroyed and thousands killed or wounded as a result of asymmetric and unconventional naval warfare. 14 years later, Iranian asymmetrical warfare can still have a devastating effect on U.S. and allied forces in the Middle East. Unconventional warfare has been the Achilles Heel of the U.S. military for decades, and more gaming and training are needed to enhance U.S. capabilities in an asymmetric environment.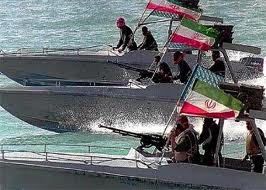 A Combination of Threats
Following their lackluster performance during Operation Praying Mantis, in which the U.S. Navy laid waste to several conventional naval vessels, Iran began to focus on asymmetrical warfare. Tactics include Fast Inshore Attack Craft (FIAC), covert civilian craft, naval mines, and submarines.
The IRGCN utilizes swarming tactics as its method of choice. IRGCN bases are situated in various locations along Iran's Gulf coast, from the Strait of Hormuz to the Northern Arabian Gulf. This is a key tenet in swarming attacks: packs of small attack craft covertly leave their bases at various times, all heading for the same target, i.e. a Carrier strike group operating in the Gulf. While this dispersed tactic may result in a weaker attack that is easier to repel, it is also much more difficult to detect, as the swarms don't operate in a large formation. Also, craft equipped with torpedoes and anti-ship missiles can fire their payloads at a greater distance, ensuring survivability and destruction of their target.
Iran currently has the fourth-largest inventory of naval mines, as well as various platforms for deployment. Mines are a successful tool in the Gulf: USS Tripoli and USS Princeton struck Iraqi mines in the Northern Gulf during the Gulf War, and USS Samuel B. Roberts struck an Iranian-laid mine during the Tanker Wars of the 1980s. Iranian mines also dispatched large numbers of civilian merchant vessels in the same time period.
Iranian mines are largely cheap and unsophisticated. However, some Chinese and Russian variants, including the EM-52 multiple influence mine, are much more sophisticated and can be used in waters up to 600 feet – plenty deep to make the Central Gulf a dangerous place.
A majority of bottom-dwelling mines are designed for shallower waters. In some places, depths in the Strait of Hormuz are between 150-300 feet and are prime locations for these types of mines.
While the mines may not be sophisticated, deployment tactics are much harder to detect. IRGCN small craft are capable of laying mines, as are dhows, fishing boats and submarines. These platforms can carry up to 6 mines each and can be resupplied at sea. Mine laying platforms disguised as civilian craft would not raise suspicion on the part of Coalition forces while submarines can be quite difficult to detect by surface or air assets.
Iran operates several different types of submarines, all of the diesel variety. The Kilo-class are Soviet surplus that are nearing the end of their service life, but still require respect, especially in an asymmetrical warfare environment. Kilos can carry several dozen mines, laying them covertly beneath the waves and avoiding the overt detection by surface assets that endanger the mission of mine laying dhows and small boats. Kilos would also require an increase in anti-submarine warfare (ASW) platforms in theater for sub identification and prosecution, such as submarines and air and surface assets. They would also increase the standoff distance of high-value assets such as carriers and troop landing ships. These platforms would most likely not venture too close to a known hostile submarine operating area with few defensive weapons.
Iran's mini-subs are another part of the undersea warfare threat worth considering. There are at least three separate classes of mini-sub in the Iranian inventory, all diesel operated. Their small size makes them difficult to detect, and their ability to operate in shallow waters makes them a perfect tool to target vessels in the littorals, such as amphibious assault ships and patrol craft, and any convoy of warships or shipping making its way through the Strait of Hormuz. They can also participate in mine laying operations  in shallower seas as a support asset.
Millennium Challenge 2002
MC02 was framed as a Red vs. Blue game depicting the invasion of a smaller Middle Eastern nation by a much larger and more capable adversary. It was the largest war game ever devised; 13,000 troops, aircraft and warships spread throughout the world, at a cost of $250 million. While it looked much like the upcoming invasion of Iraq, the tactics employed by Red closely resembled the nonlinear and asymmetric tactics of the IRGCN.
The Red forces, led by Marine Lieutenant General Paul van Riper, utilized several unorthodox measures and tactics to exploit the weaknesses of the Blue forces. When electronic warfare aircraft fried Red team communications sensors, van Riper used coded messages voiced from the minarets of Mosques at prayer times. This signaled the armada of civilian boats and light aircraft underway in the Persian Gulf to take action, conducting swarm and suicide attacks on U.S. warships and firing Silkworm missiles at high-value assets, claiming two amphibious assault ships and an aircraft carrier. At the conclusion of the attacks, 16 ships were sunk and thousands of servicemen were dead or wounded. Instead of digesting the results and using them to refine tactics and strategies in the face of a nonlinear threat, MC02's controllers simply reset the problem – ensuring a Blue victory and "gaming" the most expensive and important war game in modern history.
Was anything learned from the surprise ending of MC02? It appears not. Iran's tactics are nothing new; they have been using asymmetric warfare since the Iran-Iraq war. Iran's weak Navy isn't a new development either; most ships are decades old with few modern capabilities. What Iran does have, however, is a military strategy with a basis in unconventional warfare. Asymmetric tactics, like those described above, coupled with a decentralized command and control structure and semi-autonomous unit commanders make Iran survivable in the event of a first strike.
Unfortunately, the U.S. thinks of nations with weak conventional militaries as no match for the technological and modern behemoth that is the U.S. military. This was evident in Iraq and Afghanistan, where insurgents with little resources utilized out-of-the box thinking and nonlinear tactics to inflict heavy damage on U.S. forces, culminating in eventual retreats. U.S. strategy rests on technological and conventional dominance as well as engaging in non-traditional conflicts using traditional strategy and doctrine.
While Iran's bluster regarding its eventual destruction of the U.S. fleet shouldn't be entertained, the threat posed by Iran should be. Nonlinear and suicide attacks from the sea, increasingly capable long-range anti-ship missiles able to reach any vessel in the Gulf, and unconventional communications and command tactics are nothing to brush off. More exercises like MC02 are needed to adequately gauge the readiness of the U.S.'s land, sea and air forces to any asymmetric conflict with Iran. Where there are tactical and strategic gaps, a shift in training is required to prepare our forces for this type of conflict. A Blue defeat in a war game isn't an embarrassment; it's a chance to lean forward and become a well-rounded fighting force able to meet any challenge.
The chances of a major conventional conflict with another nation are extremely rare. Unconventional land and sea combat has been the norm for decades, and the U.S. needs more gaming and training in order to cope with the nonlinear threat.
Brett Davis is a U.S. Navy Surface Warfare Officer. He also runs the blog ClearedHot and occasionally navigates Twitter. His opinions are his own and do not represent the views of the U.S. Navy or Department of Defense.