International Maritime Satire Week Warning: The following is a piece of fiction intended to elicit insight through the use of satire and written by those who do not make a living being funny – so it's not serious and very well might not be funny. See the rest of our IntMarSatWeek offerings here. 
TEHRAN – Iran's state TV aired footage Wednesday of what it described as a working copy of an Amazon Prime quadrotor helicopter drone that it says it captured while flying over Iranian territorial waters. Iran first claimed in March, 2013, to have brought down the drone that it says was engaged in illegally violating user-privacy agreements.
While Amazon's Central Delivery Command refuses to confirm or comment on whether Iran is in possession of one of its drones, sources say a drone was lost during an Amazon Prime Obstacle Clearance exercise early last year. "The model matches what went missing, but we'd be truly surprised if the Iranians had the capabilities by themselves to force down and recover the drown in a state that allowed them to reverse engineer a copy," said a senior Amazon Prime officer.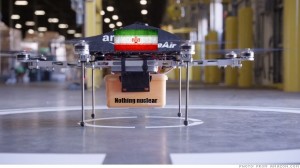 Several independent analysts speculated on the possible involvement of Evil-Bey, or E-Bey, a Turkish front company known for facilitating Iran's evasion of oil sanctions. E-Bey is considered by many to have the know-how and a large stockpile of cash necessary to pull of such a technical feat. Observers based in the Caucuses reported recently spotting E-Bey drones of a similar design flying oil barrels to refineries in southern Russia. 
Jean Carthwright, a logistics drone expert at the Institute for the Study of Gizmos, pointed to further circumstantial evidence. "At the time Amazon lost contact with its quadrotor it was attempting to delivery a DVD of the second season of BBC's Sherlock to crew aboard the ASS Express, one of Amazon's intel-collection ships," said Carthwright. "In April, a review posted to Amazon's website by A. Khameni denounced the season as 'insufficiently respectful to Allah and uneven, particularly in the Hounds of Bakersfield episode – Sherlock is just too petulant at times. But what a cliff-hanger! God willing Season 3 will respect the audiences' intelligences with a plausible solution to Sherlock's faked demise. Death to America!'"  
The opinions and views expressed in this post are his alone and are presented in his personal capacity. They do not necessarily represent the views of U.S. Department of Defense or the U.S. Navy.