Divers using side-scan sonar on Monday found the wreck of U-550. This discovery is a reminder that the oceans that flank America, and have often shielded the nation from the direct wrath of enemies, are not impregnable. 
NBC news provides an account of the naval action that sent the U-boat to the bottom:
On April 16, 1944, the U-550 torpedoed the gasoline tanker SS Pan Pennsylvania, which had lagged behind its protective convoy as it set out with 140,000 barrels of gasoline for Great Britain, according to the U.S. Coast Guard website and research by Mazraani.

 

The U-boat slipped under the doomed tanker to hide. But one of the tanker's three escorts, the USS Joyce, saw it on sonar and severely damaged it by dropping depth charges.

 

The Germans, forced to surface, manned their deck guns while another escort vessel, the USS Gandy, returned fire and rammed the U-boat. The third escort, the USS Peterson, then hit the U-boat with two more depth charges. The crew abandoned the submarine, but not before setting off explosions to scuttle it. The submarine hadn't been seen again until Monday.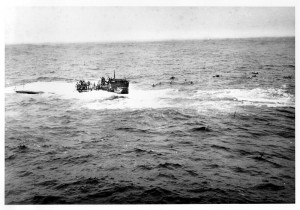 The American ships were destroyer escorts (DEs) of Escort Division 22 and manned by Coast Guard crews plus the Gandy, a Navy DE. The surviving German crew were taken to Great Britain.