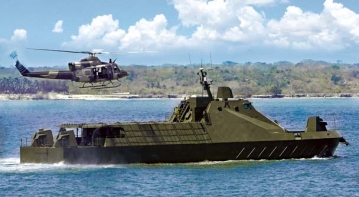 By Mark Munson
Thanks to the @Cimsec Twitter feed, earlier this week I was alerted to an announcement that Colombia was creating a new "Naval Force of the East," a new addition to its geographically-oriented naval commands in the Caribbean, Pacific, and South of the country.
The actual press release on the Colombian Navy's (Armada Nacional de la República de Colombia) website stated that this new command would be responsible for security of the various rivers of the Orinoco basin along Colombia's border with Venezuela.  Commanded by a naval officer, the new command will incorporate several Colombian Marine Corps units (COLMAR, Infantería de Marina Colombiana).  This development shines a light on the Colombian Marine Corps and one the world's most robust riverine capabilities.
According to the 2013 edition of Jane's World Navies, types of Colombian riverine units include River Infantry Brigades (Brigada Fluvial de Infantería de Marina, BRIFLIM), River Battalions (Batallón Fluvial de Infantería de Marina, BAFLIM) and River Assault Marine Battalions (Batallón de Asalto Fluvial de Infantería de Marina, BASFLIM).  Forces from the 1st River Marine Infantry Brigade (BRIFLIM1) are located near Colombia's Caribbean coast.  The 2nd River Marine Brigade (BRIFILIM2) is located on the Pacific coast with its headquarters in Buenaventura.  The 3rd River Marine Brigade (BRIFLIM3) is headquartered in Puerto Leguizamo and is responsible for forces operating along the borders with Ecuador and Peru.  Forces from the 4th River Marine Brigade (BRIFLIM4) operate in regions near Colombia's Pacific coast and border with Ecuador.  The Marine force assigned to the new Naval Force East is a regular Marine Infantry Brigade (BRIM5).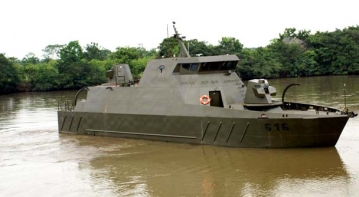 Colombia's state-run shipbuilder COTECMAR has built a variety of modern command platforms and assault craft for use by COLMAR's riverine forces.  COLMAR now has ten ships of the Patrullera de Apoyo Fluvial Pesada class (Riverine Support Patrol Craft or PAF, more commonly referred to as the Nodriza, the Spanish term for "wet nurse" or "nursemaid").  These ships are jet-propelled, heavily armored, and can embark a helicopter and 72 Marines.  A newer mother-ship concept is the PAF-L (Riverine Support Patrol Craft-Light), about half the size of the Nodrizas and capable of operating in extremely low draft environments.  The motherships are supported by smaller LPR-class ships (Lanchas Patrulleras Rapidas or Fast Patrol Boats).
The precise reason for this announcement and the expansion of riverine combat power along Colombia's border with Venezuela is unclear.  According to the Colombian Navy's press release (translation courtesy of Google), "with this new National Navy the Navy affirms its commitment to the security of the country and will continue in a decisive offensive operations ahead in order to neutralize the illegal structures that offend in eastern Colombia."  It is unclear whether this move represents signalling of Colombian strength to Venezuela's post-Hugo Chavez leadership, although it should be noted that, according to Jane's Sentinel Security Assessment, published in May 2013, BRIM5 was already in place in Puerto Carreno, along Colombia's southeast border with Venezuela, well before this announcement.  The Presidents of Colombia and Venezuela met in nearby Puerto Ayacucho, across the river in Venezuela, on 22 July.
Lieutenant Commander Mark Munson is a Naval Intelligence officer currently serving on the OPNAV staff.  He has previously served at Naval Special Warfare Group FOUR, the Office of Naval Intelligence, and onboard USS Essex (LHD 2).  The views expressed are solely those of the author and do not reflect the official viewpoints or policies of the Department of Defense or the U.S. Government.  You can follow him on Twitter @markbmunson.