Andrew S. Erickson, ed. Chinese Naval Shipbuilding: An Ambitious and Uncertain Course. Naval Institute Press, 2016 pp 376. $39.95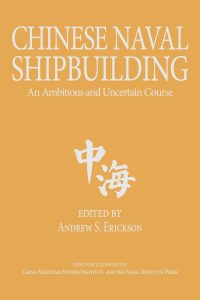 By Michael DeBoer
Chinese Naval Shipbuilding Capability: An Uncertain Course, adds the most recent volume to Dr. Andrew Erickson's excellent edited collections on the increase of the People's Republic's military, economic, and industrial power published by the Naval Institute Press. Erickson's credentials include a professorship in strategy at the Naval War College, a research associateship at Harvard's Fairbank School for Chinese Studies, and a regular congressional witness on areas pertaining to Chinese capabilities and strategy. He is a giant in the field. The work combines seventeen articles written by thirty-two authors, among them storied names such as CRS naval analyst Ronald O'Rourke and former former Director of Intelligence and Information Operations (N2) for U.S. Pacific Fleet CAPT James Fanell (ret). The volume provides a nuanced and insightful view of a major Chinese strategic investment, its shipbuilding industry, and is required reading for anyone, academic or laymen, trying to understand the associated capabilities and implications of the People's Republic's maritime rise.
The three hundred-forty-page tome is broken into five sections, describing the PRC's shipbuilding industry's foundation and resources, infrastructure, approach to naval architecture and design, remaining challenges, and a section which provides strategic conclusions and predictions for the future of American naval and maritime power. The articles are easily readable, each approximately ten to fifteen pages of crisp, synthesized content, with end notes allowing readers to further explore the author's research, although most references are translated from Mandarin Chinese. The works also feature multiple graphs, tables, and illustrations, providing further resources for students and researchers. While each article provides fascinating insights into the past, present, and future of Chinese shipbuilding, four areas of study especially stood out as enjoyable, informative, and useful.
First, Christopher P. Carlson and Jack Bianchi's Chapter I review of the People's Republic's naval and maritime history from the formation of the communist state to Xi Jinping provides a concise review of the People's Liberation Army Navy's (PLAN) strategic development. Carlson and Bianchi first review the PLAN's operational shift from Near Coast Defense, to Near Seas Active Defense, and finally to Near Seas Defense and Far Seas Operations, as the PLAN's resources, capabilities, and objectives adapted to match the nation's goals. The pair provide an excellent linkage between China's strategic situation since Mao's victory and the requirements of PLAN platforms as the force shifted from a coastal force to a limited blue water force and finally to a force intended to defend Chinese interests on both the near and far seas. This evolution brought an increase in the complexity and technical sophistication to the Chinese military shipbuilding industry.
Second, Leigh Ann Ragland-Luce and John Costello provide insight into a major limitation of Chinese military shipbuilding: combat electronics. Ragland-Luce and Costello point out that, while PLAN hull and mechanical systems are regularly manufactured using modern industry standards such as modular construction, the PLAN remains unable to field a top-tier indigenously developed combat control system. The authors use the Jiangkai-II (054A)-class guided missile frigate, a modern warship by any standard, whose combat control system (CCS) is based upon the French TAVITAC, vice a comparable Chinese design. This potential lack of integration between the French CCS and developing Chinese weapons and sensor systems might well prove a combat handicap for PLAN forces in future conflicts. Similarly, editor Andrew Erickson with Jonathan Ray and Robert T. Forte provide an excellent dissertation on the limitations of Chinese propulsion plant designs. According to the trio, the PLAN appears proficient in coastal diesel submarine propulsion technologies. The PLAN effectively integrates Sterling Engine Air Independent Propulsion (AIP) systems into its Yuan-class diesel-electric boats (SSPs), and it leads research into safe Lithium-Ion battery storage systems, potentially increasing coastal submarine endurance. It still lags considerably in both modern integrated surface propulsion plants and nuclear powered propulsion designs.
Third, the work uses present shipbuilding capacity to extrapolate future PLAN capability and force structure. CAPT James Fanell (ret) and Scott Cheney-Peters (Founder of CIMSEC) provide a realistic warning regarding the long-term challenge of Chinese strategic depth in military shipbuilding. Ronald O'Rourke caps the work with a set of implications for the U.S. Navy if PLAN force structure continues to expand.
Fourth, the work also provides an excellent overview of the curious public-private nature of an industry. The ten-year old split of Chinese shipbuilding into competitive public-private corporations Chinese State Shipbuilding Company (CSSC) and Chinese Industrial Shipbuilding Company (CSIC), induced formidable challenges to reintegrate as demand for commercial Chinese-built shipping demand drops and the People's Republic attempts to cut excess overhead in its public ventures. The work also appropriately conveys the confusing and byzantine structure of the Chinese military-industrial complex, broken into multiple institutes and directorates with potentially overlapping responsibilities.
The edition could have improved by better integration between authors. Several articles re-visit the growth of PLAN naval strategy over the PRC's history, which becomes redundant. Secondly, in some cases, it is difficult at times to compare Chinese shipbuilding structure and practices to those of other industries worldwide. Is China's anticipated post-merger structure in line with other shipbuilding industries? The work does not, at times, draw clear comparisons.
Overall, Chinese Naval Shipbuilding provides a very useful window into an area of intense Communist Party strategic investment. The work gives the reader an excellent overview of the industry as a whole, overlapped with strategic context and geopolitical implications. As discussed, the volume also provides a unique look at the industry's challenges, including increased engineering costs, poor integration with modern combat systems, and challenges in surface ship engineering plants and nuclear propulsion technologies. Nuanced and complex, it describes both the accomplishments of an industry that now leads the world in commercial tonnage produced, but also lags behind in critical areas mastered by much smaller and less-rich nations. Erickson's volume is a worthy addition to his series and an enjoyable read.
---
Read CIMSEC's interview with editor Dr. Andrew Erickson on this book here.
Michael DeBoer is a U.S. naval officer. The views herein are his alone and do not represent the views of the Department of Defense, the Department of the Navy, or any other organization.
Featured Image: China's first indigenously produced aircraft carrier CV-17/001A under construction at Dalian shipyard. (CJDBY.net)