By Dmitry Filipoff
Submissions Due: November 4, 2019
Week Dates: November 11-15, 2019
Article Length: 1000-3500 words
Submit to: Content@cimsec.org
The U.S. Navy and Marine Corps are initiating an Integrated Force Structure Assessment to help chart the course of their future composition.
This force structure assessment process is unique in its emphasis on unmanned platforms by considering "an optimal force mix that includes Large Unmanned Surface Vessels, Extra Large Unmanned Undersea Vessels, and Expeditionary Advance Bases." 
It may also look to overhaul the Marine Corps' force structure, where in reference to its longstanding use of large, expensive platforms the new Marine Commandant Gen. Berger wrote in his planning guidance that they must "seek the affordable and plentiful at the expense of the exquisite and few when conceiving of the future amphibious portion of the fleet."
The assessment hopes to nest future force structure within emerging warfighting concepts such as Distributed Maritime Operations (DMO), Littoral Operations in a Contested Environment (LOCE), and Expeditionary Advanced Base Operations (EABO). (Click below to read the memo from the Navy's Chief of Naval Operations and the Marine Commandant.)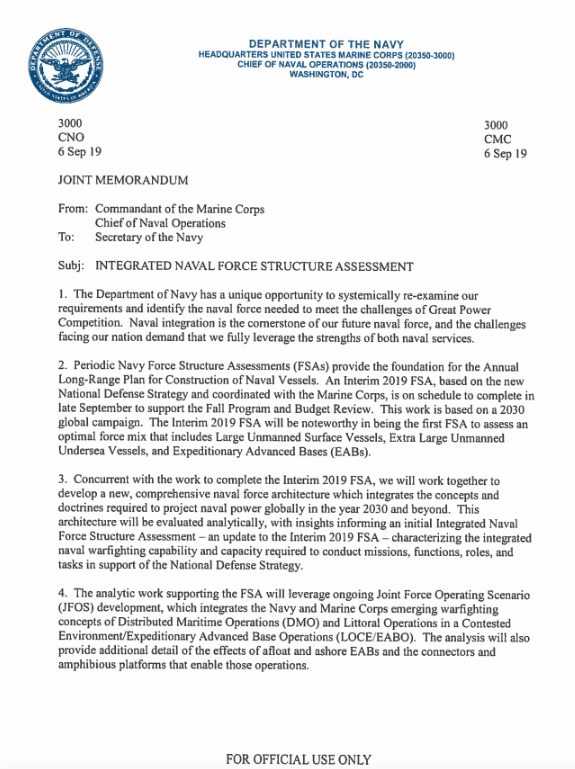 What ships and platforms will best serve the national security interests of the nation, capture technological opportunities for advantageous capabilities, and meet the challenge of great power competition? Authors are invited to answer these questions and more. Please send all submissions to Content@cimsec.org. 
Dmitry Filipoff is CIMSEC's Director of Online Content. Contact him at Content@cimsec.org. 
Featured Image: PACIFIC OCEAN (Jan. 20, 2018) Amphibious assault ship USS America (LHA 6), front, transits the Pacific Ocean next to Nimitz-class aircraft carrier USS Carl Vinson (CVN 70). (U.S. Navy Photo by Mass Communication Specialist 2nd Class Sean M. Castellano/Released) 180120-N-BL637-0045