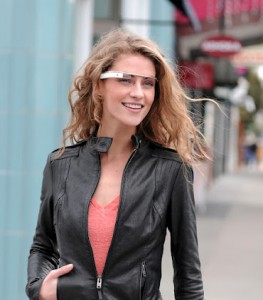 Project Glass
In late March Google revealed artistic mock-ups and a video (below) of what their secretive Project Glass has been developing. The answer – voice-controlled augmented reality (AR) glasses – have some interesting potential applications for military use, in particular employment aboard ships.
This was the first time an AR project garnered widespread media attention (Oakley has also since announced the development of their own AR technology), and for those not familiar with the line of research, it promises to layer additional information on top of a user's view of the world through a device such as ocular implants or a pair of glasses.
In the video, users are able to video chat with others, plot their route around town, and interface with different databases to bring up information. Essentially, the glasses aim to deliver all the features of a smart phone while going hands-free and eliminating the time spent glancing from another view to the screen.
Setting aside the practical limitations (cell reception, costs, durability) and safety concerns (the first man-overboard recovery due to AR is likely to generate a humorous situation report), just what benefits could the navies of the world derive from AR?
Bridge watchstanders. Glasses for bridge watchstanders could provide a constant "heads-up display" view of standard information such as the ship's course and speed, preventing the need to call out for the information or walk over to a display when in a remote part of the bridge. Additional displays could be selected to show radar screens. More advanced features could make use of the embedded cameras to search maritime databases to bring up data on a ship in the watchstander's line of sight. No need to manually check AIS, Jane's or critical contacts of interest lists. Lastly, the voice-chat feature would be particularly welcome if it replaced the need to carry around clunky handheld radios, although many might want the option of an audio-only chat.

Damage control. AR could make responding to a shipboard casualty or emergency easier with the use of interfaced damage control plotting. This could provide instant visual updates, eliminating the confusion of broken spoken communication through breathing devices, but would likely greatly increase the cost of integrating the microphones into the gear so that the responders could control the AR interface and communicate back to damage lockers and DC central.
What maritime uses and problems do you foresee with the development of AR?
Photo: Google