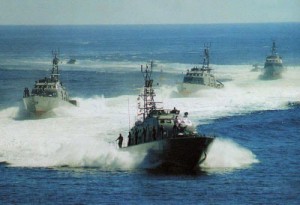 As part of the EU presidency trio program, Cyprus will become the new leader of the EU council on 01 July for a 6-month term. This may seem trivial to maritime security enthusiasts until they consider the historical tensions in the Eastern Mediterranean and the recent oil exploration discoveries in Cyprus' Exclusive Economic Zone (EEZ).
Since the 1974 Greek coup d' etat and subsequent Turkish invasion the island has been hotly contested between the two mediterranean powers.  This has resulted in an isolated Turkish Republic of Northern Cyprus (TRNC), completely reliant on the Turkish mainland, the only country to recognize the TRNC as a sovereign state. Turkey is also a non-signatory to the UN Convention on the Law of the Sea and continues to contest demarcation agreements as it supports the occupied Northern Cyprus. 
As the Turkish Navy patrols the Eastern Mediterranean, it will be interesting to see how new Cypriot leadership within the EU addresses maritime security and the prominence of EU Naval Force Somalia.  With continued rotations of EUNAVFOR ships to the Horn of Africa, the cyclical transits through the Suez Canal begs for EU presence while en route.  Although unlikely, if presence operations were to increase in the immediate vicinity of Cyprus, EU warship commanders would be challenged by:
Patrol boundaries, sensitive to avoid escalating tensions with Turkey

The immediate vicinity of Syria's EEZ.

Acknowledging Southern Cypriot's EEZ. Doing so simultaneously challenges Israeli maritime claims that spill over into Lebanese and Cypriot waters.
Sprints to claim oil and gas exploratory rights will not improve the cloudy Eastern Med. geo-political situation without UN involvement and agreed-upon EEZ boundaries. Until such a resolution we can only expect increased tensions.  On July 1st, Cyprus is dealt a fresh set of cards, we can only sit back and see what hand is played. More to follow.
A.J. "Squared-Away" is a husband, father, and U.S. Navy Surface Warfare Officer. He has deployed on patrol boats, destroyers, and aircraft carriers to the Mediterranean, Persian Gulf, and aboard Iraqi oil terminals. The opinions and views expressed in this post are his alone and are presented in his personal capacity. They do not necessarily represent the views of U.S. Department of Defense or the U.S. Navy.