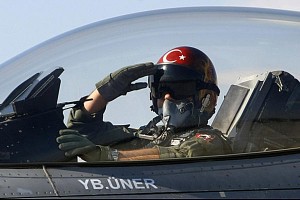 In a surprise move, Turkey has aggressively taken the lead in what seemed a stalemate over Syria. While Bashir Al-Assad has announced his country is at war, his observation might be more accurate than he is comfortable with. Following Syria's encore performance of shooting at Turkish F-4's, Ankara has decided to remind the world that the "sick man of Europe" has been in the gym for a long LONG time.
With unconfirmed reports of Turkish units moving to the Syrian border, Turkey is poised to take the lead on a NATO mission no one has wanted to touch. Turkey taking the reins shows optimism for future potential on NATO's heart monitor. NATO is not merely a support structure for US operations abroad, but as indicated by Turkey's actions, an institution by which any member state can take the lead on security issues no matter how feckless the majority.
Turkey has been sitting on the periphery for a long time. The nation many dismissed as a NATO ornament and an EU impossibility has proven itself an economic powerhouse, a political leader, and now a military spearhead. "Everybody should know that Turkey's wrath is just as strong and devastating as its friendship is valuable," said President Erdogan. With the speed and rigor of the Turkish response both politically and militarily, perhaps the long-ago sick man of Europe will become its backbone.