THIS ARTICLE WAS ORIGINALLY PRINTED ON JUL 17, 2013 AND IS BEING RE-PRINTED FOR "CHALLENGES OF INTELLIGENCE COLLECTION WEEK."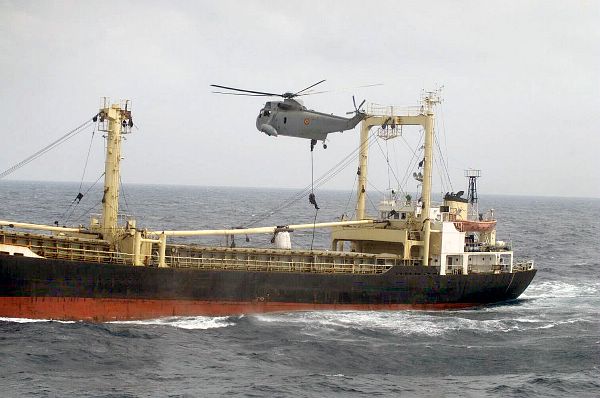 Authorities in Panama detained a North Korean-flagged ship on Monday after apparently discovering onboard what has been described by Jane's as a Fire Control Radar for use with the SA-2 Surface-to-Air Missile system. CHONG CHON GANG was stopped on suspicion of carrying drugs near Manzanillo before entering the Panama Canal after a port call in Cuba (where it purportedly on-loaded its cargo).  What may be most interesting about this case is what did not happen, however, and what illicit proliferation of weapons by states like North Korea currently looks like.
While Panama was involved in this case, it was not in its role as a major provider of flags-of-convenience to international shipping.  A U.S.-led system known as the Proliferation Security Initiative (PSI) was announced in 2003 in order to establish a framework in which states worldwide "that have a stake in nonproliferation and the ability and willingness to take steps to stop the flow of such items at sea, in the air, or on land" are able to take action to do so.  The event generally attributed to spurring the creation of PSI was the interdiction of a ship named SO SAN in 2002 while it was carrying SCUD missiles from North Korea to Yemen.  SO SAN was ultimately released after "the Yemeni government insisted the missile shipment was the product of a legitimate transaction in accordance with international law," with the diplomatic wrangling associated with it being stopped complicated by the fact that it was flying no flag at the time of the boarding.
The United States attempted to fix the problem of boarding a ship flying a flag-of-conveniance through the PSI and an accompanying series of "bilateral boarding agreements" with the major providers of registries (such as Panama, Antigua and Barbuda, the Bahamas, Belize, Croatia, Cyprus, Liberia, Malta, the Marshall Islands, Mongolia, and Saint Vincent and the Grenadines).  However, this is not an instance of the United States (or another interdicting state) asking for permission to board a ship flying the Panamanian flag, but rather Panama exercising its sovereignty and ability to regulate shipping in its territorial waters.
This instance provides something of a surprise regarding expectations of how North Korea uses flags-of-convenience, with initial reports indicating that CHONG CHON GANG was registered in North Korea, rather than its commonly used flags-of-convenience such as Cambodia, Tuvalu, and Mongolia.
It also shines on light on current global counter-proliferation efforts, with Arms Control Now arguing it demonstrates that:
"most PSI interdictions occur while vessels suspected of transporting WMD related materials are in port, rather than on the high seas in international waters. This is in contrast to the popular perception that most PSI operations involve commandos in black masks storming freighters filled with centrifuges. As much as that captures the imagination, it does not reflect the "operational reality" of PSI, at least not most of the time."
Despite its prominence, it remains unclear whether PSI has proved to be a successful tool for the global counter-proliferation regime.  This is in large part due to U.S. secrecy, "since so very few interdictions are ever made public."  Critics have claimed that "the overall lack of transparency makes it difficult for open source analysts and think tanks to assess the overall success of" PSI.  Both the U.S. Department of Defense and State Department have refrained from offering "details about actual interdiction operations and WMD seizures" because they "often involve intelligence information and foreign partner sensitivities."
Lieutenant Commander Mark Munson is a Naval Intelligence officer currently serving on the OPNAV staff.  He has previously served at Naval Special Warfare Group FOUR, the Office of Naval Intelligence, and onboard USS Essex (LHD 2).  The views expressed are solely those of the author and do not reflect the official viewpoints or policies of the Department of Defense or the U.S. Government.