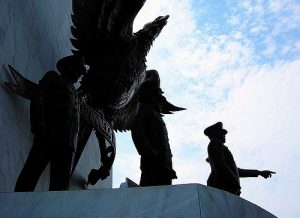 In this week's episode of Sea Control: Asia Pacific, Natalie Sambhi chats with Nadia Bulkin, a Senior Associate at The Asia Group, on Indonesia's history of violence, its turn towards democratic nationalism and what that means for the country today. They delve into legacies and policy implications of military rule and colonialism. Natalie and Nadia also discuss the recent confrontation between Indonesian and Chinese coast guards in the South China Sea. Lastly, they explore Nadia's passion for writing 'socio-political horror' fiction and what literature and film can teach us about understanding Indonesia's psychology.
DOWNLOAD: CIMSEC Bulkin Indonesia
Nadia Bulkin is a Senior Associate at The Asia Group where she is the defense industrial team lead. Nadia holds an M.A. in International Affairs from American University's School of International Service and graduated summa cum laude from Barnard College with a B.A. in Political Science and a double-minor in Economics and Environmental Science. She is fluent in Indonesian. Read her fiction writing here.
Image courtesy of Flickr user Chez Julius Livre 1.