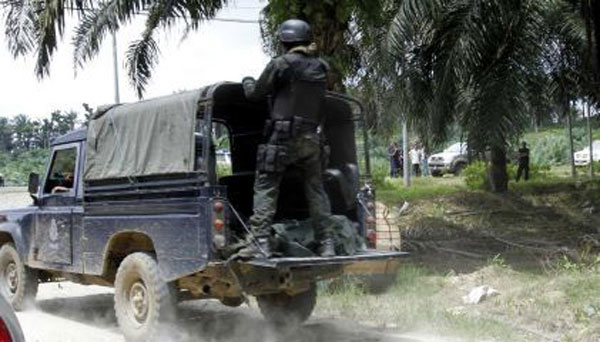 I've got an update on the Situation in Borneo up over at USNI News. The stand-off has claimed its first lives, with approx. 14 dead, and latest reports say the remaining members of the so-called Royal Army of the Sultanate of Sulu have either surrendered or taken to the sea. Check out the full story here.
A dramatic three-week standoff on the island of Borneo claimed its first lives Friday, as Malaysian security forces exchanged gunfire—and possibly mortars—with the so-called Royal Security Forces of the Sultanate of Sulu. Early reports indicate that 10 to 12 sultanate forces, two Malaysian police commandos, and the owner of a house taken by the sultan's followers were killed in the battle, with further injuries on both sides. Meanwhile, the Philippine Department of Foreign Affairs said that 10 of the sultan's followers were in Malaysian custody but had no word on casualties. Both sides blamed the other for firing first—as the Filipinos of the sultanate sought food to replenish their dwindling stores, Malaysian security forces tightened their security cordon—or both.

It is unclear whether the standoff has ended. Reports do not account for another 100 or more followers, believed to comprise the group holed up in Lahad Datu, Sabah Province, but the Philippines government received word that some of the Sultan's men may have escaped toward the sea. Malaysian Prime Minister Najib Razak ordered his commanders to "take necessary action" to force the sultan's followers out of the northeast corner of Borneo.