Distributed Lethality Topic Week
By Matthew Hipple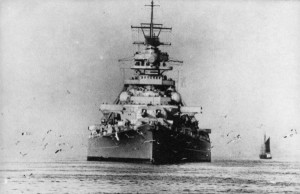 The essence of naval warfare has always been opportunism – from the vague area of gravity generated by an in-port "fleet in being," to the fleet-rallying threat generated by even a BISMARK or RANGER alone. The opportunity is generated by forces more mobile and self-contained than any army, more persistent than an air force, and empowered to act with no connection to higher authority in a domain that leaves no trace.  It is that ability for a small number of independent ships, or even a single vessel, to provide opportunity and create, "battlespace complexity," that is distributed lethality's core. Distributed lethality is not naval warfighting by new principles; it is a return to principles.
[otw_shortcode_button href="https://cimsec.org/buying-cimsec-war-bonds/18115″ size="medium" icon_position="right" shape="round" color_class="otw-blue"]Donate to CIMSEC![/otw_shortcode_button]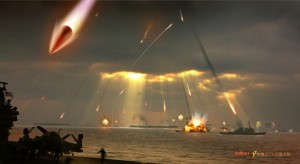 Unfortunately, the virtuous autonomy of the past was, in part, only protected by the limited technology of the day. As technology allowed, decentralized execution was replaced by the luxury and false confidence of constant connection to higher authority through an electronic umbilical. It is the kind of devolution that turned into Secretary Gates' nightmare, "I was touring a [Joint Special Operations Command] in Kabul and discovered a direct line to somebody on the NSC, and I had them tear it out while I was standing there." In parallel, America began the ahistorical project of investing all offensive opportunity not even in a single class of ship, but a single ship surrounded by a fleet obsessed with its defense.  As early as 1993, President Clinton stated that when a crisis broke out, his first question would be, "where is the nearest carrier." Sorry, other ships! For the Navy to sensibly rebalance, distributed lethality must succeed. For distributed lethality to succeed, we must decentralize and de-tether mission command, weapons release authority, and weapons support systems.
Decentralized and disconnected methods of command must be embraced, as centralization is only an imagined luxury. Modern centralization is based on the assumption we will have the connectivity appropriate for it. This is no longer tenable in a world of increasingly advanced peers and hyundaized lesser adversaries. Anti-Access, Area-Denial (A2/AD) depends on opponents making themselves visible, of which electronic emission is critical. A2/AD will also inevitably seek to disrupt our C2 connections.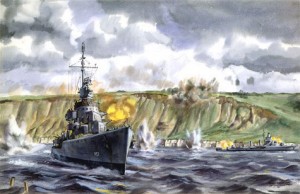 The current major-node CWC concept will need to be broken down to a more compact, internal model designed around the Hunter Killer Surface Action Group. Rules of Engagement must be flexible to the point that American commanders need not look over their shoulders to a higher OPCON. Consider, the destroyer CO's at Normandy didn't consider waiting for direction or requesting approval before shifting from small boat screening to shore bombardment from the shoals. They recognized the opportunity – the necessity – and executed of their own will.
In contrast, today it might be a regular occurrence to double-and-triple check our actions with American OPCON while operating with NATO in TACON off Somalia. American CO's could use the freedom to make pragmatic, on-the-spot decisions not only for immediate concerns of mission effectiveness, but as representatives of their higher military command and, potentially, the state. Coalition commanders would have greater trust in the spot decisions of their American counterparts, rather than worry they sit precariously atop a changing several-step staffing process.
Though encouraging equivalent RoE flexibility for coalition partners may be challenging, our autonomy may encourage our partners to interpret their home nation guidance in a flexibility equivalent to their trust in the US commander they fight beside. That lack of hesitancy will be critical during a conflict, and in that sudden moment in the South China Sea or Mediterranean when a small SAG of coalition partners find themselves in the midst of a conflict that has just begun. Imposing the peacetime discipline necessary to trust the CO's we have trained, prepared, and empowered to do their jobs is the only thing that will jump-start a shift in a mind-set now dominated by subordination. 
In the execution of more flexible orders, ships must be re-invested with control of their own weapon systems. CO's oversee non-nuclear weapon systems that they do not control – that are solely the purview of off-ship authorities. In particular, as weapon systems like Tomahawk become deployable for ASuW, off-ship authority's iron grip on their control must break.  This decentralization also matters outside the stand-up fight at sea. The organic ability to program and deploy Tomahawk missiles for land strike allows surface ships to execute attacks of opportunity on land infrastructure, or execute and support opportunistic maritime raids as groups of marines harass adversaries, or turn isolated islands into temporary logistics or aviation operations bases. For winning the sudden-and-deadly fight in the littoral environment but integrating with opportunistic amphibious operations, the surface fleet could find some inspiration from the USS BARB, the only submarine in WWII to "sink" a train with its crew-come-amateur-commandos. From Somalia to the South China Sea, naval commanders should be told what to do, not how – and be allowed to do it. The less reliant the force is on these ephemeral links and the less these links are unnecessarily exercised in peacetime, the greater a force's instinct to operate independently and with confidence in an imposed or needed silence.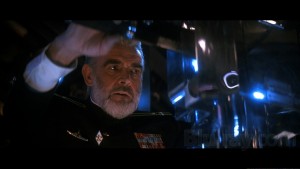 There may be a level of discomfort with decentralization and disconnection. If leaders fear the impact of a "strategic corporal," surely a "buckaroo," as  CAPT Ramius would call him, that would be truly horrifying. That fear would be a reflection of a failure of the system to produce leaders, not the importance and operational effectiveness of independence. There is a reason the US once considered the Department of the Navy to be separate and peer to the Department of War – noting the institution and its individual commanders as unique peace and wartime tools for strategic security and diplomacy. Compare today's autonomy and trust with that invested in Commodore Perry during his mission to Japan or Commodore Preble's mission to seek partnership with Naples during the First Barbary Pirates War. Reliance on call-backs and outside authority will gut a naval force's ability to operate in a distributed manner when those connections disappear. Encouraging it by default will ensure the muscle memory is there when needed.
Finally, Distributed Lethality requires the hardware to allow surface combatants to operate as effective offensive surface units in small groups. The kinetic end of the spectrum, upgraded legacy weapons and an introduction of new weapon systems has been extensively discussed since the 2015 Surface Navy Association National Symposium when VADM Rowden and RADM Fanta rolled out Distributed Lethality in force. However, weapon systems are only as good as the available detection systems. Current naval operations rely heavily on shore-based assets, assets from the carrier, and joint assets for reconnaissance. In the previous Distributed Lethality topic week, LT Glynn argued for a suite of surveillance assets, some organic to individual ships, but most deploying from the shore or from carriers.  Presuming a denied environment, and commanders empowered to seek and exploit opportunities within their space, the best argument would be for greater emphasis on ship-organic assets. They may not provide the best capabilities, but capabilities are worthless if assets cannot find, reach, or communicate with a Hunter-Killer SAG operating in silence imposed by self or the enemy. They also prevent an HKSAG from being completely at the mercy or limitations of a Navy or joint asset coordinator – while simultaneously relieving those theater assets for higher-level operations and opportunity exploitation.
Ultimately – distributed lethality is the historical default mode of independent naval operations given a new name due to the strength of the current carrier-based operational construct. Admiral Halsey ordered CAPT Arleigh Burke to intercept a Japanese convoy at Bougainville, "GET ATHWART THE BUKA-RABAUL EVACUATION LINE ABOUT 35 MILES WEST OF… IF ENEMY CONTACTED YOU KNOW WHAT TO DO." The surface fleet must embrace a culture assuming our commanders "KNOW WHAT TO DO." We must build an operational construct in which acting on that instinct is practiced and exercised in peacetime, for wartime. The operational and diplomatic autonomy, as well as the OLD IRONSIDES style firepower of single surface combatants, is necessary to rebalance a force gutted of its many natural operational advantages. Distributed lethality must return the surface force to its cultural and operational roots of distributed autonomy, returning to the ideas that will maximize opportunity to threaten, undermine, engage with, and destroy the adversary.
Matthew Hipple is the President of CIMSEC and an active duty surface warfare officer. He also leads our Sea Control and Real Time Strategy podcasts, available on iTunes.
[otw_shortcode_button href="https://cimsec.org/buying-cimsec-war-bonds/18115″ size="medium" icon_position="right" shape="round" color_class="otw-blue"]Donate to CIMSEC![/otw_shortcode_button]