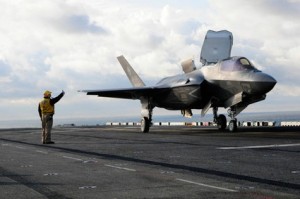 While we at CIMSEC were debating another U.S. Navy procurement program people love to hate, Britain was making news with a major F-35 decision. Ultimately the decision showed a sensible prioritization of operational availability over top-end capabilities.
The U.K.'s Defense Secretary announced to Parliament on Wednesday it was swapping Joint Strike Fighter procurement for the Royal Navy from the F-35C carrier version to the F-35B short take-off and vertical landing (STOVL) model it had originally planned to buy. The Ministry of Defense gave the cost of installing the electromagnetic catapults on the two Queen Elizabeth-class carriers (now estimated at $3.2 bil.) as the prime motivator. It will outfit the carriers with skijumps instead.
On the plus side, this decision reduces immediate budgetary pressures on Britain's armed forces (including calls to scrap the second carrier) and will move up the timeline of Britain's new aircraft carrier strike availability from 2023 at the earliest to 2020, with (scheduled) tests off the HMS Queen Elizabeth in 2018. The U.S. Marine Corps and Italy, prior to Wednesday the only other purchasers of the 'B,' will also warmly receive this decision as it should help secure the viability of the variant and bring in some small additional economy-of-scale benefit to their buys.
The switch has some downsides for Britain. First, the F-35B compares unfavorably in a few categories of concern for a Navy, particularly an expected combat radius that's at least 200nm less than its sibling, limiting the reach of Britain's maritime power projection. Second, the decision reduces the cooperation potential of French fighters flying from British carriers hyped in the 2010 Franco-British defense treaties.
And there are other compatibility issues created by the decision. It limits the models of important support aircraft that can be flown from the carrier's decks (I hear something like the Growler can be handy). Additionally, while there is some work being done on STOVL UAVs, catapult-launched UAVs are the focus of the U.S. Navy's future carrier strike fighter efforts, limiting the potential future utility of Britain's new carriers if and when it decides to go pilotless.
On the whole opting for operational availability over greater capability is a sensible move for the Royal Navy given current budget realities. The Royal Navy gets its carriers strike capability three years early, is much more assured of always having at least one carrier operational, and will no longer need French agreement on drydock and refit periods.