Today's military is an urgent place. Exclamation marks, capitalization, asterisks, and all sorts of extra accoutrements of PowerPoint panic or Outlook outrage are used to signal that yes, the supplementary quarterly alcohol awareness training is critical to ship's readiness.  As we have turned inward in a time of relative maritime peace, trading many of our helmets for hardhats, terms such as I(Insurv)-minus 400 have replaced the likes of D-Day and H-Hour. However, many approach these administrative and maintenance challenges with greater trepidation and anxiety than any young GI waiting in the landing craft with his rifle.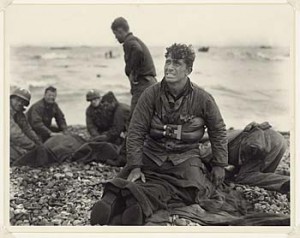 Today let us remember that exactly 68 years ago roughly 500,000 teenagers stormed through the bloody foam of a pounding surf into the mouth of German guns and likely death. The urgency was real, as men traded their lives for liberty in the most gruesome of ways. On this day, men were blown apart in their own landing craft before the shore. Soldiers and marines drowned under the weight of their own packs in water shallower than a public pool. Waves of dedicated men lost everything they had before even setting foot on the continent they had resolved to save. With a mixture of fear and resolution, an entire generation of boys became old men in a matter of hours.
It is well that Memorial Day, Midway, and D-Day come within such close proximity to one another; In our fast-paced world where agitation and consternation can be transmitted at the speed of an email or a cellphone call, it's a concentrated reminder of the young man huddled behind an anti-tank caltrop.  Surrounded by the dead and halfway there, he has no radio, no phone, and no way to communicate his fears; he concentrates on his shipmates, solutions, and survival. There is no room for complaint, as enough whining is being done by the bullets, bombs, and mortar rounds falling all around. However, he does take a moment to throw up a prayer, SUBJ: Re:URGENT.
Matt Hipple is a surface warfare officer in the U.S. Navy. The opinions and views expressed in this post are his alone and are presented in his personal capacity. They do not necessarily represent the views of U.S. Department of Defense or the U.S. Navy.