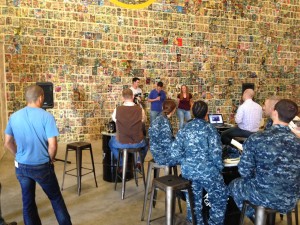 A little over a week ago, a group of young innovators met in a brewery in Point Loma trying to change the U.S. Navy.
We hosted our third installment of The Athena Project at Modern Times Beer that Friday and for the first time, we opened it up to the entire waterfront. Even though the presenters were predominantly from USS Benfold, the birthplace of Athena, a few change-makers from other commands presented ideas. About 15 different commands represented in the crowd, many coming from the Basic Division Officer Course (BDOC) here in San Diego. In addition to the Navy contingent, representatives from the University of Southern California (USC) Institute of Creative Technologies, SPAWAR, Disruptive Thinkers, and Harris Corporation were among the more than 70 in attendance. We had a phenomenal turnout – better than we expected. It feels like just the beginning, though.
Before we get into the roundup of our last event, here's a quick summary of how The Athena Project works. Presenters are given five minutes to pitch their projects to the crowd, who vote on each idea based on quality, actionability, and presentation. We've found that the short pitch time and lack of powerpoint forces each presenter to get to the heart of their idea quickly and to distill it down to the essential points. After every presentation, the floor is open for five minutes of questions and comments from the crowd. When all the projects have been presented, votes are tallied and the ADM Sims Award for Intellectual Courage is announced.
The winning project gets to form a small functional team and receives command backing to make their idea happen over the next quarter. That, and of course bragging rights.
So, we had our friends from USC select the first name, and away we went. Here's a summary of each of the ideas presented:
Idea 1: Psychology-Driven Division Officer Assessments – LTJG Kaitlin O'Donnell, USS Benfold
The foundation for LTJG O'Donnell's idea was trying to help junior ensigns develop their leadership skill set. She proposed working hand-in-hand with the Human Systems Integration department at the Naval Postgraduate School in Monterey, CA, to generate a survey that could be given to an officer's division to evaluate leadership traits. LTJG O'Donnell envisioned a breakdown similar to the Myers-Briggs Type Indicator to give young officers feedback and action items for strengthening traits.
Idea 2: Hydro Wave Power Generator – ET2(SW) Erika Johnson, USS Benfold
Petty Officer Johnson and her husband proposed utilizing cranks and netting in littorals to build a network of power generators that would double as a passive sonar system.  She explained the technology, then offered multiple design-types leveraging materials currently in use.
Idea 3: Peer Resource Sharing – LTJG Sarah Eggleston, Destroyer Squadron ONE
Citing a great deal of frustration in maintaining version control of current instructions and guidance, LTJG Eggleston proposed a sharepoint-like system in which naval personnel could share lessons learned, updated messages, and recent notices among other information. Feedback from the crowd suggested utilizing current channels such as Navy Knowledge Online to grow the database and function as a type of Navy Wiki.
Idea 4: Benfold University CLEP – STG2(SW) Gina Stevens, USS Benfold
Onboard USS Benfold, there is a program called Benfold University in which Sailors who have a passion and knowledge base for any topic can teach their shipmates about the subject. Since its establishment in early 2013, the program has hosted classes in writing, welding, photography, Spanish, finance, nutrition and Japanese. Petty Officer Stevens, the program's first teacher, proposed using free resources provided by Navy College for the College Level Examination Program (CLEP) to teach Sailors the knowledge necessary to gain college credit for a course.
Idea 5: Active Sonar Defense – ENS Joshua Corpus, BDOC
A game-day addition to the presentation list, ENS Corpus proposed taking technology found in noise-cancelling headphones – reciprocal noise generation – and applying that concept to ships' sonar to act as a defense against active prosecution. ENS Corpus defended his assertion following his presentation as engineers in the crowd questioned the technology. During a break in the action, the concept was a hot topic, bringing several innovators together to discuss the feasibility of the idea.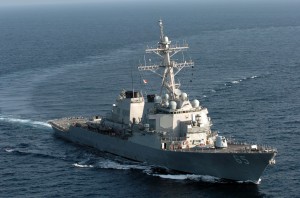 The winners of the ADM Sims Award for Intellectual Courage, this group of Petty Officers dominated the peer voting in every category with their presentation. The group proposed building an integrated database that would combine information from existing sensors to assist in identification of surface contacts. Characteristics from ships such as radar cross-section, electromagnetic emissions and heat signature would be combined with new visual-profiling software to build an electronic profile. That profile could then be compared to a database of surface ships and ranked by probability, resulting in rapid identification of long range surface targets. They also gave many examples on how the system could be developed in future iterations, including integration with seaborne drone systems and crew served weapons mounts. The pitch was well received and engineers from USC immediately pounced on the idea, offering to work with the team to develop a rapid prototype for proof of concept.
Idea 7: Electronic Division Officer Notebook – LTJG Isaac Wang, USS Benfold
Trying to solve the problem of maintaining paper records for Sailors, LTJG Wang suggested leveraging existing technology, like Neat Scanners and handwriting recognition software, to digitize the contents typically kept in Division Officer notebooks. Documents like counseling sheets, signed evaluations, history forms and the like could be scanned and kept together. Many in the crowd viewed this idea as "low hanging fruit" and claimed it would be simple to implement onboard a ship. LTJG Wang took the recommendations in stride and aims to institute his plan onboard BENFOLD.
Idea 8: Cosmogator – LT William Hughes, USS Benfold
LT Hughes, the navigator onboard Benfold, developed a concept for a system that would automate celestial navigation. He proposed that the system, consisting of optical sensors and a database of stars, could provide accurate positional data to the ship's weapons systems in the event of a GPS outage. LT Hughes tested several mobile applications through his research and claimed that the technology to make this system a reality was well within reach. The crowd agreed, and his project finished in second place overall.
Idea 9: SCAT Tactical HUD – ENS Robert McClenning, FC1(SW) William Steele, FC2(SW) Amanda Curfew, FC2(SW) Justin Lagenor, GM3 Jacob Niessen, USS Benfold.
This large group finished third in the peer voting for their proposed solution to the problem of command and control for ships' crew-served weapons mounts. Citing difficulty in communications between the Anti-Terrorism Tactical Watch Officer (ATTWO) on the bridge and the machine guns on the weatherdecks, the team suggested utilizing augmented reality (AR) headsets for gunners and a touch screen tablet for the ATTWO to optimize the process. The team said that the headsets would be simplistic – only displaying commands such as "fire" and "ceasefire" – and would have to be hard-wired because a tactical wireless system would be easily exploitable by potential adversaries.
Idea 10: Metal Alloys for Energy – GSM2(SW) Robertson Acido, USS Benfold
The second of our game-day additions, GSM2 Acido proposed taking technology that's being developed by researchers at the University of Minnesota to augment the power needs of surface ships. The engineers developed a new alloy that converts heat into energy. GSM2 Acido suggested using that alloy onboard ships – on anything the exhaust stacks for engines to solar-heated panels – to save fuel by allowing ships to have sufficient power without running their generators. GSM2 Acido formed a small team at the Athena event, including BDOC officers and SPAWAR engineers, to shape his pitch before presenting.
Overall, the event brought forth some tremendous ideas from the deckplates and provided some great networking opportunities, but the best part of it all: We had fun. The feedback on all the voting sheets was incredibly positive, and the support from the diverse crowd was amazing. It's encouraging to know that there are so many people out there who want to make a difference.
We're looking into scheduling the next waterfront Athena event for this spring, and hope that the innovation wildfire continues to spread – not only on the West Coast, but throughout the Navy. We'll post all the updates you can handle on our Facebook page, www.facebook.com/athenanavy or you can get information on Twitter by following @AthenaNavy. For more information and musings on innovation, you can check out our blog as well.
As The Athena Project continues to grow, so grows the chances that we'll uncover the next big thing.
As Ben Franklin said, "To have a great idea, have a lot of them."
Challenge accepted.
LT Dave Nobles is the weapons officer aboard USS Benfolds and a member of the CNO's Rapid Innovation Cell. The opinions and views expressed in this post are his alone and are presented in his personal capacity. They do not necessarily represent the views of U.S. Department of Defense or the U.S. Navy.