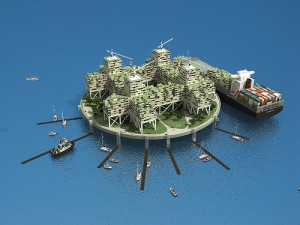 To me, one of the more interesting assertions made by Randy Henrickson in his CIMSEC interview was this: "To avoid legally being a pirate, seasteads will have to flag themselves with the flag of an existing nation and partner up. As seasteading matures and grows, we foresee seasteads eventually breaking off when they have enough of their own economic power and population to no longer need to be binded to existing governments, when they're at a point where they can be recognized by others as a micro-nation."
There are a couple of interesting elements here: first, the notion that activities which are legal and even encouraged when done under the aegis of a flag might be considered illegal if done without such protection (although, depending on the specific activities Henrickson contemplates, piracy might not be the specific crime); second why would a nation be willing to "spin-off" an economically fruitful "micro-nation" whether at sea or on land?
This second question underscores the ambition of the seasteading project.  Up to this point in human history, every time a new nation-state has emerged, it has been tied with a specific piece of territory.  And, unfortunately, most newly sovereign states have experienced some degree of violence in achieving their independence.  Whether independence was achieved by revolution, decolonization, or partition, a greater or lesser degree of political violence has frequently accompanied it, either before or shortly after independence.  Partly, this stems from the physical, historical, and emotional attachment that human beings have to territory.  Partly it stems from the challenges of identity in forming both a nation and a state.[1]  But it also stems from the economic benefit that the larger nation derives from activity within the smaller territory.   To suppose that a flag state would willingly give up the economic benefit they derive from a productive seastead may be a bit optimistic.
Of course, the flag nation willingly letting go is only half the problem facing a seastead as it tries to make the transition to micro-nation.  If the emerging nation is not recognized by the international community, either broadly, or at least by a champion powerful enough to coerce non-interference, the seastead is left for all practical purposes as a ship without a flag (which may be what Mr. Hencken meant by a pirate vessel).  Established U.S. statutory and case law, as well as some international law, suggests that such a vessel enjoys no protection against any state which seeks to exercise jurisdiction over it.  A flagged vessel enjoys the sovereign protection of the flag state; an unflagged vessel or a vessel flagged to a nation not recognized as sovereign has no such protection.
That sovereignty is really the heart of the question.  A seastead seeking to transition to a sea-based nation is trying to manufacture sovereignty where there previously was none.  On the day before transition, the seastead is effectively a ship—a little shard of another nation's sovereignty acting on a global commons.  On the day after, the ship has ceased to be a shard of another nation and has become a nation in its own right—a small one, to be sure—but a nation with all the same rights, responsibilities, and sovereignty of any other nation.
Michael Walzer, an influential thinker on just war theory and international relations, offers a view on morality in the international system, centered on the concept of sovereignty.  Drastically simplified, Walzer offers the view that the only crime in the international system that justifies the use of force is aggression, which he defines as the violation of a nation's sovereignty and territorial integrity.  While some aspects Walzer's theory are not universally accepted, he neatly encapsulate a powerful school of thinking which highlights a couple of challenges that the aspiring seasteader, especially of the mobile variety, must overcome.
First, sovereignty has traditionally been closely aligned with territorial integrity.  Inherent in the notion of territorial integrity is, well, territory.  How do you define sovereignty and territorial integrity in the case of a platform that is inherently mobile and not tied to any territory at all?  Whatever other challenges may attend the new nation of South Sudan, no one in the international community is worried that the nation will decide to pick up the country and move because they like the climate, resources, or economic opportunities better in Morocco.  If a seastead were to maneuver into the EEZ of a coastal nation, whose sovereignty would have precedence?  Outside of an EEZ, why should other sea-faring nations accede to a new entity exerting sovereignty over a portion of the sea that was previously open to everyone?  If the sea based nation wanted to move elsewhere on the high seas, would they exert sovereignty over that new location, too?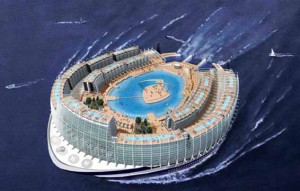 The Second—and by my view the more difficult challenge—is explaining the incentive for the international community to accept the sovereignty of a newly formed sea-based nation at all.  While the threat may be small, the aspiring nation offers a potential challenger for resources, ranging from seabed minerals to the tax revenues brought in by businesses.  With sovereignty comes the right to defend that sovereignty—what incentive does a coastal state have to welcome the introduction of another armed power into their region?  It would also be surprising if Palestinians, Kurds, or others national groups who lack both territory and sovereignty do not raise some objection to the justice of granting sovereignty to a seastead with little of the cultural, political, and social identity that marks a nation, while they themselves remain disenfranchised.   If a seastead wants admission to the club of nation-states, they will likely need to explain how the club will benefit by their membership.  While not insuperable, this will be a high bar to reach.
CDR Doyle Hodges is a Surface Warfare Officer in the U.S. Navy. He has commanded a rescue and salvage ship in the Pacific and a destroyer in the Atlantic, Mediterranean, and Middle East.  He is the Chairman of the U.S. Naval Academy's Seamanship and Navigation Department. The opinions and views expressed in this post are his alone and are presented in his personal capacity. They do not necessarily represent the views of U.S. Department of Defense, the U.S. Navy, or the U.S. Naval Academy.
---
[1] For a good discussion of the challenges of statehood without nationhood, see Lemay-Hébert, N., 2009, 'Statebuilding without Nation-building? Legitimacy, State Failure and the Limits of the Institutionalist Approach', Journal of Intervention and Statebuilding', vol. 3, no. 1, pp. 21-45.  For a good discussion of the necessary components of nationhood see Anderson, Benedict Imagined Communities.  New York: Verso. 2006.