By Emil Maine and Charlotte Florance
Shifting Hot Spots
Over the past decade piracy off the coast of Somalia dominated the focus of international maritime security efforts. Recently, however, the frequency of pirate attacks in the region has dropped off—reaching their lowest point since 2006 according to the International Maritime Bureau (IMB)'s global piracy report. Although attacks continue, no large commercial vessel has been seized in the region since 2012. Meanwhile piracy in the Gulf of Guinea is surging, threatening a vital shipping lifeline for a dozen countries and targeting vessels that carry nearly 30% of all U.S. oil imports. Given the Gulf of Guinea's strategic value, it is little surprise that concerns over the region's growing insecurity has quickly overshadowed international interest in piracy elsewhere.
International anxieties over piracy stem from: (1) national security implications, (2) structural threat to international trade, and (3) threat to local and regional stability.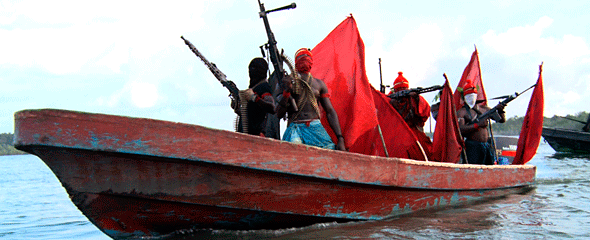 Apples and Oranges
Despite parallels to Somali piracy, attacks in the Gulf of Guinea take place within a different operational and political context. Piracy counter-measures are not one-size fits all. Understanding these differences is critical when exploring policy prescriptions.
Pirate attacks originating off Somalia tend to be strategic, and involve seizing ships in passage and holding their crews for high ransom. In contrast, West Africans pirates primarily focus on stealing cargo and siphoning oil. This behavioral divergence allows West African pirates to operate in the littoral, making them less vulnerable to the navy-heavy strategy credited with stemming the tide of piracy in Somalia.
Pirates in West Africa are able to take advantage of a well-established illicit political economy.  They enjoy access to pre-existing international criminal networks and close ties to the shipping industries. These benefits, accompanied by lax maritime security in the area, create an ideal environment for piracy.
Many studies note four broad factors led to piracy reductions in Somalia, and recommend the same approach in West Africa. According to a July 2013 Chatham House report, the factors are:
The presence of international naval patrols in the Gulf of Aden and the Indian Ocean, with the remit to disrupt and deter pirate activity.
The implementation of best management practices (BMP) by the majority of commercial ship-owners with vessels passing through the high-risk area of the Indian Ocean.
The presence of private armed security personnel aboard commercial ships.
Regional capacity-building, particularly international support for improvements to the legal systems and prison capacities in east and southern Africa's littoral states, allowing for increased prosecution and imprisonment of convicted pirates.
After all, these measures led to extraordinary reductions in attempted or actual hijackings in the Horn of Africa. However, distinct differences in West African political, legal, and criminal structure present new challenges that will require an adaptive approach to implementation.
Changing the Channel
In Somalia, piracy sprung from anarchy; in West Africa, it resulted from intentional efforts to expand criminal operations. Consequently, attacks are better coordinated, executed with precision, and oftentimes impossible to trace. West Africa contains several sophisticated criminal organizations with deep international ties. These networks provide pirates access to extensive intelligence–including ship schedules, cargo, and crew capability–and allows for the storage and black-market sales of pirated goods. Additionally, due to drug sales and trafficking, criminal networks wield financial leverage with local governments and militaries—undermining the rule of law. For example, earlier this year the Royal United Services Institute (RUSI) reported that:
"In early April, Rear-Admiral Jose Americo Bubo Na Tchuto, a former Chief of the Guinea-Bissau navy was caught in a Drug Enforcement Agency (DEA) sting on board a yacht in international waters in the Atlantic. According to prosecutors, he planned to bring 3.5 tonnes of Colombian cocaine to the African country inside a shipment of military uniforms and then smuggle weapons, including surface-to-air missiles, back to Colombia's FARC rebels."
Rear-Admiral Tchuto was not the only example of criminal ties to West African governments. The RUSI report also notes trafficking-related charges brought against a Malian police commissioner, the former caretaker-president of Guinea Bissau, and other high-level officials.
There are certainly benefits to maritime security efforts, including the presence of private armed security personnel aboard ship, increased international naval patrols, and the implementation of BMP. These efforts are likely to reduce hijackings and attacks, and should be employed. However, in the long term effectively safeguarding maritime traffic requires a balanced public/private effort with the use of force limited to protecting commerce and maintaining freedom of the seas. Also required is an effective strategy to resolve West Africa's troubles and establish and bolster the rule of law.
Emil Maine is a National Security Research Assistant at the Heritage Foundation, where he conducts independent research on U.S. defense posture. The views and opinions expressed in this article are his own.
Charlotte Florance is a research associate at Heritage Foundation.  She studies U.S. policy toward Africa and the Middle East, concentrating on economic freedom, democratic institutions, development and security cooperation. The views and opinions expressed in this article are her own.