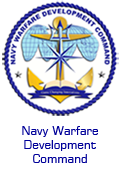 Navy Warfare Development Command just started a new innovation-centric blog as part of a series of actions spurred by the Junior Innovation Symposium they held earlier this year. As they say in one of their initial posts:
We know you're out there. Smart, passionate, experienced Sailors and Officers who care about the Navy and moving it forward. We know you have ideas about how to improve our Navy's warfighting capabilities. And we want to give you a forum where you can share, debate and propose ideas that challenge conventional thinking about how we solve any number of challenges facing our Service.
There's already an established community of informal bloggers on naval and maritime matters, but NWDC's blog is a gateway to get your ideas heard in official channels. Also, keep a sharp lookout for more innovation events hosted by NWDC in the future!
Alright, back to Sea-Based Nations!
LT Kurt Albaugh, USN is President of the Center for International Maritime Security, a Surface Warfare Officer and Instructor in the U.S. Naval Academy's English Department. The opinions and views expressed in this post are his alone and are presented in his personal capacity. They do not necessarily represent the views of U.S. Department of Defense or the U.S. Navy.