From author Ian Birdwell comes The Changing Arctic, a column focusing on the unique security challenges presented by the increasingly permissive environment in the High North. The Changing Arctic examines legal precedents, rival claimants, and possible resolutions for disputes among the Arctic nations, as well as the economic implications of accessing the region's plentiful resources.
By Ian Birdwell
Introduction
NATO is justifiably focused on dissuading Russian aggression, especially given the Federation's aggressive actions over the past two years in the region. However, there is growing concern for NATO's northern flank: the Arctic Ocean and far northern Atlantic. The warming of global temperatures presents new challenges related to rising sea levels to navies like the United States,'1 but the retreat of ice in the Arctic Ocean poses a new risk as an avenue to exploit NATO's flank in Europe. Though some budding conversation determining NATO's role in defending Arctic nations like Norway from new security challenges is occurring,2 NATO's gaze remains focused on ground threats throughout Eastern Europe. Despite the persistence of NATO's strategic goals of deterrence and cooperation, a warmer Arctic demands the attention of NATO powers to preserve regional stability. Looking toward the role NATO could play in maintaining an Arctic balance of power into the future, it is important to acknowledge NATO's regional hurdles and the strategies the alliance could employ to overcome them.
NATO's goal has always been deterrence through mutual defense and cooperation between member state militaries, but this has never rung quite as clear among its member states as it has since the onset of the ongoing Ukrainian crisis. The crisis, if not instigated by the Russian Federation, certainly advances, exacerbated by the comments of Russian officials and state actions. Since then, Eastern European NATO states have clamored for NATO support in counteracting Russian aggression. Vladimir Putin's regime regularly draws international ire for their actions moving to exploit Arctic oil resources, the effects those operations may have on surrounding communities, and the measures against those protesting oil exploration.3 For the Russian Federation, the Arctic Ocean represents more than just a birthplace of new oil revenues and potential superpower status, it is one of the only areas of the world were its navy may be able to operate more effectively than NATO.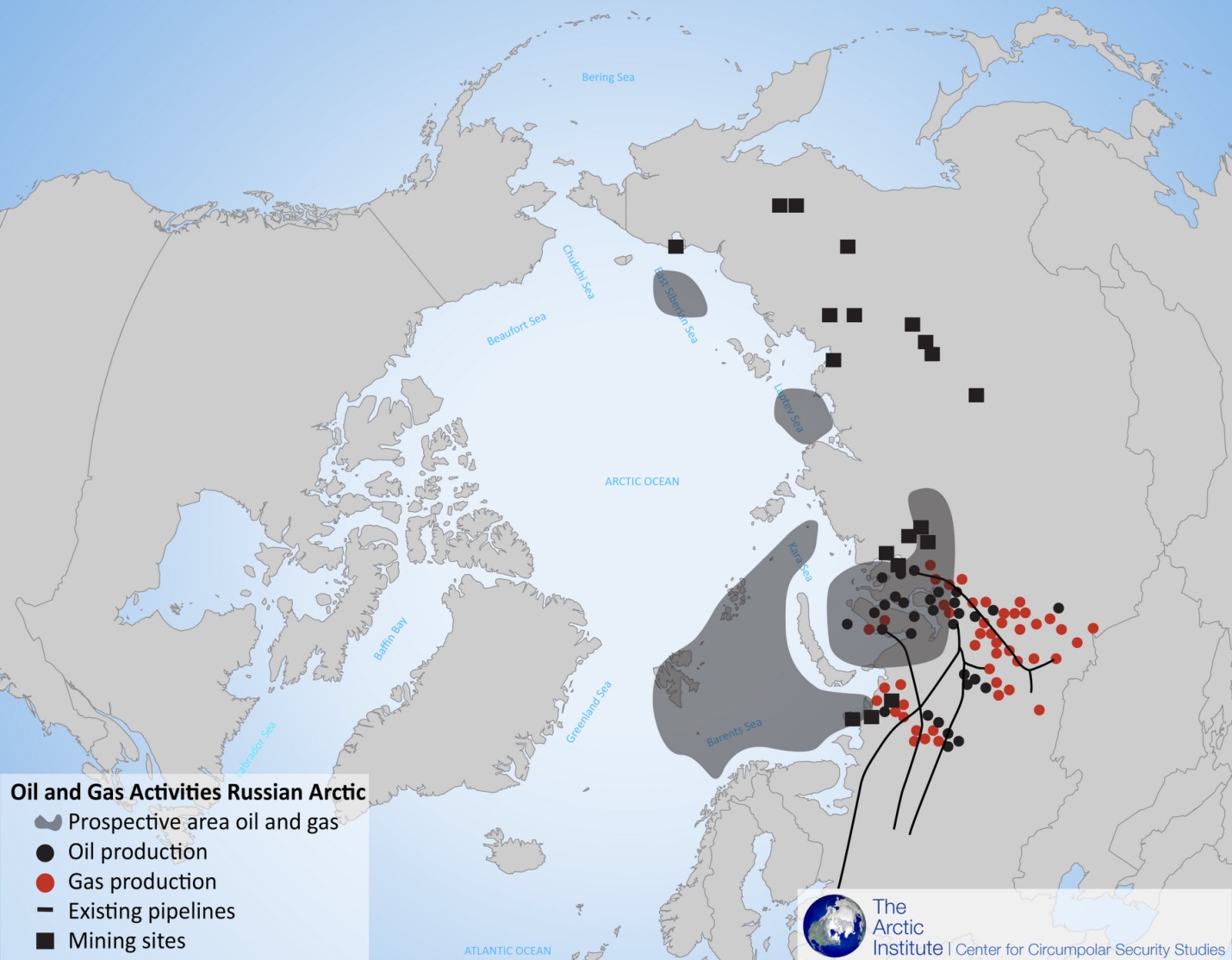 The Russian Northern Fleet possesses a slight advantage over NATO forces in several crucial areas, including a slight and recent increase in submarine warfare capabilities,4 a focus on constructing Arctic naval installations,5 and a plethora of icebreakers compared to NATO.6 Russian forces certainly retain a regional upper hand at the moment yet the aged nature of their equipment belays an opportunity for NATO to deter Russian regional aggression if action is swiftly taken. Finally, to accommodate necessary actions to dissuade aggression, the alliance must gather the funding to make readiness plans a reality, which could become a difficult prospect. Most NATO members overlook the requirement to contribute two percent of national GDP towards military operations, leaving other NATO states like the United States to fit the bill.7 With a new American administration critical of NATO's funding woes, member states may grow concerned NATO capital will go toward the defense of Eastern European states or other areas with higher visibility.8
Arctic Adaptation
NATO possesses the capability to address and overcome the challenges laid before it. A promising step to move NATO toward readiness for Arctic operations would be to expand the frequency of training activities in the High North. While the norm for nations with Arctic waters like Canada,9 Norway, and the United States,10 the inclusion of non-Arctic NATO powers in a variety of training exercises could prove pivotal in deterring aggression within the Arctic. This past summer, NATO held an anti-submarine warfare exercise called Dynamic Mongoose in the Norwegian Sea that included vessels from eight alliance members.11 With other operations planned for later this year,12 increasing the frequency of such operations, the variety of weather conditions faced, and diversifying into other types of exercises such as amphibious assault drills will allow NATO to become acclimated to regional obstacles and gain the flexibility to respond to threats.
The costlier long-term readiness goal involves the expansion of ports close to or within the Arctic Circle to house larger vessels and the construction of new facilities. Accomplishing this task would help close Russia's geographic and logistical advantages while assisting troops in becoming acclimated to the region's weather conditions. Moreover, those expanded ports hold the potential to facilitate an increase in commercial traffic, provide a base for scientific research vessels, and contribute to the logistical support of search and rescue operations – all valuable assets for nations wishing to study a changing global climate. For these reasons, the Army Corps of Engineers in the U.S. investigated deepening the Port of Nome.13 Dredging and enlarging ports in the region offer a boon to NATO's defense goals while boosting Arctic infrastructure for other non-military functions.
The last and largest task for NATO powers concerned about Russian Arctic capabilities is providing the funding necessary to meet their NATO obligations. Each NATO nation with Arctic borders proffers in various declarations their preferred method to move forward with Arctic defense is to cooperate with close allies to fill gaps in their defenses.14 If Canada, Denmark, and Norway,15 NATO Arctic powers currently shy of their NATO percentage pledges, increase their military funding closer to the required two percent of national GDP, then it becomes easier for NATO to achieve its overarching security goals within and outside of the Arctic region.
Conclusion
NATO transformed from a tool bolstering European Defense in the early days of the Cold War into an alliance pulled in several directions in the name of collective security. Today NATO faces a familiar sight, a Europe pressured by an aggressive Russia. Yet as NATO reinforces its easternmost borders, the Russian Federation focuses on a new, warming frontier that could provide a new threat axis where Russia enjoys preeminence.
Ian Birdwell holds a Bachelor's Degree in Government and International Politics from George Mason University.
References
1. Myers, Meghann "Rising oceans threaten to submerge 128 military bases:report" Navy Times. July 29, 2016 https://www.navytimes.com/story/military/2016/07/29/rising-oceans-threaten-submerge-18-military-bases-report/87657780/
2. Dearden, Lizzie "Norway urges Donald Trump to announce clear policy on Russia amid fears of military activity in Arctic" Independent December 3, 2016 http://www.independent.co.uk/news/world/europe/donald-trump-russia-vladimir-putin-norway-nato-clear-policy-arctic-bases-submarines-military-a7453581.html
3. Luhn, Alec "Arctic oil rush: Nenet's livelihood and habitat at risk from oil spills" The Guardian December 23, 2016 https://www.theguardian.com/environment/2016/dec/23/arctic-oil-rush-nenets-livelihood-and-habitat-at-risk-from-oil-spills
4. Sonne, Paul "Russia's Military sophistication in the Arctic sends echoes of the Cold War" The Wall Street Journal October 4, 2016 http://www.wsj.com/articles/russia-upgrades-military-prowess-in-arctic-1475624748
5. Einhorn, Catrin, Hannah Fairfield, and Tim Wallace "Russia rearms for a new era" New York Times December 24, 2015 http://www.nytimes.com/interactive/2015/12/24/world/asia/russia-arming.html
6. Snow, Shawn "Retired 4-Star: US Military ill-prepared for Arctic confrontation" Military Times December 27, 2016 http://www.militarytimes.com/articles/retired-4-star-us-military-ill-prepared-for-arctic-confrontation
7. Thomassen, Daniel "Norway faces a new era of Russian realpolitik in the Arctic" Center for International Maritime Security July 5, 2016 https://cimsec.org/norway-faces-new-era-russian-realpolitik-arctic/25984
8. Frum, David "Trump will inherit the biggest NATO buildup in Europe Since the Cold War" The Atlantic January 10, 2017
9. Pugliese, David "Canadian Forces to expand Nunavut training centre as Russia plans more bases in the Arctic" National Post February 23, 2016 http://news.nationalpost.com/news/canada/canadian-forces-to-expand-nunavut-training-centre-as-russias-plans-more-bases-in-the-arctic
10. Schehl, Matthew L. "Marines hit the arctic for largest winter exercise since the Cold War" Marine Corps Times March 2, 2016 https://www.marinecorpstimes.com/story/military/2016/03/02/marine-hit-arctic-largest-winter-exercise-since-cold-war/81161832/
11. North Atlantic Treaty Organization "NATO Launches anti-submarine warfare exercise in Norwegian Sea" June 20, 2016 NATO Press Release http://www.nato.int/cps/en/natohq/news_132596.htm?IselectedLocale=en
12. Thomassen, Daniel "Norway faces a new era of Russian realpolitik in the Arctic" Center for International Maritime Security July 5, 2016 https://cimsec.org/norway-faces-new-era-russian-realpolitik-arctic/25984
13. Zak, Annie "Port of Nome sees big growth as traversing the Arctic gets easier" Alaska Dispatch News November 24, 2016 https://www.adn.com/business-economy/2016/11/24/port-of-nome-sees-big-growth-as-traversing-the-arctic-gets-easier/
14. Wezeman, Siemon T. "Military Capabilties in the Arctic: A new cold war in the high north?" Stockholm International Peace Research Institute October 2016 https://www.sipri.org/sites/default/files/Military-capabilities-in-the-Arctic.pdf
15. North Atlantic Treaty Organization Public Diplomacy Division "Defense Expenditures of NATO Countries" North Atlantic Treaty Organization July 4, 2016 http://www.nato.int/nato_static_fl2014/assets/pdf/pdf_2016_07/20160704_160704-pr2016-116.pdf
Featured Image: U.S. Coast Guard (Patrick Kelley)