By Sally DeBoer
For the past fifty-six years, the United States Naval Academy has hosted the Naval Academy Foreign Affairs Conference (NAFAC). NAFAC, planned and executed by the midshipmen themselves, brings together outstanding undergraduate delegates as well as notable speakers, scholars, and subject matter experts from around the nation and the world to discuss a cu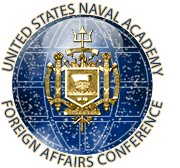 rrent and relevant international relations issue. The theme for this year's conference,  A New Era of Great Power Competition?, seeks to explore the shifting dynamics of the international system, challenges to a U.S. – led world order, the nature of potential future conflicts, the challenge of proto-peer competitors and rising  as well as what steps the U.S. might take to remain the primary arbiter of the international system at large. As this topic is of great interest to CIMSEC's readership, we are proud to partner with NAFAC in this, their 57th year, to bring you a series of real-time posts from the day's events in Annapolis, MD. CIMSEC would like to recognize MIDN 1/C Charlotte Asdal, NAFAC Director, and her staff for allowing us to participate in this year's events and for inviting our readership to virtually share in the week's rich academic environment.
The "Now What?" Era of Foreign Policy: The Honorable Stanley Legro Address
Day two of the conference kicked off with an address from Dr. Kathleen Hicks, Senior Vice President, Henry A. Kissinger Chair, and Director, International Security Program at the Center for Strategic and International Studies (CSIS).
A Turbulent Period
While traditional nation-state actors continue to challenge U.S. interests, Dr. Hicks pointed out that threats extend beyond this framework to include international and domestic trends. Europe, for instance, grapples with the rise of nationalism, direct attacks on the population, the challenge of migration, and Russian aggression and overt/covert attacks on democracy and the liberal world order, while Asia contends with China's militarization and flaunting of international law with regard to land reclamation, while Kim Jong Un continues to pursue his nuclear ambition. No region is in greater tumult, Hicks explained, than the Middle East: the effects of the nuclear deal still remain to be assessed, while ongoing governance and security struggles continue to vex states in the region. In addition, Dr. Hicks estimated that the displaced persons crisis alone will take "at least a decade" to resolve. Further, trends at home in the United States – political polarization, distrust in established international institutions, and fractionalizations – complicate the application of cohesive and cogent foreign policy.
Now What?
The focus for contemporary and future foreign policy analysts and decision makers, Dr. Hicks suggests, is how should we answer the "Now What?" question of international relations. No modern historian, analyst, or politician, she explained, has been able to adequately grasp or explain the modern evolution of the international system. This is a challenge – after all, how can we predict, analyze, and apply policy to what we cannot name? Further, the Trump Administration's "unpredictable" foreign policy further complicates this already opaque issue. For the international system, Dr. Hicks opined, unpredictability makes it difficult to think of remedies. For the bulk of her remarks, Hicks addressed this central "Now What?" question by first outlining environmental variables and their implications, and then recommending a course correction and future policies.
Environmental Variables and Policy Implications

First, Dr. Hicks introduced the paradox of the United States' enduring superpower status combined with its lessening influence and ability to affect change in the international system in its interest. Dr. Hicks conceded outright that the U.S. will likely remain the world's sole superpower for at least the next fifteen years – in terms of the discussion of "rising powers," she suggested that this is a convenient way for the U.S. to discuss China without having to say China directly. Other states frequently gathered under the "great power" umbrella are not great powers at all – Russia is (however turbulently) declining, North Korea, though problematic, is neither rising nor great, and Iran, while rising, is unlikely to wield the military might to be considered a proto-peer competitor.
Challenges from non-state actors, Hicks explained, are particularly difficult for the U.S. to address given this paradox – they do not lend themselves to the United States traditional foreign policy strengths and test the United States in areas in which it is weak. Such problems require patience, multilateral action, and a holistic, generational approach that the United States has not, to this point, proven adept in applying.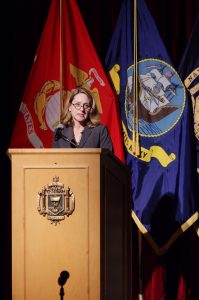 Second, Dr. Hicks addressed the "threat of the constancy of American support for leadership in international engagement." For the past seventy years explained American foreign policy instruments and institutions have enjoyed general support for the values and vision of American engagement abroad. While each successive administration has framed and prioritized this issue differently, in general, "the value of alliance, [support for] the liberal economic order, and the prevalence of the rule of law" have enjoyed consistent support. This support, which has traditionally lent predictability and stability to the nature of American engagement, is waning, exemplified by the isolationist and unpredictable sentiment the current administration espoused both during the election and during the first hundred days of their tenure. Though she conceded that not all engagement has value and deservedly bears scrutiny – choices must be made – but the current environment makes these choices more difficult.
Dr. Hicks emphasized that budgetary constraints further complicate this issue. When it comes to the use of force, she concluded, "we should be prepared to surprise ourselves; democracies can be unpredictable, and policymakers must understand this reality, but can and should work to reduce the risks of miscalculation."
Prescriptions for Policy Analysts
With all this said, what can policy analysts do to manage these variables going forward? Dr. Hicks provided cogent prescriptions for policy analysts. Initially, they must "avoid the hazards of political polarization." Despite dysfunction in the political sphere, foreign policy analysts can, as a community, consistently and clearly warn about the strategic weakness caused by such dysfunction – it sows "unease among allies who feel they cannot depend on American outcomes, polarization hampers our core cultural appeal and makes alternative political models gain resonance, allowing foreign powers to undermine the United States." Hicks expressed concern over the recent trend toward turning toward those in uniform in our government to address this weakness – a tragedy, she said, for a democracy, and an indication of the growing civil and military divide in our population.
Next, policy analysts can practice problem prevention, recognizing that the "cornerstone of a cohesive foreign policy is consensus. Military force, Dr. Hicks warned, is frequently not the most appropriate tool for problem prevention; non-military tools of statecraft must be emphasized, wielded, and their results carefully measured and shared. Efforts should seek to promote both state and private efforts (the Gates Foundation, for instance). Dr. Hicks expressed concern over recent disparaging statements by some politicians regarding our allies and the value of alliance. The alliance system constitutes a powerful asymmetric advantage for the United States – and though it can be "expensive and unsatisfying," the value of alliances remains. The erosion of goodwill brought about by comments and doubts among traditional and would-be allies must be arrested – and these relationships must be stabilized.
Finally, Dr. Hicks emphasized the importance of "improving the toolkit for managing provocations that fall short of traditional war." In general, she explained, the United States has been able to effectively deter existential threats, but potential adversaries are increasingly generating threats below this threshold. Dr. Hicks warned that this area is ripe for miscalculation and misinterpretation – in space and cyber, there are no established norms, while norms in the maritime domain are being tested with regularity. She explained that while "[you] may not want a war, war may occur anyway." Such is the risk of misinterpretation. Building a security consensus, along with early preventative work to effectively signal intentions, is crucial, she concluded.
To this end, Dr. Hicks shared conclusions from a recently published CSIS report on strategy toward Russia. The report endorsed a three-pillar strategy for policymakers: [we] must strengthen Western institutions, contest Russia where it seeks to challenge us, and offer avenues for cooperation and engagement where appropriate and feasible. The time for the "Now What?" era of American foreign policy is upon us.
Panel Discussion – Other "Great Powers" Perspectives on this Rivalry
Note: The following information is paraphrased from the panelists' remarks – their thoughts, remarks, and research are their own and are reproduced here for the information of our audience only.
In keeping with the international tone and broad perspective of the conference, the second day's panel looked to describe the nature of near-peer competitors on the great power rivalry that currently defines our international system. Panelists included Mr. Jeffrey Rathke, Senior Fellow and Deputy Director of the Europe Program at the Center for Strategic and International Studies, Dr. Michael Swaine, Senior Fellow of the Asia Program at the Carnegie Endowment for International Peace, and Dr. Alyssa Ayres, Senior Fellow for India, Pakistan, and South Asia at the Council on Foreign Relations.

Moderated by MIDN 1/C Charlotte Asdal, NAFAC Director, the "Perspectives from Around the Panel" addressed diverse viewpoints on the evolution of great power competition and rivalry. Specifically, the panelists looked to define the differing strategic perspectives of other world powers. The panelists began with introductory remarks.
"Cheap Influence vs. Expensive Control"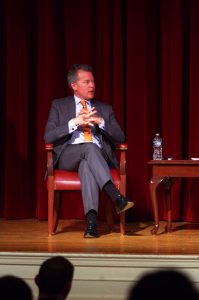 Rathke co-authored a CSIS report regarding recalibration of the United States' relationship with Russia, the aim of which was to provide a clear understanding of Russia and their objectives. For his opening remarks, MIDN Asdal asked him to elaborate on this point. He explained that rival powers think carefully, sometimes much more carefully than the United States does, about great power politics due to resource and strategic constraints the U.S. may not have to consider. To grasp a Russian perspective, it is crucial to understand their foundational documents. Though the U.S. and the West at large tend to look at our adversaries as a "conundrum," much can be gleaned from their publications, specifically Russia's National Security Strategy and Russia's Military Doctrine. These documents show that Russia, more than anything, desires status as a great power and that Russia feels threatened, insecure, and disadvantaged. Russian military growth and adventurism has also led to greater confidence.
For Russia, Rathke explained, the future of competition looks like the past – influence, therefore, is derived from military might. Rathke shared that it was important to note that Russian "soft power" is declining in most places where Russia may have wielded it previously, which may lead it to use force as an alternative in areas where it feels its interests are threatened. Russia, he concluded, will likely continue to focus on asymmetric match ups, favoring "cheap influence over expensive control."
Shared Interests in a Multi-Polar World
Asked to elaborate on China's strategic view and how that view informs Chinese perception of their role in the world, Dr. Swaine explained that to comprehend China's world view, one must appreciate that PRC general policies are driven by the reform era, a time in which the PRC rejected the ideological, repressive control of Mao and toward open door, market led reform. This policy, he explained, has led China to prioritize emphasis on growth and pragmatism in the pursuit of wealth and power.
In terms of working with other powers, China desires cooperation, so called "win-win" policies, with nations to the maximum possible extent. President Xi has placed additional emphasis on rights, or Chinese interests, not just regionally but globally, implying the protection of expanding interests overseas. China further wishes to advance its own view of international relations and norms – some of which overlap with Western norms – including the economic order and certain international regimes.
However, Dr. Swaine went on, China differs markedly in how they view and interpret sovereignty, and the role of developing states in international order. China believes the international order is moving toward multi-polarity. Gloablization, which comes with this multipolarity, leads China to see the global economy as increasingly integrated. China also sees value in high levels of technology to maintain necessary growth.
From a Chinese perspective, Dr. Swaine concluded, a major world war is unlikely, though they collectively conceded the possibility of local wars as a result of ethnic disputes or "hegemonism." China espouses non-intervention and resists unilateral action in sovereign states affairs. China – U.S. relations are still defined, from the PRC perspective, by the U.S. as the major power, Dr. Swain went on, and China sees and values shared U.S. – PRC interests, though they caution the need for mutual respect of "core interests."
Obstacles to China's desired role in the international order include declining economic growth rates, threats to domestic order, and ensuing social dislocations. Growing military power may also lead to hubris, Dr. Swaine cautioned, which may lead the PRC to overestimate their power, particularly in the Western Pacific, leading to U.S. overreaction. In Dr. Swain's estimation, this dynamic could lead to confrontation.
New India – "A Star on the Rise?"
Asked about India's perception of the current world system, Dr. Ayers explained that many Americans are not aware of the dramatic changes over the last several decades that have come about in India and the ways in which these changes affect how Indians see themselves and their role in the world. India, she explains, sees itself as a global power, at long last getting its due, in a newly multi-polar world. Indians believe they have a unique and special role in the world, and have focused on increased and sustained rates of economic growth to power their domestic transformation and military modernization. The Indian economy is the world's 7th largest, Ayers pointed out, larger than both Brazil and Russia. Though they still struggle with poverty on a large scale, India is undeniably an engine of global economic growth.
Prime Minister Modi, Dr. Ayers went on, is building on the stepping stones of previous governments and a long-held belief in Indian leadership by crafting a strategy of India's movement from "a leading versus a balancing power." The effects of this dynamic have led India to a more active pursuit of its interests and an increased role in international relations.
India seeks primacy in the Indian Ocean, Dr. Ayers concluded, and their new maritime security doctrine expresses this. In the Indian Ocean, India has gone from a "country that used the seas to a country that plays a role in securing the seas." This shift from a passive to an active role is exemplified, she said, by the establishment of an overseas base in the Seychelles and a stated change and expansion of Indian naval requirements by 2027, requiring some 61 billion dollars in investment. India, Dr. Ayers conceded, is behind on their procurement schedule, but the ambition remains and is telling.
The Indian people participate actively in their democracy, Dr. Ayers explained, quoting Pew Global Attitude Survey 2016 data showing PM Modi at an 81 percet favorability rating, 80 percent of respondents expressing satisfaction with the economy, and 65 percent said expressing satisfaction with India's direction. Indians "see their nation's star on the rise."
The panelists then participated in an informal question and answer period.
CA: Do the populations of Russia and China embrace the burdens of becoming a true great power?
R: Public opinion data shows a slight majority [in Russia] believe the country is on the right track, with high levels of popularity for Putin. Russia's national ideology depends on delivering results – economic, status – to the Russian people. Public opinion is fickle, leading to what the West perceives as "paranoia" among Russian domestic leadership. Public support as a source of legitimacy is extremely important and will remain this way to Russia – hence the push to consolidate control over media, opinions, and information sources. Great power status matters a great deal to Russians, who deeply remember several decades of humiliation at the end of the Cold War.
S: The Chinese are very proud of their accomplishments and want China to be a major power – in this, we mean a power that is first and foremost a respected power after the "century of humiliation." The Chinese also don't think of great power status in a classical post-WWII sense, in that they resist the need for a far flung military presence and interests – they are self-oriented, in their own estimation, and believe China to be a country that both minds and values its own business. Chinese interests are primarily status and economy based – they wish to be treated as equals, and protocol, face, and national pride are a central issue.
CA: What do you see as the biggest challenge to Russian and Indian strategic goals?
R: Russia has two primary challenges: the first is economic decline, which affects the ability of the state to devote resources to modernization, leading to inevitable gradual declines in levels of spending as a result of Russia's petro-driven economy and reliance on natural resources. Second, Russia's ongoing conflicts in Ukraine, Syria, and beyond – though limited in footprint- are also a drain and a limitation on Russia's strategic goals.
A: India is similarly limited by economic growth in achieving their desired domestic transformation – they have to maintain and sustain high levels of economic growth, at least 8 percent per year, to create enough jobs for young people in their population (10-12 million jobs a year). This is far and away the most important constraint, but less-critical strategic constraints also exist, including regional rivalry with China and the continued challenge and preoccupation with conflict with Pakistan.
CA: How do conditions in Russia, China, and India make today's situation different from historical precedents, such as the Cold War or the run up to WWII?
R: Russia doesn't have the ambition for global empire or domination any longer – more modest ambitions prevail, chief among them, to be a great power in a multipolar world. Russia seeks to challenge the U.S. only where they have core interests; Russia has a less expansive definition of those interests than in previous decades. Russia also maintains a desire to cooperate with the United States if it is in their interest and respect can be guaranteed.
S: There are three basic differences between now and the Cold War with respect to China. First, there is no zero-sum ideological rivalry between U.S. and China; China is communist, but does not wish to transmit its worldview as it did under Mao. Second, we are interacting in a more integrated world than during the Cold War, in both social and economic terms, and populations are sensitive to this dynamic, which makes states more vulnerable and exposed, but also allows them to reap the benefits of a global economy. Lastly, transnational, common threats are more comprehensive and threaten all countries simultaneously. These factors make the situation quite different.
A: India, being under colonial rule for much of the early 20th century, is different today due to their autonomy. During the Cold War, India was a leader in the non-aligned movement. Indian strategic thinkers see the current environment as a more favorable environment for their autonomy.
Conclusion
The keynote address and panel were both a credit to the academic gravitas and true international nature of this year's conference. Dr. Hicks' unambiguous and frank assessment of the international order as it stands today, as well as direct policy prescriptions for tomorrow's military and diplomatic leaders, left delegates and midshipmen with much to consider. The assessments of the afternoon's panel lent themselves to a deeper understanding of other great powers' perspectives on the dynamic global order.
Sally DeBoer is serving as the President of CIMSEC for 2016-2017. She can be reached at president@cimsec.org.
Special thanks to MIDN Danny Vegel and his midshipmen PAO staff for the photos used in this post.
Featured Image: L to R: Panelists Jeffery Rathke, Michael Swaine, Alyssa Ayers, and moderator MIDN Charlotte Asdal on stage in Mahan Hall.