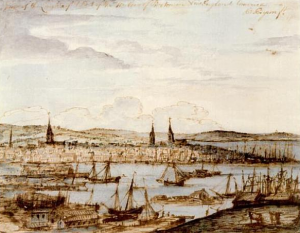 Before the Founding Fathers put pen to paper, formally declaring the independence of these United States, there was a navy. This is a nation birthed by a navy. Our vast nation started with the intrepid explorers, pilgrims, and entrepreneurs who first crossed the vast and often terrifying Atlantic to reach our shores. As the colonies developed, the journey became mainstream, the colonies plied an ever-growing trans-Atlantic trade network supported militarily and logistically by British Naval might .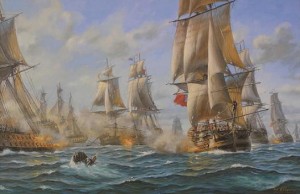 Founded by sea, defended by sea, and nourished by sea, our Republic found its independence at sea. From the Boston Tea Party to the Continental Marine's landing at Nassau and John Paul Jone's raid of England proper, the colonists' plucky determination to use their hard-won seamanship skills against the mighty Crown served as a source of great courage to the embattled freedom fighters. However, of even greater importance was the interference provided by the French and later Spanish navies. The very ocean that served as America's source of wealth was also Britain's greatest source of military strength and a direct link back to the Realm's stores and armories. No amount of determination could, with that source of power unchecked, defend the colonists from the full might of Imperial disciplines.Indeed, the war itself was won at sea, the French putting the lid on Cornwall's Yorktown coffin as the colonists hammered in the nails.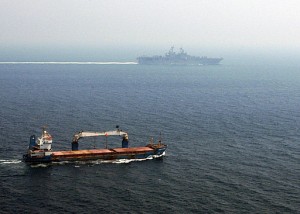 Here at CIMSEC, we celebrate the transformation from Jefferson's colonial upstart to Hamilton's commercial superpower. From the Barbary Wars to America's modern steady-state Great White Fleet, America is now defined by its global position: an economic, political, military, and cultural presence fed by a world-spanning arterial network of ships both commercial and kinetic. America is a nation born by sea, raised by sea, and living by sea.
That was your obligatory Fourth of July post. Now get some BBQ and set off explosions.
Matt Hipple is a surface warfare officer in the U.S. Navy. The opinions and views expressed in this post are his alone and are presented in his personal capacity. They do not necessarily represent the views of U.S. Department of Defense or the U.S. Navy.