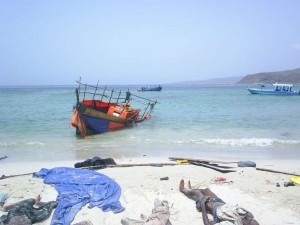 Last week the UN High Commissioner for Refugees (UNHCR) released figures on the number of migrants crossing the Gulf of Aden (and risking their life) by sea and arriving at their destination in an "irregular" manner. The quantity of African migrants seeking a better life to the north was actually significantly down from last year, with approximately 62,000 arrivals in Yemen during 2013 so far (compared to approximately 89,000 in the first ten months of last year).  In all of 2012, 107,500 people had made the same journey, a slight increase from 103,000 in 2011.  2011 and 2012 were by far the highest annual figures since UNHCR began collecting records in 2006.
Most of the migrants this year were Ethiopians (51,687), reflecting the ongoing trend since 2009. Their rationale and plan for such a dangerous journey was typically "the difficult economic situation at home" with them "hoping to travel through Yemen to the Gulf States and beyond."  The remainder were mostly Somalis, who are "automatically" recognized as refugees, unlike citizens of other states whose ultimate status must be determined by UNHCR.
The journey across the Gulf of Aden is the one of the most used of the many dangerous maritime routes currently employed by desperate migrants trying to get to more economically developed nations.  Dangerous conditions and unscrupulous vessel owners are unfortunately common, with the October sinking near the Italian island of Lampedusa of a migrant boat whose voyage originated in Libya gaining worldwide attention after killing at least 300.
The European Union's EUROSUR effort is supposed to "to reduce the number of deaths of irregular migrants by saving more lives at sea," but even if it proves effective in making the Mediterranean crossing less deadly, it is unclear whether such an initiative could be replicated in the seas between Yemen and Somalia.
On a related note, in recent days there have been riots and battles between the authorities and undocumented immigrants (many Ethiopian) in Riyadh, Saudi Arabia.  The government claims that it has detained 30,000 illegal workers.  Unfortunately, a government crackdown on undocumented labor in Saudi Arabia may currently be one of the best demand-side deterrents that could discourage potential migrants from risking their lives by attempting such a risky voyage.
Lieutenant Commander Mark Munson is a Naval Intelligence officer currently serving on the OPNAV staff. He has previously served at Naval Special Warfare Group FOUR, the Office of Naval Intelligence, and onboard USS ESSEX (LHD 2).  The views expressed are solely those of the author and do not reflect the official viewpoints or policies of the Department of Defense or the US Government.