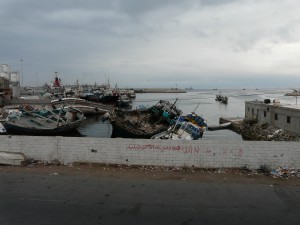 Among the aspects of the "thwarted" terrorist Al-Qaeda attacks that authorities in Yemen claim they disrupted on Wednesday were attacks on port facilities and petroleum infrastructure:
"The plot described Wednesday by Rajeh Badi, a spokesman for Prime Minister Mohammed Basindwa, involved seizing control of Mukalla, a vital sea port and capital of the Hadramaut governorate, and Bawzeer, another key port roughly 27 miles from Mukalla. Both ports employ a large number of workers from Western countries.  At the same time, separate groups of militants were to target the Belhaf gas pipeline in Yemen's southern Shebwa province, as well other gas facilities there, Badi said."
While Yemen-based attacks at sea such as those against USS COLE (DDG-67) in 2000 and the French tanker LIMBURG in 2002 are better known, Al-Qaeda has has a history of purported planning for attacks against maritime infrastructure on the Arabian peninsula itself.  While there is no evidence that Al-Qaeda has conducted actual maritime attacks from the sea (or attacks on coastal installations) in Saudi Arabia to date, its Saudi branch has attacked coastal oil infrastructure on land, and the Saudi security services claim that they have prevented AQ attacks in the past.
In 2003 Saudi authorities stated that Al-Qaeda cells were planning attacks against the oil facility in Ras Tanurah.  In 2004 they conducted attacks against westerners at oil facilities in Yanbu and Khobar.  In May 2007, Saudi television aired confessions of a captured terrorist who claimed that the February 2006 suicide attack on the Abqaiq oil refinery near Ras Tanurah was ordered by Usama bin Laden.  In November 2007 the Saudi government claimed that they had detained "more than 200 suspected militants, including a cell that had been planning an imminent attack on a support installation in an oil-rich eastern province and others who were attempting to smuggle missiles into the country."
The validity of Yemeni claims regarding these alleged attack plans remains unclear, but it does seem that land-based attacks against maritime infrastructure could still be a potential course-of-action that Al-Qaeda in the Arabian Peninsula wishes to pursue in the future.
Lieutenant Commander Mark Munson is a Naval Intelligence officer currently serving on the OPNAV staff.  He has previously served at Naval Special Warfare Group FOUR, the Office of Naval Intelligence, and onboard USS Essex (LHD 2).  The views expressed are solely those of the author and do not reflect the official viewpoints or policies of the Department of Defense or the U.S. Government.  You can follow him on Twitter @markbmunson.