The Project 2049 Institute recently released a report on People's Republic of China (PRC) UAV advances, with a focus on how those capabilities could be used to threaten U.S. Navy carrier strike groups.  China's expanding land- and sea-based UAV inventory runs the range from small tactical systems to medium-ranged Predator-class to unmanned combat air vehicles (UCAVs) still under development.  This anti-access/area denial capability, or A2/AD in naval parlance, represents just one of several layers of offensive systems the People's Liberation Army (PLA) is developing to exercise naval hegemony in the Western Pacific. 
 
The report argues that "UAV systems may emerge as the critical enabler for PLA long range precision strike missions within a 3000 kilometer radius of Chinese shores."  This 3000 km radius represents an area well into the so-called Second Island Chain, control of which is commonly recognized as a long-term strategic goal for the PLA.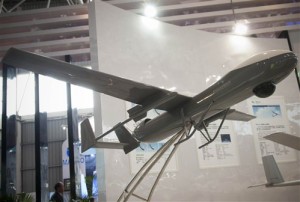 The report details Chinese strategists' plans to use drones of swarms in a variety of ways to defeat opposing naval forces.  Decoy UAVs would draw fire and reduce the inventories of anti-aircraft missiles.  Electronic warfare (EW) UAVs would jam shipboard radars and anti-radition drones would attack them.  Reconnaissance drones could then cue anti-ship ballistic missiles (ASBMs) and armed UAVs in an attempt to overwhelm strike group defenses.
Defense against these swarms could take a number of forms.  First, dispersal of naval forces – over tens, hundreds, and thousands of kilometers – would prevent a drone swarm from doing too much harm to concentrated ship formations, also causing the PLA to prioritize its targets or disperse the swarm, limiting its effectiveness.  In an exchange against large numbers of low-cost drones, the engagement ratio, in both cost and number of weapons, is not favorable to air defense missiles such as those used by Japanese and U.S. Aegis ships.  A return to anti-aircraft cannon may be one option to reverse this asymmetry, though the introduction of directed energy weapons in the place of limited defensive missile inventories might be a better way to handle large numbers of incoming drones.  Interestingly, the U.S. Navy has announced it will deploy a prototype laser system, a previous version of which has been tested against UAVs, on USS Ponce in the Persian Gulf later this year.
It should also be noted that these systems would be susceptible to the same vulnerabilities cited by many observers of U.S. UAV operation: they can be jammed or spoofed, and the satellite or other communications links that control the drones can also be disrupted by various means. Finally, in the spirit of "it takes a network to defeat a network," China would not have a monopoly on UAV development.  In time, PLA drone swarms would face large numbers of UAVs operated by other navies in the South China Sea.  Expect to see drones develop with air-to-air capabilities, defensive counter-measures, and programming to "sacrifice" themselves to protect surface fleets.
See more on China's maritime UAV developments here.
This article was re-posted by permission from, and appeared in its original form at NavalDrones.com.