By Christopher Nelson
Author and Professor Sarah Kinkel joins us to discuss her new book Disciplining the Empire: Politics, Governance, and the Rise of the British Navy.
Nelson: Professor Sarah Kinkel, thank you so much for spending some time with me today to talk about your fascinating new book, Disciplining the Empire: Politics, Governance, and the Rise of the British Navy. Let's start with your time as a student at Yale, where you got your Masters and later a PhD in history. How was your experience at Yale?
Kinkel: I actually majored as an undergraduate in Political Science and International Relations, and I thought that would be a direction I would be interested in going. I ended up with an accidental minor in history because they were always my favorite classes. So anytime I had a chance for an elective, it was always a history class.
Like a lot of twenty-two-year-olds, I wasn't exactly sure what I wanted to do. I took a couple of years off between undergraduate and graduate school. I thought about what kind of path I might want to be on, and I kept coming back to the fact that if all my favorite classes were history classes, and I ended up with this minor in it, then that was pretty compelling evidence that this was something that I was really interested in.  
It fascinates me to think about people's lives and their experiences from the past and some of the systems they built to manage uncertainty. To me it really is one of the things I like about history because it encourages you to think in big picture ways and ask questions about the way societies work and what holds them together. And I think you can ask similar types of questions about societies throughout history. While I was at Yale I was a teacher's assistant for a class on the Roman Empire. It was great; I learned so much. I didn't know any more going into the class than the students did. But my training in early modern Europe helped me think about some of the religious, political, and social changes during the days of the Roman Empire.
I had a fantastic time at Yale. I really couldn't say enough great things about the program, about my mentors. I came in knowing I wanted to do something with British imperial history—but not sure quite what. I was working with Steve Pincus, who is a historian of the seventeenth- and eighteenth-century British Empire. And then, as I started to gravitate toward a more naval focus, I also worked closely with Paul Kennedy. Both Kennedy and Pincus where fantastic mentors and great advisors.
One of the things I really appreciated about Yale was the fact that even if I had a professor and even if I only had one class with them, they were all so generous with their time. I expected when I came in as graduate student that some of the professors would blow me off—I mean, these are incredibly busy, important people, Pulitzer Prize-winning historians. But they were always so generous with their time. And they seemed interested in working with graduate students. That was something that I really appreciated about being there.
Nelson: What was your favorite class at Yale?
Kinkel: My favorite class—and in the big scheme, it influenced my thoughts about my book—was actually a class in the political science department with professor Vivek Sharma. It was a class on the social and cultural history of violence. The class covered how we can understand violence in warfare but also in societies. We use violence against our enemies, but we also use it to police the boundaries of our communities. There's always an acceptable form of violence—but what is it? It was a class about thinking about the connections between societies and the way that violence is carried out.
That class to me was so eye opening. We talked about everything from chivalry to genocide. Thinking about warfare in that context, as not being something that is culturally neutral, that was interesting to me and sowed seeds for my graduate work, as it turned out.
Nelson: I want to touch on military studies in academia. In my opinion military history is undervalued or not even represented in many university curricula. They simply don't include history courses on warfare. Of course, there is the U.S. Civil War, which pops up in many history programs for various reasons. But if you're an undergraduate or even a graduate student today, it's hard to find a program that really digs into the history of warfare. Do you agree? Your thoughts?
Kinkel: I think it is probably true to say that military history has been sidelined. I think that one of the good things about how we are doing history now as opposed to fifty years ago is that we are asking different types of questions and we are including the history of different types of people. That is all good. But I'm sorry that there isn't more interest in taking something that is as important and world shaping as warfare and violence seriously. Military history is really, really important. To me, that means less the discussion of operational movements or tactical movements of forces in a battle—that's not what I spend a lot of time thinking about. It's important to military professionals, like yourself, of course, to focus on and to learn. But what I want to focus on is how military and politics connect and affect each other.
Still, I agree with your assessment. There is not much of a presence for military history in academia today. And when military history is included, I'm still not sure it's as embedded in the bigger picture of decisions, consequential events, and other social factors as it should be. 
Nelson: What is it about the British Royal Navy that fascinates you?

Kinkel: I originally came to the Royal Navy as a historical fan girl. My grandfather was in the U.S. Navy. I don't know if that influenced my father. But my father has always been a big history lover. We'd sit around the dinner table at home and he would tell us Horatio Nelson stories. I started being drawn in to some of those classic naval myths. Of course, they're not all myths, but there is some mythology around them. When I was able to travel to England and see Nelson's bullet-ripped uniform in the National Maritime Museum, wow, it is such a compelling series of stories. I started to wonder why British naval captains fought that way when not everybody did. It seemed to me that the naval histories I read left it at 'Well, they were British, so it must make sense.' I'm not sure that is a compelling historical answer.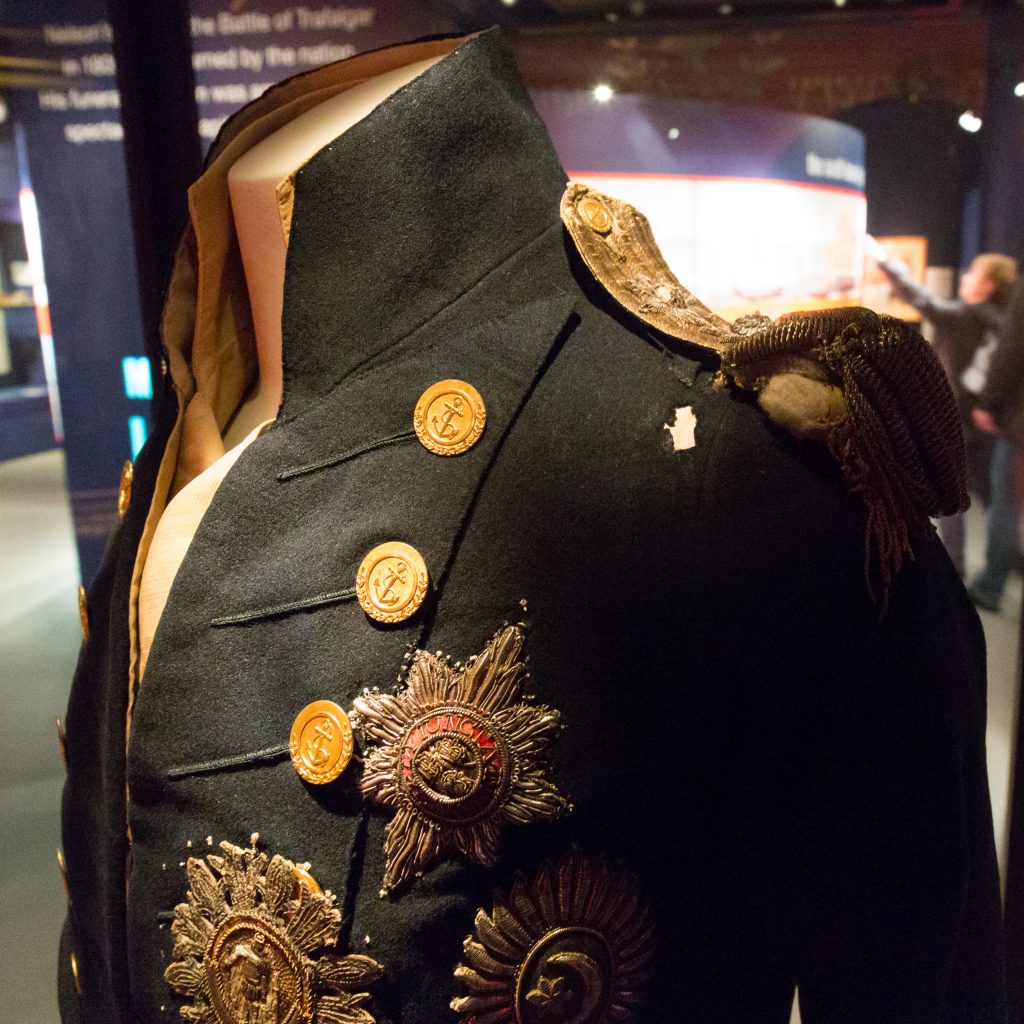 Nelson: For the readers, briefly, how would describe your book?
Kinkel: This is a book that explains the eighteenth-century rise of the Royal Navy by integrating that story with the major political debates of the century. Other books have explained how Britain was able to build the world's most dominant naval force, and have pointed to elements like geography, economy, institutions, and battle culture—which are all important but don't necessarily take into account the fact that there were real arguments over the form and function of the navy. This book explains why some people (but not others) thought an aggressive, powerful, and disciplined navy would be a good idea, and how that battle culture was actually created, because it wasn't innate.
I think that for far too long naval history and political history have been kept separate. That is just stunning to me. The Royal Navy was the single largest organization of people and resources in the entire empire. It was inherently political. We know how deeply divided the British Empire was over issues like the constitution; over the question of who gets to hold authority in society; over what the empire should look like. And the navy was fundamentally tied to those questions.
Nelson: In your introduction you refer to "political contestation" as a topic that is rarely covered. Is this what you are referring to–issues over political authority–when you say "political contestation"?
Kinkel: Yes. Absolutely. A lot of people in the eighteenth century agreed that there were problems facing British Imperial society. They disagreed fundamentally about what the most important problems were and how to solve them.
Nelson: I enjoyed learning about some the historic figures in your book. Who were some of the consequential personalities that shaped the Royal Navy in the eighteenth century? What were the governing bodies that ran that navy back then?
Kinkel: It is a navy that changes over time during the eighteenth century. It starts out and continues to be a complex set of overlapping bureaucracies. There's five different bureaucratic boards that have authority over different aspects of naval affairs. We tend today to think about the Admiralty as the first and foremost of the organizations. It became that way, but during the time period I focus on,  in theory the Admiralty only has control over officers and ships that are currently in service. The Navy Board, which is a separate institution, and coequal to the Admiralty Board, has control over shipbuilding, dockyards, and supplies. There's an Ordnance Board and there's also a Sick-and-Hurt Board that deals with invalid sailors. So the Admiralty can't really tell the other boards what to do. At the beginning of the century, it is not clear what kind of role, if any, that the Admiralty might actually have in shaping policy. The head of the Admiralty Board is not automatically a cabinet position. There's even periods in the first decade of the eighteenth century where there isn't an Admiralty Board—they decide they just don't need it.
There's no one person who is clearly responsible for everything that is happening in the navy. In the early years of the century, the most powerful people were the admirals themselves. They had small fiefdoms over their ships, patronage, and recruitment. Even in the early 1740s there's a period where George II lets one of the senior admirals have command over all of the ships in home waters without having to go through the Admiralty first.
This, as you can imagine, is chaotic. It is up to individuals in different bureaucracies to make things happen. If you have political capital and energy, this helps. But it is up to individuals who hold particular positions. We start to see a change in the middle of the 1740s. In December of 1744 there is a new group of Admiralty commissioners who come into the Admiralty Board. They are a combination of politicians and sea officers. They start to institute a series of naval reforms. And this is the core of my book. So at that point, you see the Admiralty Board start to increasingly assert itself politically—in Parliament, among politicians, monopolizing authority over other boards, and officers as well—but at the same time they put in place naval reforms that were designed to strengthen and centralize the control over this massive, sprawling bureaucratic structure.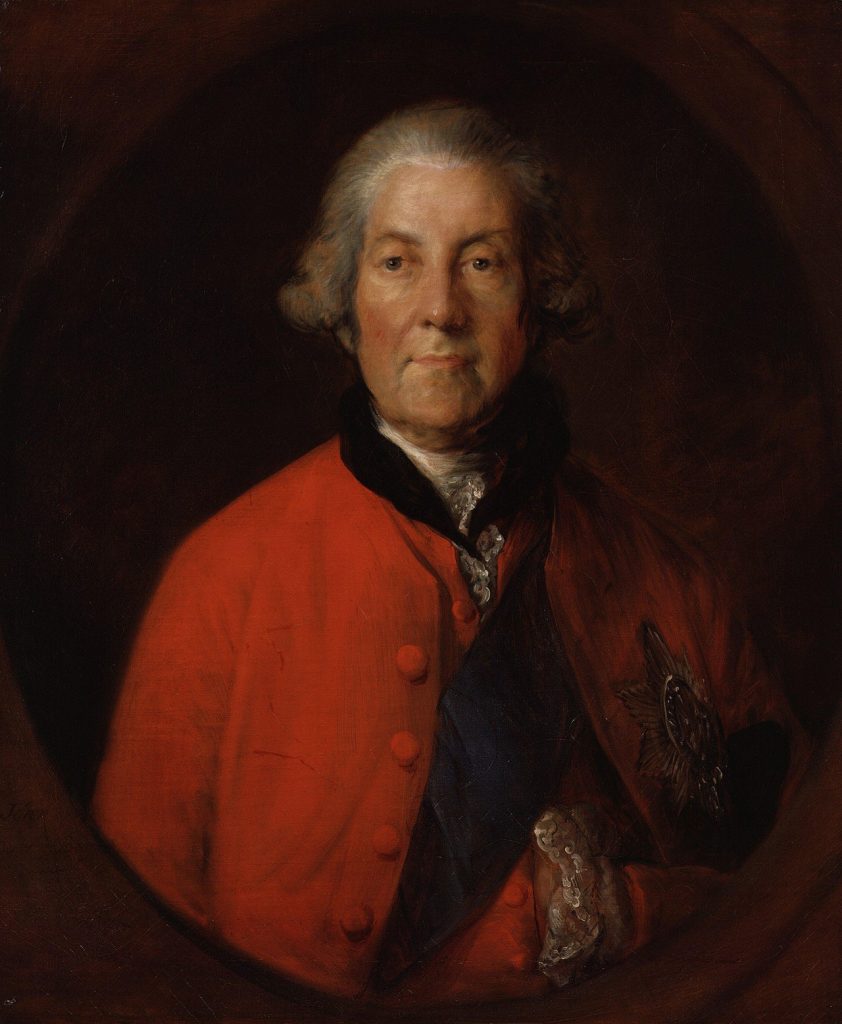 Naval historians have attributed these reforms to one of  the sea officers who came in to this Admiralty Board in 1744—George Anson—he's newly famous and had just circumnavigated the globe, plundered the Spanish, and he's quite popular. Yet I think this attribution is misplaced because in my opinion, the reforms come more from two of the politicians who joined this board: John Russell, the fourth the Duke of Bedford, and John Montagu, the Fourth Earl of Sandwich. These politicians come in and make changes that they want to see in the British Empire, and British society, and they do so by using the navy to accomplish some of those goals.
Nelson: I want to turn to British Naval professionalism. When does the British Navy realize that they need to professionalize? What does that actually mean? For example, I don't believe they even had a standard naval uniform in the early eighteenth century, correct?
Kinkel: Great question. I don't think there is a consensus about the question of professionalism in the eighteenth century. There was always disagreement and push-back to professionalizing the naval force. And I'll get into those reasons in a moment.
We start to see the argument for professionalization in the 1730s, and then it really comes forward in the 1740s. Britain is once again involved in a colonial imperial struggle with France and with Spain. It doesn't go well for the Royal Navy. The one lone exception is Admiral Edward Vernon who has a much celebrated victory at Porto Bello. The navy is just not doing well in the war. There are lots of metrics that people are using to indicate how poorly they're performing. Merchant ships are reporting that naval convoys abandoned them to privateers; there are navy captains fleeing in the face of numerically inferior forces; and there are lots of public pamphlets that say that sea officers aren't thirsty for French blood, they are thirsty for French wine—and they don't want to spill a drop of either. Professionalism, then, is put forward as one possible answer to these issues.
To me, I think it means that they need to make the navy look more like a professional standing army. Because now they have ideas and examples to go by. We know the standing army revolution has already happened a century before. I think they want to create something similar—I call it a permanent standing navy—that is going to be there in war, and it is going to be there in peacetime. So now you are going to get career officers, trained and disciplined sailors, standardized processes, and a clear hierarchical command. This is going to be a navy that can be trusted to behave reliably. Once an order has gone out, it will be followed or there will be consequences. You're absolutely right to point out that in the context of these reforms, this is the first naval uniform. In the decades previous, you couldn't necessarily tell who is in the navy and who is not. There is not a uniform to mark people out. Ships at various points—merchant ships for example—were co opted into royal fleets for battles in the 17th century. And were still  privateers on the oceans—these are private ships of wars.
Even in constitutional theory, sailors were understood to be in the navy in so far as their name is listed in the ship's books. If your name is not listed in the ship's books, then you aren't in the navy anymore. And for officers, there wasn't a coherent career path. In the late seventeenth century, you might be a gunner in one ship, and then you might be a lieutenant on the next, and then go on to the merchant marine force.
Professionalizing the force is meant to transform this navy into something of permanence, something that is reliable and clearly marked out from civilian ships, from private naval warfare. The people who want professionalization are pretty skeptical of private violence, which could be in the hands of just anyone, and really want something that is clearly not that.
Nelson: What are some examples of how the Royal Navy incentivized behavior at sea?
Kinkel: This is one of the areas that I want to push back against the classic story about the military revolution and how it happened and its effects on society. One version goes like this: There's transformation in technology that then forced transformation in warfare and then that in turn forced changes in politics and society, and that's how you get the modern state. Now, again, that's one argument. I think it's not completely wrong, but in this case it's also not completely right.
There is no transformation in technology in the British Navy in the course of the eighteenth century that suddenly makes officers and ships better fighters. There's a couple of tweaks. We get copper sheathing for example, late in the century. It makes ships more sustainable in the longer-term in warmer waters. But what we're fundamentally talking about are changes in behavior. One of the conundrums this Admiralty Board faces is that you can't directly supervise what your officers are doing at sea. By definition if you want to have a navy that you can send to project power to the far sides of the world, it is going to partially be out of your control. That's why it is so important to have officers that you believe are reliable. So they think a lot about how do you constrain and shape behavior. There is an emphasis, to some extent, on training–certainly there is an emphasis on training a ship for combat.
There was some skepticism in British society about whether you could train officers on shore or if you needed to send officers to sea to train and learn the profession practically. There were some new investments in training young officers at the Portsmouth Naval Academy. But the focus during this time is on practical education. In terms of shaping officers' behavior, the Admiralty is helped by the fact that there were always more would-be sea officers than active positions—especially in peacetime. So they let it be known that your continued employment, if you wanted one of these limited positions, would mean you would actually have to follow the system.
They then followed through with the carrot and stick approach. If you followed their orders, and fought the way they wanted to fight, and created the culture onboard your ship that they wanted, you could expect promotion, a chance at prize money, and a good cruise at sea. And because these officers are in direct competition with on another, this incentivizes their behavior. If you don't follow these rules, you're not going to get anywhere. There's nothing worse—as we learn from the Patrick O'Brian novels–than being a forty-something lieutenant without prospects. That's just not a good place to be.
One of the reforms the Royal Navy institutes is a new rank: Admiral of the Yellow. Previously the idea was once you became a post captain, you rose up the ranks and then eventually retired as an admiral. The problem was that the Royal Navy couldn't pick out the best sea officer for the job because of this system of hierarchy. There was always someone senior for a command, who if he wasn't chosen, it caused offense and sometimes political scandals. But when they created this new rank—Admiral of the Yellow—the Royal Navy could now appoint as many people as they wanted to this new rank without having to give them a command. This allows the Admiralty to reach as far down the ranks as they want to promote the officers they think are the best. None of these reforms were universally accepted, by the way—officers were invested in the existing system and not all of them wanted to see it changed. People complained about the fact that there might now be "boy captains," as they termed it; some people refused to wear the uniform; the Navy Board ignored Admiralty attempts to standardize shipbuilding. Name the reform and there was resistance. But the Royal Navy acted pretty quickly to put teeth behind these reforms and to, shall we say, "dissuade" protests from within the service.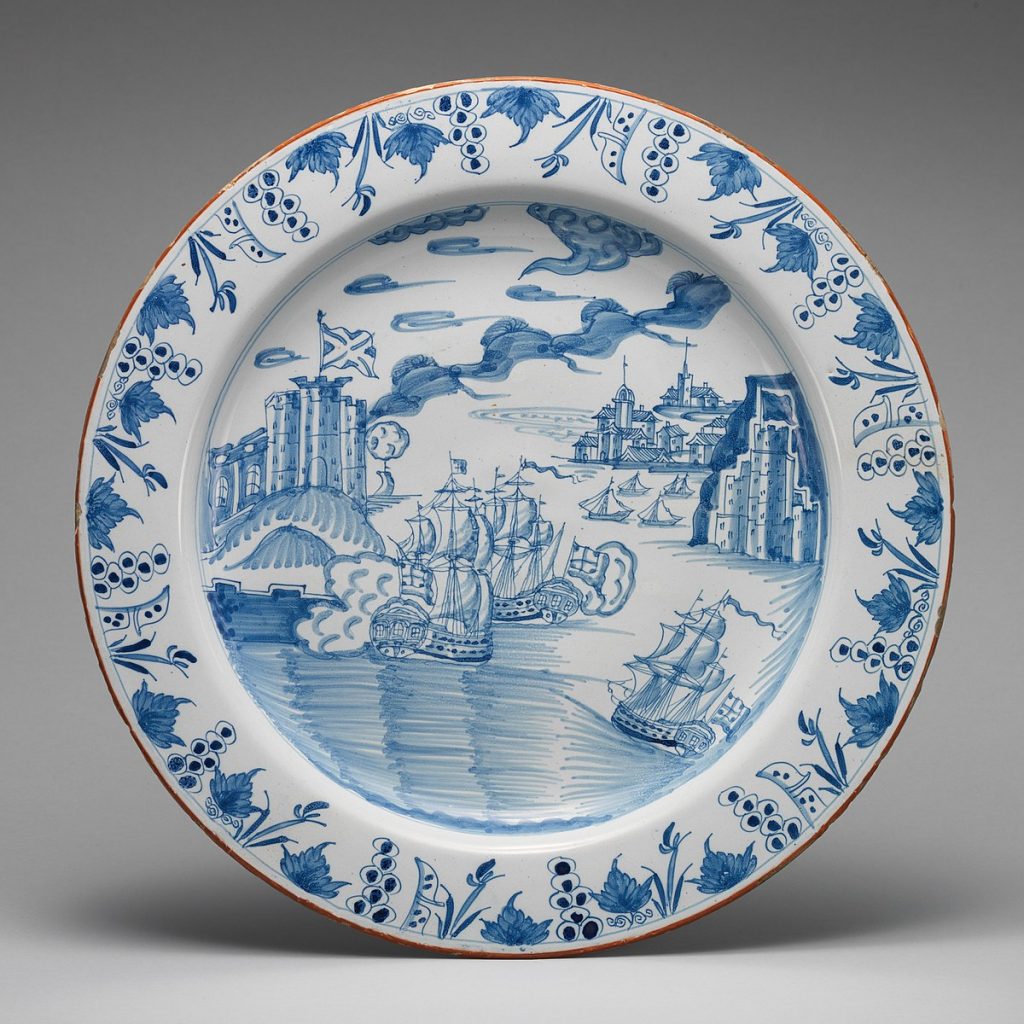 In 1746, Admiral Vernon, one of the most popular officers at the time—a man whose face was on household items, on posters, prints hanging in houses, salt shakers, you name it, he was a celebrity in mid-eighteenth-century Britain—got into a power struggle with the Admiralty Board. He said he wasn't given high enough commands for his honor. He thought he wasn't given enough autonomy and that the Admiralty was trying to constrain him. He was flaunting his public power. Yet the Admiralty cashiered him. They were willing to fire the most popular face of the service. This emphasized to the younger officers that continued employment in the navy meant that you had to abide by the Admiralty Board's direction.  
Nelson: What is the importance of the Naval Act of 1749? You mentioned Admiral Byng earlier, who was he and why is his fate linked to that famous naval act?
Kinkel: The members of the Admiralty Board were pretty clever at incentivizing sea officers to go along with the new culture of naval service they hoped to create. Promotion and continued employment were clear carrots, but they also wanted to have a stick they could use. There had been a number of very politically contentious courts martial earlier in the 1740s, and one in particular after the 1744 Battle of Toulon in which an officer who chose not to fight was exonerated—because he had the right political connections—while an officer who did fight was cashiered. To prevent something like that from happening again, the new Admiralty Board put forward what became known as the 1749 Navy Bill. The bill was hugely controversial and was only passed after some intense parliamentary debate and public protest.
It did a number of things, but the overall point was to rationalize existing naval martial law and to remove leeway from courts martial in how they applied that law. The effects of the Navy Bill were made clear a few years later, when Britain went back to war with France in 1756. British ministers received information that the French intended to capture the island of Minorca, which was an important British base in the Mediterranean. They sent Admiral John Byng to prevent that. Byng showed up, the French were already there but hadn't captured the fort yet, and even though he outnumbered them, Byng decided that the day was already lost and he sailed back to Gibraltar instead, leaving the French to take the island. When news got back to Britain, people went absolutely ballistic. Some people blamed Byng as a coward, some people blamed the administration for not having sent him earlier, there were riots, pamphlets, people saying the prime minister should be executed—it was wild. Byng was court martialed, and there was really no way for the court to find him innocent of the charge that he "had not done his utmost to obey His Majesty's orders."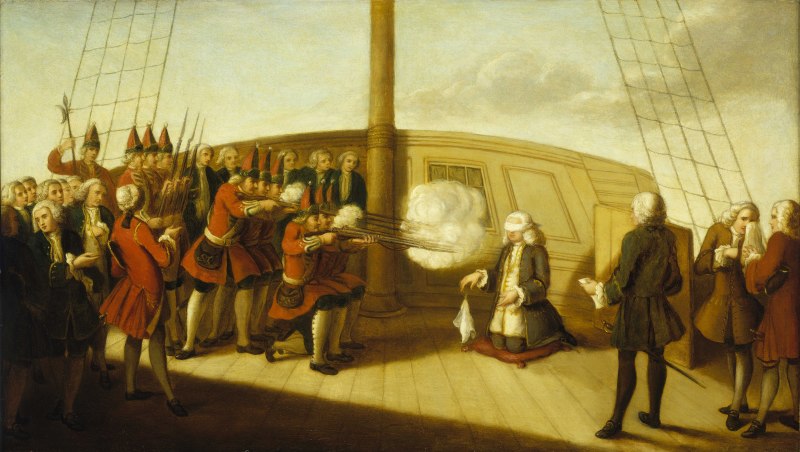 In earlier years, that could have meant a number of things in terms of actual punishment, but the 1749 Navy Bill said there was only one possible outcome for that offense: death. Byng was rich, and well-connected, and he was executed regardless. That really sent an incredibly stark signal to all the other sea officers that the dangers of disobedience were real. I think it's not a coincidence that in the years right after Byng's execution, in the rest of the Seven Years' War, we start to see sea officers behaving and fighting in far more aggressive ways. They chased enemies into dangerous shoals and rocky bays rather than back down, for example, and increasingly risked their fleets against superior forces. For me, the 1749 Navy Bill and Byng's execution, which proved that the Admiralty really meant it, set the tone for what would be expected of sea officers for the rest of the century. They're the foundations of the new naval culture that would eventually lead to victories like Trafalgar.
Nelson:  You describe in your book how the Royal Navy created a legacy of officers that were good at their job. This is largely done by patronage. What was patronage in the eighteenth century Royal Navy? And while naval officers use a different term today—"mentoring" maybe, or "grooming"—what are the similarities and differences between patronage in the eighteenth century and the twenty-first century?
Kinkel: I don't think that people would have thought about patronage as nepotism or favoritism–not back then. The way it worked over the eighteenth century is we don't see politicians influencing naval promotion. Letters of recommendations for would-be sea officers are coming from other sea officers. After mid-century, they really are increasingly emphasizing the idea of merit. And it would reflect badly on a superior officer if you pull up someone who goes out and wrecks their first ship. There is an incentive in terms of your own reputation and legacy to identify talent.
From my perspective I see this as not dissimilar to how I think patronage continues to work in our contemporary world. Generally speaking, people in positions of authority want to be supported by people of talent. Big organizations are about teamwork. You need to have someone you can delegate to and you can trust and will make you look good. If your subordinates are bad at their job it will make you look bad. I think this is true in business and politics and other spheres today, just as it was back then. I don't think patronage is inherently divorced from the concept of merit. I do have an axe to grind when people talk about patronage as somehow antithetical to merit. Now, it can be in some circumstances–but again, I would just call that nepotism. Patronage is a vote of confidence. And absolutely, yes, it can be a vote of confidence on the basis of merit. I say this in the book: today we still rely on personal connections to advance in life, we just call it "networking." Fundamentally, eighteenth-century patronage is not much different from modern concepts. Some people do fall through the cracks and some talent is not identified, but broadly, people accepted this system.
Nelson: In your book, you've included 90 pages of notes. What sources did you rely on? What sources did you keep coming back to?
Kinkel: Some of the books that influenced me first were books on political history and turmoil in eighteenth-century Britain. I saw a disconnect between how naval historians described this period and how political historians described this period. I thought there was a disconnect. Some of the books that I was reading that did influence how I was thinking about maritime history were books by N.A.M. Rodger, Daniel Baugh, and Jeremy Black. One of the examples I thought my book could look like was Kathleen Wilson's Sense of the People. It's a book about the arguments over empire. She touches on the resonance that maritime issues clearly had for a large sector of the British population. She talked about Admiral Vernon, she talked about Admiral Byng. So her books showed me one possible version of what fused politically aware history of the navy could look like.
Nelson: Professor, to close, what are some of your favorite books on maritime history?
Kinkel: I think we have a tendency to think about oceans as negative space. But back then, so much of what is important to eighteenth-century Britain takes place on the ocean. From that perspective, I want to read about history that can connect the ocean with the land. For me, my favorite books about maritime history have always been books that show the big picture what's at stake with everything that happens on the ocean.
One book that came out a few years ago that is really interesting is The Saltwater Frontier by Andrew Lipman. It is about how the areas of coastal waters between what's now Cape Cod and the Hudson River became a space of contestation and negotiation between a number of European and Native American powers in the early days of colonization.  
Another book that came out in the last couple of years that I really admired is Sam Willis' book The Struggle for Sea Power. It is, to some extent, a history of the naval campaigns of the American Revolution. But it is a book that takes place almost as much on land or in coastal waters or rivers or lakes as it does on the open ocean. He makes a really compelling point that navies were symbols. There is a moment when the leading citizens of Providence burn a naval ship to the waterline and shoot its commander. Willis points out, rightly, that the burning of the HMS Gaspee is a political statement. During the American Revolution the British are obsessed with building full-sized frigates on Lake Champlain. They definitely don't need to do this to control these waters. They actually deconstruct a sloop and pull it through the woods plank by plank and rebuild it on the lake. The book deals really well with technical issues–like why navigating sea ice is so hard–but it also deals a lot with the wide varieties of ways navies mattered: economically, politically, and symbolically.
Something that recently I taught in a class on the American Revolution, is a chapter on Boston from Benjamin Carp's book Rebels Rising. It's a book that about cities, not ships, but this chapter is one of the best descriptions I've seen about how fundamentally maritime power, money, and life Boston was. It is also just a really well-written book. A lot of my students picked this book as their favorite read during the semester.
Finally, I love the movie Master & Commander. One of the things we struggle with as historians is trying to recapture the experience of what it would have been like during the time. I just think that movie is so good. It's what I imagine the experience of being on an eighteenth-century warship would have been like–it's so visceral and brutal and tedious. Sometimes when you watch a film and the topic is close to your day job, you're so fixated on inaccuracies that they can ruin the film. But I never feel this way when I watch this movie.
If I ever taught a class that was just about maritime history, I would make the class watch the movie. There are different ways of telling stories about the past–historians tell them one way, novelists another, and filmmakers another. I'm not convinced one is better than the other in recreating the reality of people's experiences. Good historical fiction has a real role to play in telling these stories.
Nelson: Professor, this was great. Thank you.
Sarah Kinkel received her PhD from Yale University in 2012. From 2012-2015, she was the managing editor of Eighteenth-Century Studies. She has since taught as an Assistant Professor at Ohio University.
Christopher Nelson is a U.S. Naval Officer stationed at the U.S. Pacific Fleet Headquarters. He is a graduate of the U.S. Naval War College and the Maritime Advanced Warfighting School. He is a regular contributor to CIMSEC. The questions and views here are his own.
Featured Image: The capture of Porto Bello. George Chambers Sr. (Wikimedia Commons)