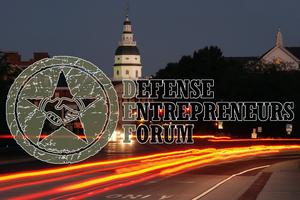 Many of my friends were also in Chicago that October weekend for the city marathon, but I arrived into O'Hare for quite a different reason. I was there for the inaugural conference of the new national organization, the Defense Entrepreneurs Forum. Knowing one of the founders and having followed the social media buzz, I was ready for an awesome experience. What followed over the three day weekend at the University of Chicago Booth Business School, far exceeded all expectations.
The Defense Entrepreneurs Forum focuses on fostering innovation within the defense sector by bringing together current or recent members of the armed services with their counterparts in the private sector. Through ad hoc networking and cross-pollination, DEF facilitates Silicon Valley-type innovation and connects people to push new solutions forward. What makes DEF further unique among defense conferences, besides the civilian business dress code that freed us from rank-defined relationships, was its focus on the junior and emerging leaders. It gave them the opportunity to present their ideas in front of peers and professionals, to receive real-time feedback, and to grow the support network for their ideas.
Flying back from Chicago, DEF had two growth initiatives for the next twelve months: to virtualize and regionalize. The virtualization process took the form of active online discussion groups through the DEF Whiteboard, Reddit, and LinkedIn networks. And in terms of regionalization, well, March 1st is approaching quickly.
DEF[x] Annapolis on March 1st is the first regional chapter of the national organization. In a few short months, the chapter will host its first regional conference at St. John's College in Maryland's capital. A one-day event, it will be patterned after the hugely successful Chicago event with a series of dynamic speakers, interactive panelist discussions, breakout groups, and a post-conference social at one of Annapolis' many fine downtown establishments. The conference will bring together professionals from the Washington DC, Virginia, and Maryland areas with select undergraduate students from the service academies, Georgetown, and other universities. As the new year begins, #DEF2013 will give way to #DEF2014 and we truly hope that if you're in the region, you'll consider joining us. If unable, follow DEF[x] Annapolis on Facebook and Twitter to keep updated and enjoy live streaming of the event.