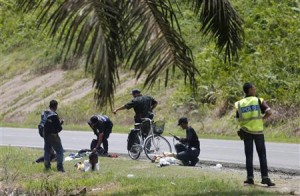 In the aftermath of Malaysia's "Operation Sovereign," I've got another update over at USNI News about the stand-off in Sabah between Malaysia's armed forces and the followers of the self-styled Sultan of Sulu, including new naval developments. More news has come out since, with Reuters reporting Malaysian officials have found 13 bodies and detained several more followers during their post-op security sweep, although it's unclear if the deaths occurred during our prior to the assault. As I sum up in the USNI Post:
Amid reports that more fighters had arrived despite the naval patrols, a fragile peace process in the Philippines, and an unsettled Filipino population in Sabah, the fears are not just that the violence will continue, but that the violence may spread.           
At The Diplomat you can read some of the strange conspiracy hypotheses swirling around in the background of the stand-off.