European Maritime Security Topic Week
By Ian Sundstrom
Introduction
Since the Alliance Maritime Strategy (AMS) was published in 2011, the strategic context facing NATO has shifted. The drafters envisaged a world where the Alliance would continue to be an expeditionary one, employing its forces in counterterrorism, counterpiracy, and humanitarian roles in many locations around the world. Under the aegis of this strategy, Alliance maritime forces did precisely that. Operations Ocean Shield and Active Endeavor were conducted in these contexts. The former was a counterpiracy operation off the Horn of Africa and the latter a counterterrorism operation in the Mediterranean. Both ended in 2016, but Active Endeavor was replaced by Operation Sea Guardian, designed in much the same spirit. Its objectives are very similar: maritime situational awareness, protection of freedom of navigation, maritime interdiction against weapons of mass destruction, counterterrorism, and protection of critical infrastructure. This lone maritime operation does not, however, match the strategic realities that NATO faces.
Over the last six years, NATO's strategic environment has changed significantly. The Arab Spring, beginning in 2011, led to instability on the Alliance's southern flank, exacerbated perhaps by NATO's own actions in Libya. One result has been massive cross-Mediterranean migrant flows that European states have been unable to halt. The civil war in Syria has slowly deteriorated to the point that the United States, its allies, and Russia have become involved in the air and on the ground. Naval activity in the Eastern Mediterranean is at levels not seen since the Cold War. Russian, American, and NATO warships continuously ply these seas and the Russian Navy's only aircraft carrier recently completed its maiden combat deployment from the Eastern Mediterranean.
There and elsewhere, Russian forces regularly intercept NATO aircraft and ships in international airspace and waters, generating tension between East and West and demonstrating a renewed level of aggression epitomized by the Russian invasion of Ukraine. In 2014 Russia invaded its neighbor and annexed the Crimean Peninsula and the strategic naval base at Sevastopol in the process. Russia's actions in Ukraine have destabilized Eastern Europe and the Black Sea region and caused concern amongst NATO and non-NATO states that Russia's next moves may come in the Baltic. NATO was founded to deter and defend against Soviet aggression in Europe, and Russia's recent actions have shown its enduring necessity after more than two decades of strategic drift. All told, the strategic environment predicted by the drafters of the AMS has evaporated.
Insufficient Measures
NATO has responded to its changing strategic environment almost exclusively through operations and initiatives ashore. To counter Russian aggression and reassure eastern Allies, NATO established two major programs. The first, Enhanced Forward Presence (eFP), installs NATO soldiers in Estonia, Latvia, and Lithuania on a permanent rotational basis. It will be fully established in 2018 and includes troop contributions from 19 member states. The second is Tailored Forward Presence in Romania. This consists of an expanded series of rotational exercises, with the result of near continual NATO presence on Romanian territory. The United States' own European Reassurance Initiative (ERI), distinct from, but complementary to, NATO actions, is similarly land-focused. Over its three years of existence, from 2015 to today, the annual budget for the U.S. Navy's participation in ERI has been three percent, four percent, and two and a half percent respectively. The response to Russian aggression has been clearly focused ashore.
The existing initiatives are a step in the right direction, but the lack of a coherent maritime response undermines those efforts and presents opportunities for Russia to exploit. NATO's sole maritime operation, Operation Sea Guardian, does not support existing efforts to counter Russian aggression. And it is not designed to, as it is specifically not an Article 5 operation. Article 5 of the North Atlantic Treaty requires that treaty signatories come to the defense of one another in case of attack and is considered the bedrock of the Alliance. NATO is right to state that Operation Sea Guardian is not in response to an attack on any member, but by explicitly highlighting that the operation is non-Article 5 in focus, it sends a signal that day-to-day operations are not aimed at deterring NATO's potential opponents. Operation Sea Guardian is also explicitly focused on Task Four of the AMS, consisting of maritime security operations. These are conceptually distinguished from the deterrence and defense roles of the Alliance delineated in Task One. This further demonstrates to Russia that NATO's maritime focus is separate from its ground efforts. Even if aimed at deterring Russia, it is insufficiently resourced. One recent "Focused Security Patrol" under the mantra of Operation Sea Guardian comprised three aged frigates (Turkish, Greek, and Italian) conducting 600 combined hours of patrols, or 8 and 1/3 days each, in the Eastern Mediterranean. This level of effort, in both duration and capability, is inadequate in the face of the forces the Russian Navy has maintained in that theater.
Bolstering NATO Seapower
To their credit, Alliance leadership may have begun to recognize the insufficiency of NATO's maritime posture. As part of Tailored Forward Presence, Alliance defense ministers agreed in February 2017 to increase NATO presence in the Black Sea to improve situational awareness and increase training and exercises. This may improve the situation in the Black Sea, but the problem of deterrence is broader. This ad hoc approach to maritime deterrence will not stop Russia's pattern of aggressive actions in the seas around Europe.
NATO's poor showing at sea has led some to argue that the AMS itself needs a total overhaul. Critics are correct in noting that the strategy's discussion of the maritime security environment is out of date. They also rightly criticize the lack of any resource – i.e. force structure and development – discussion. The strategy is also insufficiently focused on the core collective defense and deterrence mission and therefore not aligned with NATO's 2015 Political Guidance which reemphasized these core Alliance tasks. The AMS does require a refresh, and policymakers should begin discussions on this now, but without delaying maritime action by the Alliance.
The AMS itself provides the logical basis for conducting peacetime Article 5 operations. The first task the strategy assigns to maritime forces is deterrence and collective defense. By grouping these two concepts together, the AMS links collective defense and deterrence in a continuum of action between peace and war. It highlights that collective defense is the necessary action in response to failed deterrence. Article 5 requires that member states aid one another only in the event of armed attack, but given the defensive nature of the alliance, the terrible consequences of war between NATO and Russia, and the conceptual link between deterrence and collective defense, it is logical to draw explicit connections between peacetime NATO deterrent operations and Article 5 collective defense actions.
Such an explicit connection would improve the deterrent effect of the operation. The AMS notes that deterrence relies upon "proven capability, demonstrations of readiness, and effective strategic communications." This is firmly based in existing theories of deterrence. An actor, be it a state or group of states, must possess not merely adequate defensive capabilities to either stop enemy aggression or inflict sufficient pain to make the aggression too costly. The actor must also be credibly committed to using this force in the event that deterrence fails. Communicating these two preceding facts to the potential enemy in such a way that their leaders perceive a sufficient threat is the final component. Establishing a new maritime operation would neither change NATO's capabilities nor fully address the credibility problem inherent in the alliance, but by tying this new operation to Article 5 the alliance would better communicate the seriousness of its commitment to preventing further Russian aggression.
As written, the AMS is flexible enough to serve as the basis for a more coherent maritime response to Russia. As it declares, "the relative weight given to the Alliance's engagement in each of these roles will depend on circumstances and the resources available." NATO should rebalance its maritime efforts to increase the relative weight devoted to the deterrence and collective defense mission. This can be accomplished through a combination of three actions: launching a new maritime operation with collective defense and deterrence as its main objective, increasing the frequency and complexity of NATO maritime exercises, and better resourcing the existing Standing NATO Maritime Groups (SNMG) and Standing NATO Mine Countermeasure Groups (SNMCMG).
First, NATO should establish a new operation focused on deterring Russian aggression at sea and, if necessary, exercising collective defense. This operation should explicitly state that it rests upon the foundation of Article 5 of the North Atlantic Treaty. To date, the article has been activated only once, in response to the terrorist attacks of September 11, 2001. Operation Active Endeavor was established as the maritime component of the NATO response to this armed attack on a member state. While Russia has not attacked any members, this recent experience provides some precedent for establishing a maritime operation founded upon Article 5.
To achieve the desired effect, this operation should be wide in its geographic scope and mission to best demonstrate existing capability and readiness. It should be active in the Baltic, Black, Mediterranean, and Norwegian Seas to counter Russian efforts in each of these areas. Russia has increased its maritime presence in each sea to levels last seen during the Cold War and NATO must demonstrate the capability to respond simultaneously in each theater. The operation should also focus on the full-range of maritime missions. It should develop situational awareness of Russian actions, hold Russian maritime forces at risk any time they deploy, and enhance NATO interoperability and build expertise in combined operations at the unit and higher echelon command levels. These actions will better prepare NATO forces to defend against Russian attacks in the event of war and will demonstrate to Russian leaders that NATO stands ready to do so.
Invigorating Alliance Exercises
In addition to a new deterrent operation, NATO should significantly expand the number and scale of its maritime exercises. These exercises should focus on high-end warfighting skills against peer opponents to demonstrate effective combat capability and readiness. Existing maritime exercises are a step in the right direction. The Dynamic-series, consisting of Dynamic Guard, Dynamic Move, Dynamic Mantra, and Dynamic Mongoose in 2017, are focused on air defense and electronic warfare, MCM, and antisubmarine warfare respectively.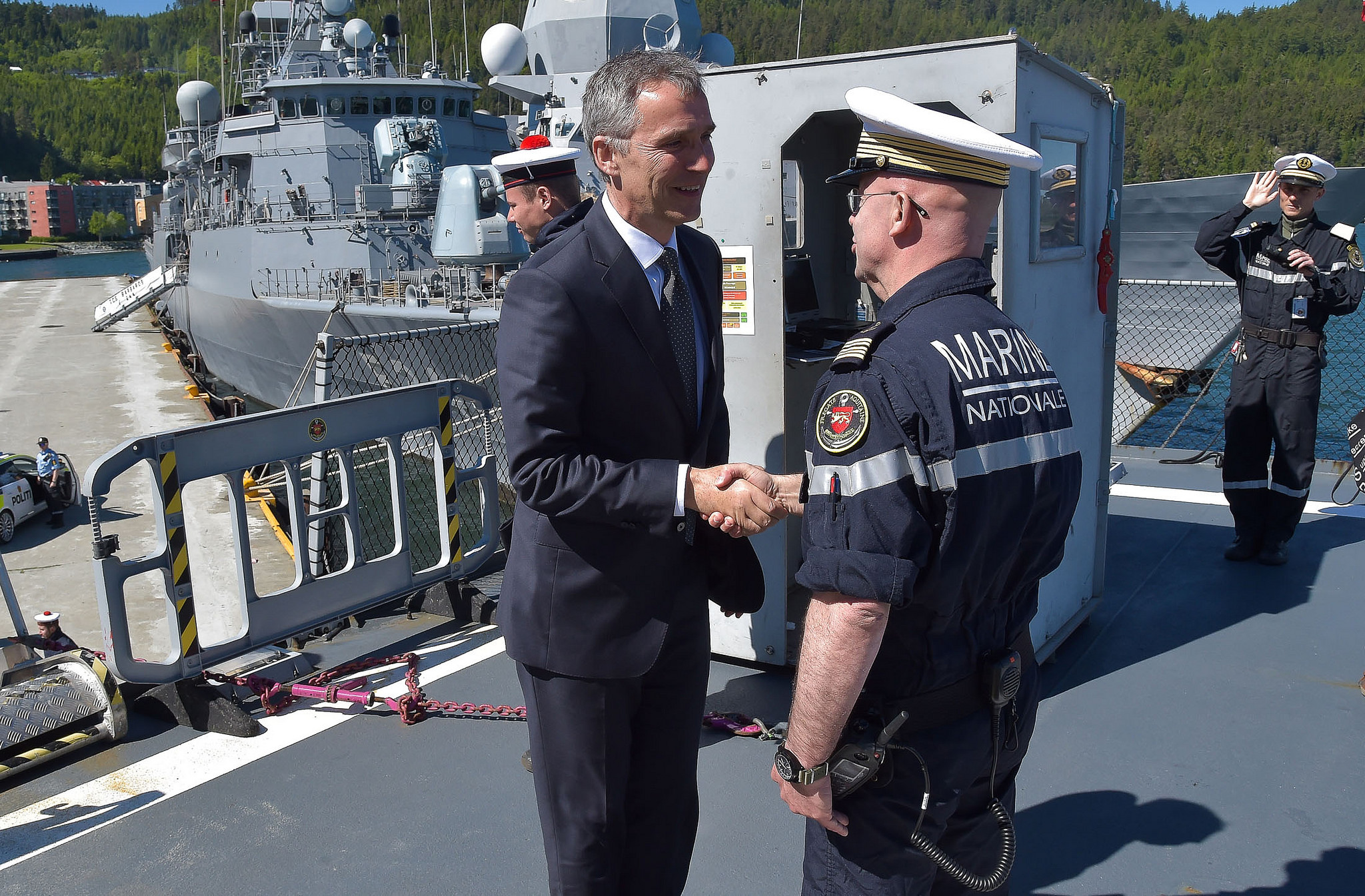 The current exercise schedule is focused on the appropriate warfare areas but it must be significantly expanded to develop the level of competence and interoperability that would be necessary in the event of war. Antisubmarine warfare exercises in particular require expansion and should be the highest priority. The Russian Navy sees submarines as its primary capital ships, unlike western navies which prioritize aircraft carriers. Russia has invested heavily in its submarine force, with new classes under development, old classes undergoing modernization, and new Kilo-class submarines destined for its Black Sea Fleet under construction. By focusing efforts on detecting and defeating submarines, NATO can demonstrate to Russia that, in the event of war, its primary naval forces will be defeated.
Air defense and electronic warfare should also be emphasized. Russia has invested heavily in new antiship missiles. NATO navies must demonstrate their ability to defeat these weapons to show Russia that it cannot count on keeping Allied maritime forces outside striking range of its shore. This will warn Russia's leaders that they cannot initiate conflicts far from Russian shores and rest assured that the Russian mainland will be safe.
Finally, mine countermeasures remains a key enabler for Allied maritime missions and must be strengthened. In particular, the United States should participate in exercises with its own MCM ships to improve its capabilities and highlight the importance of the mission area. Increasing the frequency and complexity of exercises in these three areas would significantly increase alliance capabilities to counter Russian aggression.
Strengthening Standing Maritime Groups
The final component of an improved NATO maritime posture is better resourcing of the SNMGs and SNMCMGs by member states. Discussions of resourcing in the NATO context are often focused on the two percent policy, wherein member states pledge to contribute two percent of GDP towards defense. Total alliance resources are important, as each state's total military capabilities are the source of NATO-assigned forces; however, they do not translate directly into forces available for Alliance use. Without increasing their defense budgets, each state could improve NATO's deterrent posture by assigning more existing forces to NATO missions. A brief review of the maritime forces currently assigned to the Alliance will demonstrate the availability for growth.
As currently constituted, NATO's standing maritime forces consist of two SNMGs and two SNMCMGs. These consist of the three warships and one tanker of SNMG1, ten warships (five of which are small patrol craft) and one oiler of SNMG2, four mine countermeasures (MCM) ships of SNMCMG1, and five further MCM ships of SNMCMG2, for a total of 23 vessels of all types. Looking deeper, one finds no U.S. ships, no French vessels, only one British minesweeper, and only three German ships, one of which is a tanker. The heaviest contributors are the Spanish, Greek, and Turkish navies, who together contribute almost half the ships. Ships rotate through these standing task groups, but the absence of the two largest NATO fleets and the poor showing from the Royal Navy and Bundesmarine indicate a lack of commitment to the Alliance's maritime posture.
If each member state contributed an additional vessel, NATO's maritime forces would more than double, sending a clear signal to Russia that the Alliance was ready to defend its maritime flanks. Barring that, if the United States, France, and the United Kingdom each contributed several ships it would vastly improve the capability of these forces. These navies are not only the largest, but their ships are the most capable against the threats posed by Russian forces.
Conclusion
NATO was founded as a means of defending Western Europe against Soviet aggression, but with the fall of the Soviet Union its raison d'être disappeared and the Alliance lost focus. It grew to incorporate many former foes in Eastern Europe and began participating in peacekeeping and expeditionary operations and envisaged a future where it would emphasize missions other than deterrence and collective defense. Recent Russian actions have reminded Alliance members of its original purpose. Through its invasions of Georgia and Ukraine, its intervention in Syria, and its continued bellicosity at sea and in the air, Russia has proven itself to be a threat to European security once again. NATO has taken actions to deter aggression against its members, but its efforts at sea have been inadequate. Implementing the initiatives above would go a long way toward integrating alliance maritime posture with existing plans ashore, improving the overall deterrent effect. The Alliance has all the necessary tools, its members need only act.
Ian Sundstrom is a surface warfare officer in the United States Navy. The views expressed here are his own and do not reflect those of the United States Department of Defense.
Featured Image: NATO Standing Maritime Groups operating in the Mediterranean (NATO)