By Dr. Sebastian Bruns
A popular quote reads "A ship in port is safe. But that's not what ships are made for." Correspondingly, one could quip "Navies are very good in constabulary tasks. But that's not what they're maintained for," echoing noted political scientist Samuel Huntington in the process. More than sixty years ago, Huntington wrote about the purpose of naval forces in the early Cold War, yet some of his thoughts have an enduring value for 2016. In the Mediterranean, not one but two naval task groups are working hard to contain a humanitarian crisis at sea. While their service is admirable and strictly necessary, even as it is only a drop in a bucket, naval capabilities which are in high demand elsewhere are bound in a mission that is only a secondary role for navies. Instead, Germany should lead the way in investing in an EU auxiliary force.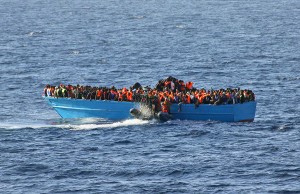 In May 2015, the German Navy began participating in the search and rescue mission in the Central Mediterranean north of the Libyan coast, dubbed EU NAVFOR MED (Operation "Sophia") shortly thereafter. The pressure to act had become unbearable for political decision-makers in Berlin and Brussels after yet another devastating humanitarian catastrophe which occurred somewhere on the High Seas between Libya and Italy. An overloaded boat sank during the night of 18/19 April, costing the lives of up to 800 migrants. Hundreds others had perished in the Mediterranean during the months before. Following a European Council decision and a parliamentary green light, the German Navy dispatched the frigate Hessen (F221) and the combat support ship Berlin (A1411) to provide a presence north of Libyan territorial waters. At the time, both ships were operating off the Horn of Africa and in the Easter Mediterranean to provide the German Navy with an operational reserve. Hessen and Berlin joined a number of other EU vessels, which ranged from warships to auxiliary and coast guard ships. EU NAVFOR MED was just the latest mission that the German government engaged its shrinking military forces in; on the maritime domain alone, Germany is continuously involved in naval operations in the central Mediterranean (ACTIVE ENDEAVOUR, since 2002), off the coast of Lebanon (UNIFIL, since 2006), and on the Horn of Africa (EU NAVFOR Atalanta, since 2008). German Navy participation in one or often two of the four Standing NATO Maritime Groups, exercises, training, and out-of-the-schedule naval operations such as providing cover for the destruction of Syrian chemical weapons at sea in 2014 have added pressure to (wo)men and material.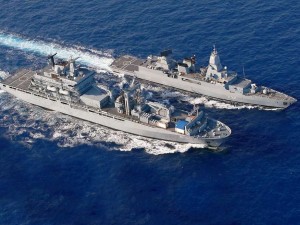 Cue: Queen, "Under Pressure"
Since the summer of 2015, rotating up to two ships in and out of the EU NAVFOR MED mission – such as the Berlin's sister ship Frankfurt (A1412), or the tender Werra (A514) – put a truly severe strain on German military-operational planning. It goes without saying that adapting these venerable warships and supply vessels, which are optimized for many things other than housing, feeding, and medically caring for hundreds of castaways on board, has put a strain on the Deutsche Marine. The noble task of saving lives at sea has challenged the well-trained crews of the ships, but it hardly obscured the fundamental problem that more than two decades of defense budget cuts, strategic disorientation, and a larger disinterest in all things hard power by the German public (and most of its political masters) have caused. By default, the German Navy has turned into a low-end, operationally-minded force, where high intensity should be a design guide.
The German Navy's dilemma, at 16,000 people and just 62 vessels at the smallest it has ever been by a December 2015 count, was illustrated best right before Christmas. In response to the November attacks in Paris, the frigate Augsburg (F213) was re-assigned from EU NAVFOR MED to provide air defense for the French aircraft carrier Charles de Gaulle in the Eastern Mediterranean and Persian Gulf. The mine hunter Weilheim (M1059), en route to return from UNIFIL to its homeport on the Baltic Sea right in time for the holidays (and probably the least-capable vessel to offer space for potentially hundreds of migrants), was tasked to remain in the Central Mediterranean. It joined the corvette Ludwigshafen am Rhein (F264), another warship tasked with a humanitarian assistance task that was hardly envisioned by strategic and operational planners in Berlin and Rostock, site of the naval command. Samuel Huntington, who warned that navies should concentrate on providing high end options and not be used for low-end missions, would probably turn over in his grave. This is not to say that other countries did not have their own challenges in providing assets to the mission, but some of them are better equipped to attend to low-end missions. The Royal Navy, for instance, dispatched HMS Enterprise (H88), a multi-role hydrographic oceanographic vessel.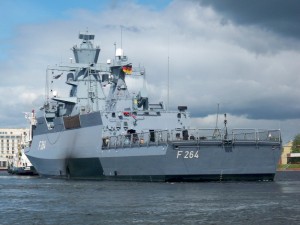 When all you have is a hammer, every problem looks like a nail
In February 2016, the German Navy is still tied up in the EU NAVFOR MED. Privately owned platforms such as the Phoenix, operated by the Malta-based Migrant Offshore Aid Station (MOAS), and two vessels operated by Doctors without Borders (Medicines Sans Frontiers, MSF), the offshore supply ships Bourbon Argos and Dignity 1, have also at some point joined the operation (although they are not integrated into the EU force). At the same time, the Aegean Sea, which offers the shortest distance between Turkey and Greece, has moved into focus for human trafficking. The cold of winter has hardly deterred the refugees from mounting unseaworthy dinghies, rubber boats, or derelict fishery vessels that the criminal networks of human traffickers operate. In response, NATO stepped in and dispatched its Standing NATO Maritime Group 2 (SNMG2). The task force is commanded by the German rear admiral Jörg Klein and currently consists of the German Navy combat support Ship Bonn (A1413) and four frigates from Turkey, Italy, Greece, and Canada. As the New York Times noted in an article on 11 February,
"while the hastily made decision reflected the growing urgency of the situation, it was not clear that it would have much practical effect on the flow of refugees fleeing Syria's five-year civil war: The alliance said it would not seek to block the often rickety and overcrowded migrant vessels or turn them back, and military officials were scrambling to determine precisely what role their warships would play."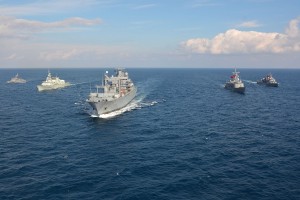 A European Auxiliary Navy
Granted, the political leverage for European integration is low at the moment. The European Union is struggling to fend off tendencies that call not for an ever closer union, but in fact work towards dismantling some of the EU's accomplishments in the wake of the refugee crisis. Still, with security and defense in increasing demand, including maritime security from on Europe's southern flank, there need to be fresh ideas that can be operationalized quickly. In the face of the deteriorating relations between the West and Russia and the disintegrating Middle East, warships should contribute to the more robust stance against political aggression and hard threats, thus focusing on more of their core tasks (no doubt requiring doctrinal and conceptual re-assessments in some European capitals). This would give NATO a stronger role, and leave the EU to take care of the low-end maritime task. It could thus serve as an example of burden-sharing between the two entities.
Germany could play a leadership role in drawing up a European auxiliary navy, reenergizing the European spirit of cooperation in the process. Such a task force could have a number of political advantages. First, it would send a strong signal that European nations are willing to work together to address the ramifications of maritime trafficking. Second, Germany would address calls from inside and outside to do more. As a maritime nation with strong normative impulses, the Federal Republic would also demonstrate to the electorate (long weary of military engagement) that it is aware of the utility of naval forces in crisis response. Naturally, German investment into an auxiliary EU navy should not come at the expense of more robust naval tasks with the German Navy, but these could be better tailored if the combat support ships, frigates, and corvettes need not be used in lesser operations. Third, if and when the current migrant crisis ebbs, the European auxiliary navy could concentrate on the public diplomacy role of naval forces, providing anything from humanitarian assistance to the provision of medical services on goodwill tours around the world (like the U.S. Navy and the Chinese PLAN routinely do already). This auxiliary navy could also lend a hand to regional coastal and constabulary navies and coast guards (e.g. in West or East Africa) to train and exercise.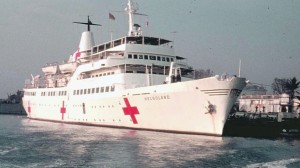 To this end, it is strictly necessary to inject some fresh thinking into how such as force could be tailored. It is imperative that an idea such as this can be put into action rather quickly before being brought to grinding snail speed by bureaucrats in Brussels or Berlin. First, one should look at the market of commercial vessels. Ro/Ro ships or offshore supply ships are available, usually even on short notice. They could be painted gray or white, manned by a mixed civilian-military crew, and quickly form the backbone of an auxiliary navy.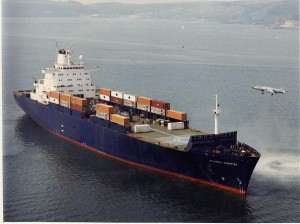 Other opportunities arise as well. The offshore patrol vessel L'Adroit (P725) is a demonstrator vessel built by French shipbuilder DCNS and was placed at the disposal of the French Navy for three years, a period that is now drawing to a close. The ship could be introduced as a French contribution to the auxiliary navy, which need not limit itself to state-run ships. If done properly, NGOs like SOS Mediterranee could be integrated (the non-profit organization operates the MS Aquarius, a former German fishery protection vessel). The former rescue cruiser Minden, built in 1985 and serviced by volunteers from the German Maritime Search and Rescue Service, will join what is already emerging as a multinational, civilian, and military task force in the Mediterranean.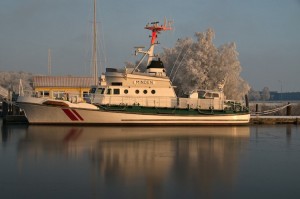 In the medium term, one could consider the charter of vessels which could be converted quickly as dedicated hospital ships, also crewed by civilian mariners and military. A logistics ship would also come in handy, as well as a simplistic command platform. To provide range, ships taken up from trade (not such a novel concept after all) could be selected if they provide the opportunity to operate reconnaissance drones or helicopters. In the long term, there are even further ideas that could be floated. For example, the 2016 German federal budget has earmarked the procurement of three new patrol vessels for the Bundespolizei See, Germany's quasi Coast Guard. It is entirely plausible that these ships could also be detached as part of the EU's auxiliary fleet, akin to NATO's SNMGs – that is, if Germany politically resolves its constitutional conflict between police and military jurisdiction and respective responsibilities. To go even further, the German Navy is currently in the early stages of procuring the future multi-role combat ship MKS180, designed as a modular warship. Is it too far-fetched to consider adding a civilian variant, a MKS180CIV, for the auxiliary "Great EU White Fleet"?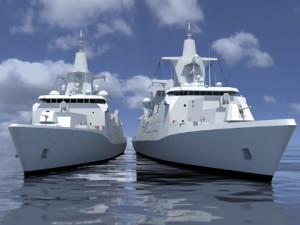 To be clear: Such an auxiliary navy would have to be organized, trained, and equipped properly. This requires financial and political investments. The task force, more of a 10-ship navy than a 100- or even 1000-ship navy, would provide a vision for European cooperation. EU or United Nations mandates would be desirable. It appears that it is also a much more sensible road leading to further defense and security cooperation than political soap-box oratories about the need for a European army could ever do. Politically and operationally, it could provide Berlin with a sense of regaining some degree of initiative when it comes to maritime security.
Sebastian Bruns directs the Center for Naval Strategy and Security at the Institute for Security Policy, University of Kiel (Germany). He is the editor of "The Routledge Handbook of Naval Strategy and Security" (Routledge: London 2016).