We are Legend; Ready on Arrival; The First, the Finest; Eight Reactors, None Faster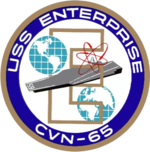 When a crisis confronts the nation, the first question often asked by policymakers is: 'What naval forces are available and how fast can they be on station?'
                 – Admiral C.A.H. Trost, USN Chief of Naval Operations Proceedings, May 1990
In December 2012, in execution of the recommendations set down in the National Defense Authorization Act (NDAA) for the fiscal year 2010, the world's first nuclear powered aircraft carrier, USS Enterprise (CVN-65), was 'inactivated' at Naval Station Norfolk, Virginia. Such ceremonies are always poignant events, a mixture of sadness and celebratory reflection on a ships life and achievements. It is estimated that some 100,000 American men and women had served on her during a distinguished 51-year career and many of them turned out to say farewell to this extraordinary warship.
She is not only extraordinary in her length of service in the U.S. Navy but also in her size and capabilities. She is 1,123 feet long (331 feet shorter than the height of the Empire State Building). Her displacement is 95,000 long tons, 4.5 times larger than the recently decommissioned Royal Navy Invincible-class carriers and still 25 – 30,000 long tons larger than, the new Queen Elizabeth-class carriers, the first of which will enter service in 2018, 60 years after the hull of Enterprise was laid down in a Virginian ship yard. Her 8 nuclear reactors allowed her to 'steam' at up to 35 knots, and meant she never had to refuel. She had a ships company of over 3,000 and could carry up to 95 aircraft. I often remember fondly a story my father told me in which he recalls acting as plane guard to a Nimitz class carrier in the Persian Gulf in 1991. In command of the Royal Navy frigate HMS Scylla (F71), he was struck by her effortless acceleration, while he practically had to burn the wardroom furniture to keep up. Even if not Enterprise, I imagine many a naval officer around the world has similar, lasting impressions of an American nuclear powered carrier.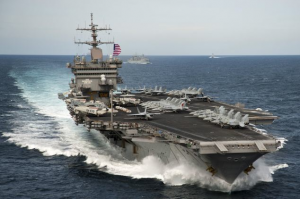 By any yardstick Enterprise is an impressive military asset, and all the more so when you consider she was laid down just 13 years after the end of the Second World War. Since then she has been involved in almost every major conflict since, beginning with the Cuban Missile Crisis in 1962, including;
• Six deployments in support of Operations in Vietnam, during which she survived a devastating fire.
• Operation Frequent Wind (1975); the evacuation of U.S. citizens and at-risk Vietnamese citizens during the North's invasion of the South.
• Operation El Dorado Canyon (1886); the bombing of Libya.
• Operation Earnest Will (1988); escorting Kuwaiti oil tankers during the Tanker Wars.
• Operation Preying Mantis (1988) in response to the Iranian mining of an American warship during Earnest Will.
• Operation Classic Resolve (1989); demonstrating American support to Philippine President Corazon Aquino during an attempted rebel coup.
• Operation Joint Endeavour (1996) & Operation Southern Watch (1996); enforcing no fly zones over Bosnia and Iraq respectively.
• Operation Desert Fox (1998); launching airstrikes against targets in Saddam Hussein's Iraq following his continued flagrant disregard for UN sanctions.
In more recent years, Enterprise was first to provide direct air support for Operation Enduring Freedom, the 2001 invasion of land-locked Afghanistan, delivering 700 seaborne airstrikes in just 3 weeks. She would later provide continued air support for Operation Iraqi Freedom in 2003. She has even supported operations off the Horn of Africa against Somali pirates, quite a contrast to her baptism of fire off Cuba. I only list the most salient operations in which she played a significant part, but this list – by no means exhaustive – is sufficient to demonstrate the flexibility and utility of such a vessel. The above record also does not account for the ever-valuable 'showing the flag' missions, a task for which she would have had a powerful talent. One must never underestimate the diplomatic leverage a warship with such destructive potential can afford, either sitting offshore or docked in harbour; wherever she is in the world she is a potent expression of America's engagement with that region. There is something sublime and deeply affecting in the design, scale and military capability of a carrier such as Enterprise.
But she is more than a military asset; she is also an American icon. She has hosted rock concerts, she had starring roles in the films Top Gun and Hunt for the Red October, and of course, her futuristic namesake explores the final frontier. She and her sister ships not only define how America prosecutes defence, but also help to shape an understanding of American culture and international identity. When commissioned in 1961 Enterprise was the embodiment of the post-war American spirit, powerful, flexible, responsive and technologically innovative, characteristics that all contributed to an over-arching commitment to global security1. She was a clear demonstration of America's post-1945 ambitions and more significantly for a Brit like myself, a clear indication that the Royal Navy had been conclusively usurped as the world's preponderant naval force (however I am yet to concede the title of the finest!). Seapowers around the globe still aspire towards what Enterprise defines. You only need to look to the shipyards of China, India, Russia and indeed, the United Kingdom, to get an appreciation for the far-reaching legacy of this ship, laid down half a century ago.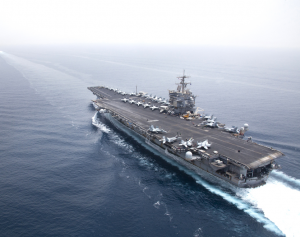 Her inactivation has not hugely impacted America's seaborne air-power capabilities. The U.S. Navy still operates 10 carrier battle groups across the globe (each purported to cost the equivalent of the entire Italian defence budget), capable of responding swiftly to any emergency, be it military or humanitarian. These groups continue to define America's global defence posture. The Nimitz-class carriers, and the new generation currently under construction, present a clear indication that Washington still has an intention to remain a global presence to shape its and the world's future from the sea and not from protracted and costly wars ashore.
At the de-commissioning event in December, Captain William C. Hamilton, Jr., the twenty-third and final commanding officer of Enterprise reflected on the ships history, "Enterprise is a special ship and crew, and it was special long before I got here".
"Before I took command of this ship, I learned the definition of 'enterprise', which is 'an especially daring and courageous undertaking driven by a bold and adventurous spirit.' Fifty-one years ago, this ship was every bit of that definition."
"Here we are 51 years later, celebrating the astonishing successes and accomplishments of this engineering marvel that has roamed the seas for more than half the history of Naval Aviation. Daring, courageous, bold, and adventurous indeed."2
It is hardly surprising, and a reflection of the impression Enterprise has made on the American psyche, that a recent announcement declared that the latest Gerald R. Ford-class carrier will be named Enterprise, the 9th American warship to bear what has become a legendary title. When one considers the contribution of Big E to American security, diplomacy and military operations over the last half century, who can argue, as some are tempted to do here in London, if not in words but in their actions, that seapower is becoming less and less relevant to present and future global security?
 Simon Williams received a BA Hons in Contemporary History from the University of Leicester in 2008. In early 2011 he was awarded an MA in War Studies from King's College London. His postgraduate dissertation was entitled The Second Boer War 1899-­1902: A Triumph of British Sea Power. He organised the Navy is the Nation Conference, which was held in April 2012 in Portsmouth, UK. The aim of this event was to explore the impact of the Royal Navy on British culture and national identity.
1. I must add at this point however that the USN relies heavily on RN mine-countermeasure vessels to ensure safe passage of his big-ticket assets in hostile waters.
2. 'Enterprise, Navy's First Nuclear-Powered Aircraft Carrier, Inactivated'