This is what I get for going on vacation. As always seems to befall the hosts of The Daily Show and Colbert Report, my absence appeared to correspond with a wealth of new material and events. Luckily my friends and colleagues in our blog roll on the right did a pretty decent job of covering most of the angles.
USNS Rappahannock
The shooting was certainly unfortunate, and was undoubtedly an action not taken lightly. But a student of history, the threat level in the region, and common sense cannot find fault with the actions of the crew in the circumstances. Driving at a naval vessel in close quarters and ignoring its warnings is akin to pointing something that looks like a weapon at a police officer and ignoring his warnings to put it down. As a former anti-terrorism officer I can attest that these types of scenarios were the last thing we wanted to encounter, but the rules were clear and the training thorough. While the outcome in this case is tragic, it is also understandable.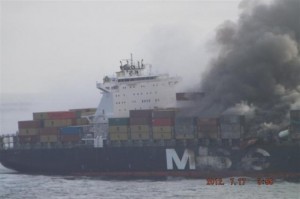 Trouble at Sea
Other tragedies struck the maritime community. In the mid-Atlantic, a fire broke out aboard the MSC Flaminia that set off an explosion killing two crew members and injuring more. In an echo of a ferry disaster in September that claimed 200 lives, another ferry sank en route to the Zanzibar archipelago off Tanzania's coast. The latest count is at least 31 dead.
The Great Wall at Sea
There has been some positive maritime news. A Taiwanese vessel and its international crew (including 13 PRC nationals) have been "freed" (it's unclear if any ransom was paid) and the crew taken to Tanzania by a Chinese naval vessel on a counter-piracy patrol. The fishing vessel, Shiuh Fu No. 1, has reportedly run aground.
A less fortunate Chinese frigate ran aground on Half Moon Shoal in the Philippine's EEZ (not to be confused with its territorial waters, which would be a much bigger story) before refloating Sunday.
Speaking of China, the mainland managed to check off another country on its "maritime disputes with neighbors" punch card. Following similar disputes this year with Vietnam, the Philippines, Japan, and even North Korea, China is embroiled in fishing-fueled spat with Russia after 2 of its fishing vessels and 36 crewmembers were detained by Russia's coast guard. One of the ships was taken in dramatic fashion, as the vessel was fired on and rammed by the Russians after its crewmembers resisted arrest for fishing in Russia's EEZ. Whether China applies the same intense diplomatic pressure it did following Japan's seizure of a Chinese fishing boat captain in 2010 remains to be seen. Meanwhile, the Philippine's government is apparently confused whether a flotilla of another 30 Chinese fishing boats under government escort is in fact in its territory, or not.