By Matthew Merighi
Capitol Hill is integral to the continued success of U.S. naval forces. Yet most people outside the Washington, D.C. area have experienced the intricacies of how that institution goes about resourcing the military.
Join Sea Control: North America for an interview with
Katie Burkhart, a former Navy Surface Warfare Officer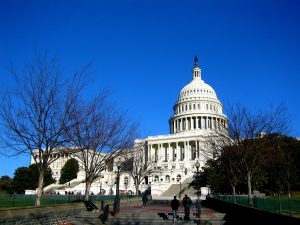 who now works in the office of Senator John Thune (R-SD). During the discussion we examine the role of the Hill in the National Defense Authorization Act (NDAA), the effect of the legislative process on defense policy, and the contributions of veterans on the Hill in guiding that policy.
DOWNLOAD: Sea Control 120 – Capitol Hill and National Defense
For those interested in further resources: you can track the status of legislation, including the NDAA and defense appropriations bills, on www.Congress.gov. To continue learning about the legislative process, start with the Congressional Research Service (CRS) report "Introduction to the Legislative Process in the U.S. Congress" (link: https://www.fas.org/sgp/crs/misc/R42843.pdf).
This episode of Sea Control: North America was hosted and produced by Matthew Merighi, Executive Director of Blue Water Metrics and a researcher for the Maritime Studies Program at the Fletcher School of Law and Diplomacy.
The views express on the podcast do not reflect those of the United States Government, the office of Senator John Thune, or those of the United States Navy.